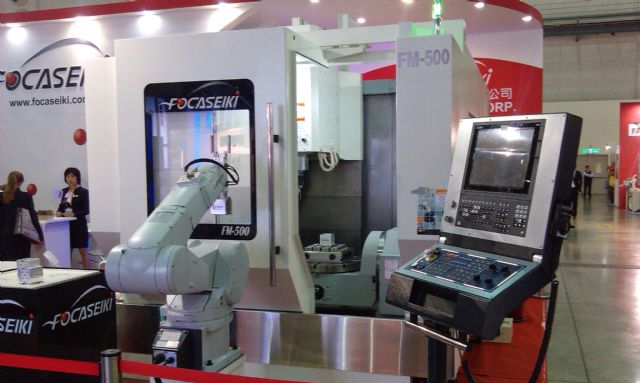 Taiwan plans to boost per-capita output with smart factory equipped with robots, Big Data and Internet of Things.
The Taiwan Cabinet plans to roll out the Taiwanese version of "Industry 4.0 Plan" this June just shortly after such plan had been publicized on TV to be part of China's official program, with the aim to help the island's industries to double per-capita output and triple per-capita income in 10 years.
Reports are that such industry plan is modeled after the German government's "Industrie 4.0" project, which promotes computerization of manufacturing industry by using smart robot, the Internet of Things (IoT) and Big Data technologies.
According to Director General M.J. Wu of the Industrial Development Bureau (IDB) of the Ministry of Economic Affairs (MOEA), who is tasked to draw up the proposal, the plan aims to address the issue of labor shortage that has been occasionally reported locally, with one study by a Taiwanese university that states preferential retirement packages, low birth rate and aversion to factory work all contribute to a shrinking labor pool. He says Taiwan's working population will begin to dwindle at the rate of 180,000 people a year to result in a shortage of 1.96 million by 2020, after peaking this year mostly thanks to plummeting birth rate.
Wu says that to minimize the impact of a declining labor pool to Taiwan's economy, the government plans to tap digital or computer technologies to boost the island's per-capita output.
There have been ample news reports to support Wu's statement that the government's "Industry 4.0 Plan" will help the island's manufacturing, services, and agricultural industries boost per- capita output by enhancing production with smart robots, Big Data and the Internet of Things.
Initially the government will designate seven industries for the pilot run of the plan, including machine tool, metal processing, 3C (computer, communications equipment, and consumer electronics), food processing, healthcare, logistics, and agriculture.
Senior Cabinet officials also have offered off-the-shelf examples to show support for the plan, citing cases of local manufacturers including silicon foundry giant Taiwan Semiconductor Manufacturing Co. (TSMC) and contract electronics maker Hon Hai Precision Industry Co., Ltd. who have begun using Big Data and smart robots to set up smart factories to cope with labor shortage as well as labor strife that occasionally break out in China and elsewhere in S.E. Asia due to harsh working conditions and dissatisfaction with low wages.
Since such smart factories mostly depend on foreign technologies, the Cabinet also plans to set up homegrown supply chains through the 4.0 plan to allow local manufacturers easy access to the key technologies for smart factory projects.
For now the 4.0 plan remains a concept but in early June the Cabinet will hold a conference to gather specialists from governmental organizations, the private sector, and academic circle to flesh out the developmental direction of the "Industry 4.0 Plan" over the first five years.