AU Optronics Corp. (AUO) and Innolux Corp., recognized as the top-2 makers of thin film transistor-liquid crystal display (TFT-LCD) panels in Taiwan, recently announced their first-quarter operational results.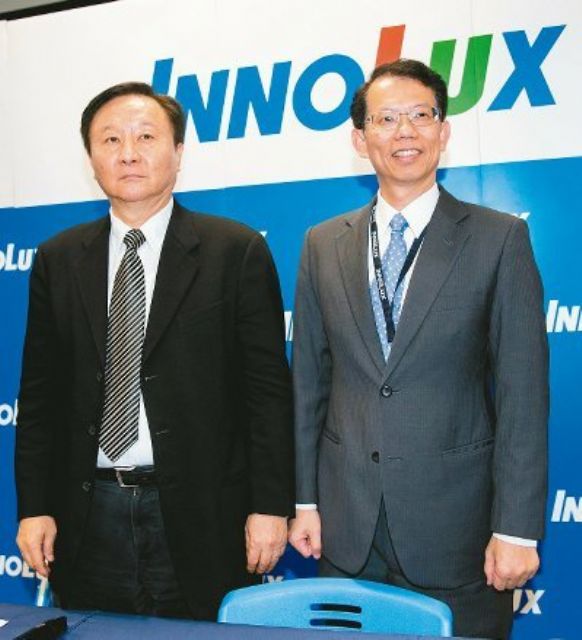 Innolux chairman Duan Xing-jian (left) and president J.C. Wang. (Photo from UDN)
AUO said that its consolidated revenues in the first quarter of 2015 were NT$95.30 billion (US$3.18 billion), down 9.6 percent from the same period of last year, or year-on-year (YoY). Gross profit was NT$14.35 billion (US$478 million), with a gross margin of 15.1 percent, higher than 14.8 percent in the fourth quarter of 2014, a peak season. AUO's net profit for the first quarter of 2015 was NT$5.27 billion (US$175.7 million), for net earnings per share (EPS) of NT$0.54 (US$0.02).
In the first quarter of 2015, AUO's shipments of large-sized (larger than 10-inch) panels totaled 26.8 million units, down 8.9 percent from the previous quarter, or quarter-on-quarter (QoQ). Shipments of small-and-medium-sized panels in the same quarter were around 42.65 million units, about equivalent to that in the fourth quarter of 2014.
Offering reasons for the trend in the first quarter that was affected by seasonal factors and its annual maintenance that is typically scheduled during a low season, AUO said its revenue declined by 9.6 percent QoQ. However, thanks to the restructuring that significantly cut cost and expenses, along with the positive effects brought by the foreign-exchange currency fluctuations, the company's operating profit was better than expected to have reached NT$8.95 billion (US$298.3 million), nearly 13-folds over a year earlier. It is also worthwhile mentioning that AUO's operating and EBITDA (earnings before interest, taxes, depreciation, and amortization) margins in the first quarter rose to 9.4 percent and 23.4 percent, respectively, both reaching 19-quarter highs.
Innolux
Innolux announced registered first-quarter consolidated revenues of NT$ 100.2 billion (US$3.34 billion), gross profit of NT$ 17.8 billion (US$593.3 million), and gross margin of 17.7 percent. Operating profit for the period totaled NT$ 11.2 billion (US$373.3 million) with an operating margin of 11.2 percent. Net profits were NT$ 8.65 billion (US$288.3 million), for a net profit margin of 8.6 percent, with EBITDA margin of 25.3 percent and EPS equaling NT$0.87 (US$0.03). Both gross margin and EBITDA margin have reached record highs since the merger in 2010 with Chi Mei Optoelectronics and Toppoly Optoelectronics.
Innolux's inventory turnover period was 37 days at the end of the first quarter. The company shipped 7 million square meters of panel in the first quarter 2015, a 12.8 percent QoQ decrease. Blended area average selling prices (ASP) for TFT-LCD panels averaged US$450 per square meter. Innolux's small- and medium-sized panel revenue amounted to NT$ 18.7 billion (US$623.3 million) in the first quarter 2015, a decrease of 17.6 percent over the previous quarter. The company shipped a total of 62 million small- and medium-sized panels during the first quarter.
Regarding their operation in the second quarter, AUO forecasts its large-sized panel shipments will remain the similar level as that in the first quarter, with Innolux being optimistic to foresee a minor increase in large-sized product shipments. Innolux won a big-ticket order from a Mexican government project to supply over 85 percent of the 23.6-inch LCD TV panels for five million LCD TVs, which will help to keep the firm's equipment utilization ratio relatively high this year.
Regarding Innolux's plans for the sixth-generation (6G) low temperature poly-silicon (LTPS)-TFT panel factory in Southern Taiwan Science Park (STSP), the firm said that further details will be publicized at a future shareholder meeting.