Anson Liao, chairman of Aerospace Industrial Development Corp. (AIDC), a state-owned aerospace firm in Taiwan that is also Taiwan Stock Exchange (TSE) listed, recently stated that the company received more than NT$40 billion (US$1.33 billion) in firm orders in 2014, plus an additional NT$26 billion (US$866.7 million) booked in the first quarter this year, meaning that the company holds NT$100 billion-plus (US$3.33 billion) of orders for delivery over the next five years.

Liao, who made the above statements at AIDC's recent shareholders meeting, also said that he is negotiating with the Ministry of Economic Affairs (MOEA) to lift the maximum 10-percent stake allowed to foreign investors, with the results of the negotiations to be likely announced in the second or third quarter of this year, and that the ownership limit can only be raised rather than reduced.

Sound Results
AIDC's shareholders meeting was convened for the first time by Liao, who took the helm as the aerospace company's chairman in March, 2015. In addition to eyeing the increasing business opportunities generated by the booming civil aviation market, he said, AIDC will also target the defense market to pursue better revenue results in 2015. AIDC registered consolidated revenue of NT$24.92 billion (US$830.7 million) in 2014, up 7.96 percent from NT$23.09 billion (US$769.7 million) in 2013, translating into net earnings of NT$1.87 billion (US$62.4 million), a 46.7 percent increase year-on-year (YoY); and net earnings per share (EPS) of NT$2.06 (US$0.07), compared to NT$1.42 (US$0.05) a year earlier. In the first quarter of 2015, AIDC had consolidated revenue of NT$5.84 billion (US$194.6 million), up 4.9 percent YoY.

The chairman said that AIDC is very confident of winning orders from the local air force's upgrading programs for its F-16 fighter jets and high-grade training jets, and that the company's major revenue driver this year will come from the project that aims to upgrade 66 high-grade training jets in Taiwan with total budget of NT$69 billion (US$2.3 billion).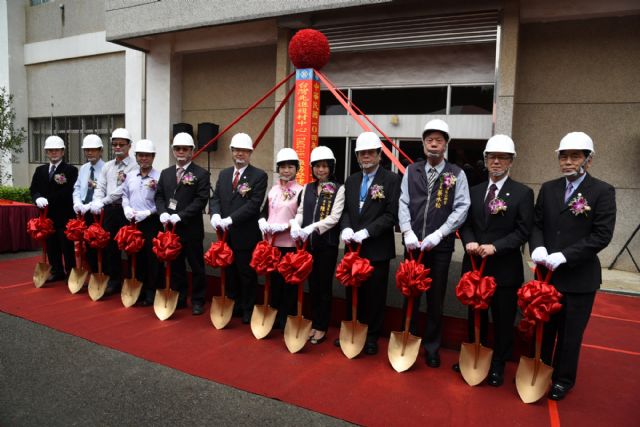 AIDC chairman Anson Liao (6th from left) and VIPs break ground for the aerospace maker's TACC-19 factory. (photo from AIDC)
To cope with robust demand and an already full capacity, Butch Hsu, AIDC's president, pointed out that the firm has decided to pour NT$2.4 billion (US$80 million) into capital expenditure this year, mainly for the construction of a hangar for the F-16A/B fighter jet upgrading program, a manufacturing center for making aero-engine housings, and a composite-material factory (Taiwan Advanced Composite Centre or TACC-19). AIDC has already hosted a ceremony to break ground for the TACC-19 factory, to produce advanced composite aerospace parts and components, that is expected to kick off mass production in the second quarter of 2016. The composite parts factory will mainly fill orders from major customer Airbus of Europe, with annual sales revenue generated expected to hit NT$1 billion (US$33.3 million).
After more than 40 years as a state-run aerospace maker in Taiwan and in line with official policy to offload state-owned assets, AIDC became a private firm in the second half of 2014 via initial public offering (IPO) on the TSE.
With shares valued at NT$9.08 billion (US$302.7 million), AIDC completed its privatization through publicly offering by way of open bidding, public subscription, and stock subscription by employees, which made up 53.98 percent of equity interest. AIDC's IPO injected NT$9.34 billion (US$311.3 million) into the national treasury, being the biggest privatization project for government-owned companies in a decade.
AIDC was previously a subsidiary founded in 1969 under the Ministry of National Defense. It became a government-owned enterprise in 1996 and transitioned from a military aviation oriented R&D base to a market-oriented commercial entity thriving in both military and civil aviation businesses.
With joint projects undertaken with the world's leading aviation companies, AIDC has gained valuable experience and gradually put under its belt expertise and capability in aircraft system integration, aircraft development, parts manufacturing, composite fabrication, special process development, aircraft assembly, testing and verification. The recent new order from Airbus for the composite belly fairing has further upgraded AIDC's status to be among tier-1 suppliers for Airbus, the Blagnac, France based aircraft maker.