Global TV TV panel unit shipments are expected to grow 5 percent year-on-year (YoY), reaching a record 265 million units in 2015; while the total panel area for TV display shipments is expected to increase 9 percent in 2015 over the previous year, according to IHS, provider of information and analysis to support decision-making processes of businesses, governments and various industries that is based in Colorado, the U.S.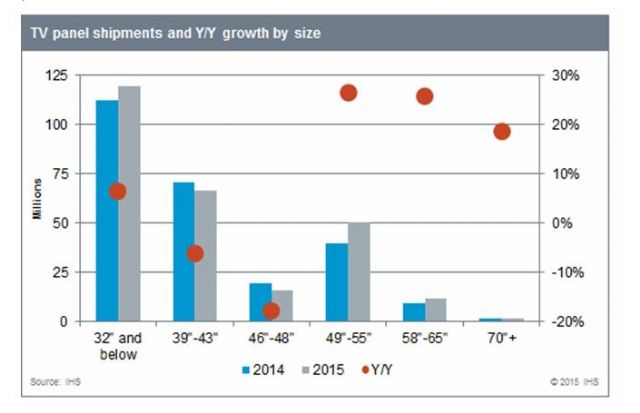 TV Panel Shipments & Y/Y Growth by Size (Source: IHS)
Due to strong consumer demand for larger TVs and 4K2K, or UHD (Ultra High Definition) resolution, TV manufacturers are concerned about possible tight panel supplies, even though the rising dollar is cutting TV import prices. The trend toward larger sizes is also causing changes in the production mix.
According to the IHS' quarterly large-area TFT panel shipment report, due to increased demand for bigger TVs, 27 percent YoY growth is expected for larger displays of 49- to 55-inch; displays between 58-and 65-inch are expected to grow 26 percent; while displays smaller than 40-inch will grow less than 2 percent.
"Global first-tier TV brands, like Samsung and LGE, are sticking to their aggressive shipment plans for 2015, while Samsung Display and LG Display have less room to increase volume to meet area demand from their captive customers' demand for larger TV panels," said Yoonsung Chung, director of large-area display research at IHS. "These two Korean panel makers could experience a tightening of capacity in the second half of 2015, because of planned production-line adjustments."
Gap between Panel & TV Shipments
Other panel manufacturers, particularly in China, are set to increase their 2015 TV panel business targets; however, there is a fear of increasing inventory as the gap between TV panel shipments and TV set shipments widens. Slowing sales of TVs, combined with the effects of the strong US dollar, could cause TV brands to lower their business targets. "Global TV brands have factories all over the world, but TV panels are mainly manufactured in East Asia and traded in US dollars. Since panels are the largest portion of TV material costs, when the dollar is strong, brands suffer," said Chung.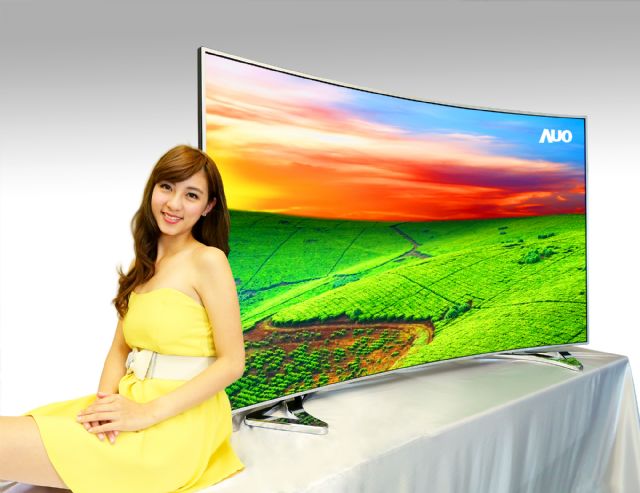 Taiwanese panel makers are forecast by IHS to win 27% share of global 4K TV panel shipments. (photo of a 4K TV panel made by a Taiwanese company)
The shipment target for 4K TV panels is also expected to reach a record high this year. In all, 40 million units are targeted in 2015 with 15 percent penetration. The 4K TV panel shipments are expected to grow 108 percent this year, and Korean panel makers expect to lead the 4K TV panel market with a 57 percent share, followed by Taiwanese panel makers at 27 percent, and Chinese panel makers at 12 percent, IHS said.