AU Optronics Corp. (AUO), a leading thin film transistor-liquid crystal display (TFT-LCD) panel maker based in Taiwan, debuted a 6-inch UHD (ultra high resolution) 4K (2160 x 3840) smartphone display at SID Display Week 2015 held from June 2 to 4 in San Jose, California. The company claimed that it will lead mobile devices into the era of UHD 4K ultra high image quality.

Other exhibition highlights of AUO in the display show included UHD 4K displays for notebook PCs, oTP-Lite (on-cell) touch panel, in-cell touch panel, UHD display for instrument cluster (automotive application), transflective LCDs that are power-saving and readable in the outdoors, active matrix organic light-emit diode (AMOLED) panels for wearable devices, and in-cell touch AMOLEDs.

Exceeding Image-quality Limits for Mobile Devices
AUO said it introduced the leading UHD 4K display technology to smartphone and notebook PC displays, making UHD 4K displays the new benchmark for high-end mobile devices. The company showcased its 6-inch UHD 4K smartphone display with ultra-high pixel density of 737 PPI for the first time. The display has a wide color gamut, high contrast ratio, and high brightness. The colors in 4K videos are more vividly rendered on the screen, while figures and objects appear more three-dimensional, delivering impressive images with extreme detail and clarity.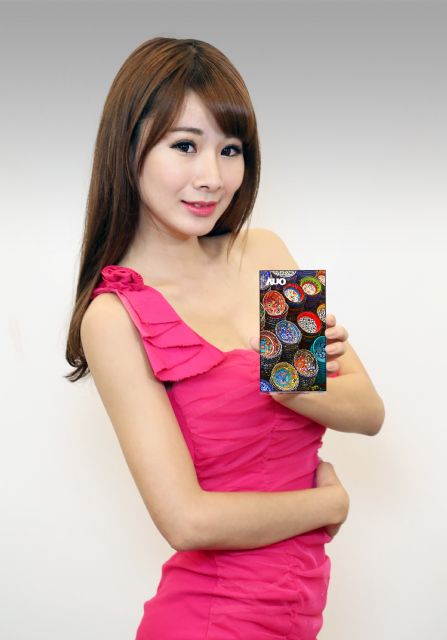 AUO's 6-inch UHD 4K ultra high resolution LCD for smartphones. (Photo from AUO)
In the high-end notebook PC segment, AUO launched 15.6-inch and 17.3-inch UHD 4K ultra high resolution displays with wide color gamut and high contrast ratio that presents colors with greater precision, meeting demand for professional graphic designing and gaming. AUO's 17.3-inch UHD 4K display for notebook PC has a high pixel density of 255 PPI and high color saturation of 100% Adobe RGB, the company said. Equipped with AHVA (Advanced Hyper-Viewing Angle) technology, the display boasts impeccable colors and detail from every viewing angle. Its image quality is comparable to that of a professional desktop monitor display.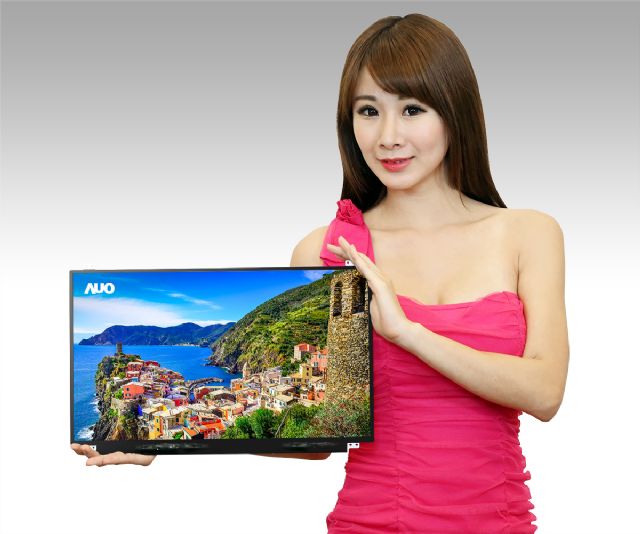 The TFT-LCD panel maker's 17.3-inch UHD 4K ultra high resolution LCD for notebook PCs. (Photo from AUO)
Upgraded Integrated Touch
For integrated touch solutions, AUO presented 12.5-inch and 15.6-inch oTP-Lite touch panels. Without the presence of the cover lens, the oTP-Lite is suitable for even-slimmer devices, demonstrating high integration and production efficiency to offer the optimal solution for touch notebook PCs. AUO also exhibited a 5-inch self-capacitance in-cell touch panel employing a-Si process technology. The self-capacitance technology makes the touch panel more water resistant and increases touch accuracy, creating a spill-proof and glove-friendly screen that is easy to operate in a range of environments.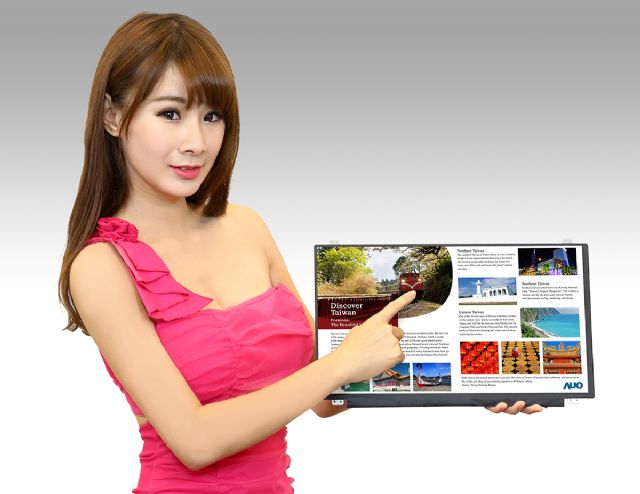 For integrated touch solutions, AUO presented the 15.6-inch oTP-Lite touch panels in SID Display Week 2015. (Photo from AUO)
World's Highest-resolution Instrument Cluster Display
With regard to the automotive before-market applications, AUO again demonstrated its manufacturing and technological capabilities on high-end car displays. AUO's 12.3-inch LCD boasts a resolution of 2880 x 1080, and is the world's highest resolution display for instrument clusters.
The display can show all types of vehicle information with high clarity and precision to improve readability. It is also highly stable under extreme weather conditions and meets the rigid quality and performance requirements for digital cluster displays. The progressive integration of vehicle information and entertainment systems with mobile devices has driven demand for car displays. AUO also exhibited 8-inch and 10.1-inch HD resolution LCD panels for center information displays. In addition, the 8-inch WVGA LCD combines oTP and full lamination technologies to deliver low reflection and excellent touch performance, supporting operation with gloves.
Other Exhibits
To fulfill the demand for wearable devices with lower power consumption and readability outdoors, AUO showcased 1.3-inch and 2.6-inch transflective LCDs. Based on the lighting conditions, transflective LCDs transmit backlighting and reflect ambient light to display images. Impressive image quality can be maintained both outdoors and indoors. Images are even readable under strong light on the power-saving display. The 1.3-inch transflective LTPS display adopts memory-in-pixel (MIP) technology to retain the image with the pixel's built-in memory. The display requires 1.7% of the power consumed by conventional LCD when static images are displayed.
In terms of advanced technologies, AUO demonstrated a 4.3-inch Full HD ultra-thin low temperature poly-silicon (LTPS) display. With a thickness of less than 0.92mm, it is the world's slimmest LTPS display. The 3.5-inch flexible AHVA (Advanced Hyper-Viewing Angle) LCD adopts plastic substrate and has a curvature of 44mm, currently the highest curvature among LCDs.
During SID's Display Week, a total of 23 conference papers by AUO were selected and published, among which a paper entitled "Novel Blue Phase Liquid Crystal Display Applying Wall-Electrode and High Driving Voltage Circuit" was honored with the Distinguished Paper Award. The study looked into the unique LCD pixel and electrode design to significantly increase the transmittance of blue phase LCD. Special polymers are used to increase stability and enhance performance for high contrast and wide viewing angle.