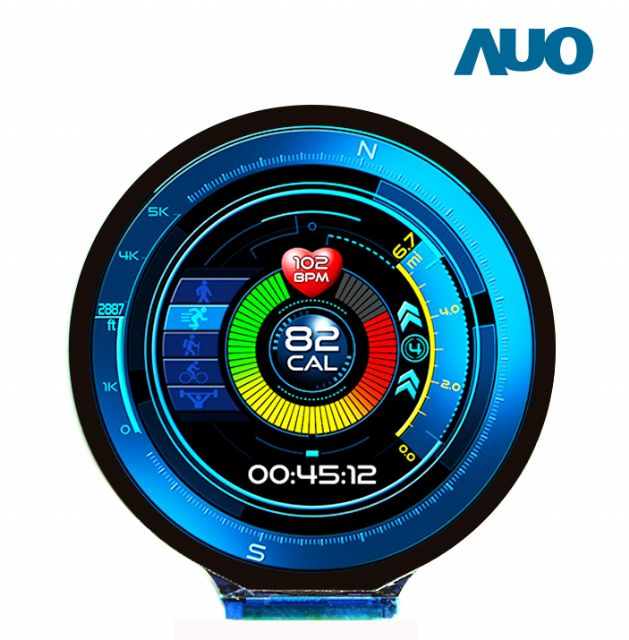 AUO's 1.4" full circle AMOLED display features slimness, ultra low power consumption to meet power-saving demand for wearable devices. (photo from AUO)
AU Optronics Corp. (AUO), recognized as a major maker of thin film transistor-liquid crystal display (TFT-LCD) panels based in Taiwan, recently announced that its 1.4-inch full circle active matrix organic light-emit diode (AMOLED) display has won the 2015 SID Best in Show Award, conferred by the Society for Information Display (SID) during Display Week 2015, a combination trade event of international symposium, seminar and exhibition held May 31-June 5, 2015 in the San Jose Convention Center, California, U.S.A.
According to AUO, the SID Best in Show award winner is selected each year by the SID expert committee to honor new products and technologies recognized for innovation at the exhibition. AUO's 1.4-inch full circle AMOLED display, with 400x400 high resolution, ultra slim design and lightweight, wide color gamut and low power consumption, was acknowledged for meeting current trends of wearable devices. AUO stood out among over 200 exhibitors worldwide to win the award, demonstrating the firm's position and influence in display technologies.
Incidentally the Taiwanese panel supplier has successfully mass produced 1.4-inch full circle AMOLED displays. By applying special cut and driver IC design, the display area reveals a full circular shape. To meet the demand for low power consumption on wearable devices, AUO leverages AMOLED's self-emissive nature and combines its self-developed driver circuit to achieve more than double the duration of other smartwatches currently in the market under light mode, showing off its impressive power-saving strength. The full circle AMOLED has  sleek contour, with slim, lightweight and power-saving features to make it ideally suitable for smartwatches. Personal fitness, medical, mobile payment, and identification functions can also be integrated into the display to offer a trendy, convenient and comfortable user experience, AUO said.
As the development of wearable devices matures and flourishes with more applications, in addition to the 1.4-inch full circle AMOLED display, AUO has also introduced 1.5- and 1.6-inch square AMOLED displays, as well as many other types of LCD products to meet customers' diverse demands. AUO stressed that it will continue to develop the best display technologies possible for wearable devices, incorporating features including slimness and lightweight, power-efficiency, narrow bezel, integrated touch function, and readability under the sun to bring more convenience for smart mobile life.