At the recently ended multifunctional event "Display Week 2015" held by the Society for Information Display (SID), staged in San Jose, California from May 31 to June 5, 2015, Chunghwa Picture Tubes Ltd. (CPT), a maker of thin film transistor-liquid crystal display (TFT-LCD) panels based in Taiwan, and U.K. partner FlexEnable, reportedly having been launched to develop products on the world's best and industrially proven flexible electronics technology platform, jointly introduced the flexible active matrix organic light-emit diode (AMOLED) products to visitors at the trade show.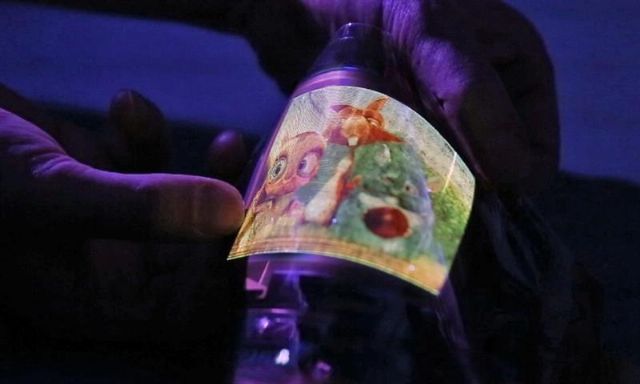 CPT and FlexEnable showcase the flexible AMOLED at SID's Display Week 2015. (photo from CPT)
Building on a series of flexible AMOLED demonstration products made previously by FlexEnable, the two companies have now manufactured a glass-free, full-color, flexible AMOLED display based on FlexEnable's low-temperature process for plastic transistors and CPT's RGB OLED technology, with the display operating at 60Hz full video-rate and being  125µm thick.
Indro Mukerjee, chairman of FlexEnable said: "This display represents a fundamental breakthrough proving that FlexEnable's OTFT (organic TFT) technology can be combined with mainstream OLED manufacturing infrastructures to create the most flexible and cost-effective AMOLED display technology."
The partnership also signals a transformational development in the supply chain for truly flexible, plastic AMOLED displays, demonstrating that the FlexEnable process is compatible with current FPD (flat panel display) manufacturing equipment and techniques without needing major  modification.
Through FabEnable, a partnering package for manufacturers, FlexEnable provides services to assist ramp-up to volume manufacturing based on the team's profound knowledge and experience of industrialization techniques and processes.
Lin Sheng-Chang, president of CPT added: "CPT has shown a number of AMOLED displays at several major exhibitions as well as to potential customers. These demonstrations clearly prove that the integration of mutual capabilities has the potential to drive the mass production of flexible AMOLED displays to make truly flexible OLED a reality; while truly flexible AMOLED panels are widely recognized as the most promising display infrastructure."
CPT has over a decade of specialized experience in the development of AMOLED displays from structural design, material allocation and process to equipment, having also shown a number of AMOLED displays at several major exhibitions as well as to potential customers. The firm said that the demonstrations at SID Display Week 2015 clearly prove that combining mutual capabilities has the potential to advance mass production of flexible AMOLED displays to turn truly flexible OLED into reality.
Growth of Flexible AMOLED
Led by growth in wearable devices, flexible AMOLED display shipments is forecast to exceed 11 percent of rigid AMOLED shipments in 2015, according to a recent report released by IHS Inc., a global source of critical information and insight. Quoting forecast by IHS, CPT said that annual production value of flexible AMOLED panels in wearable-device applications is expected to hit US$20.7 billion by 2023.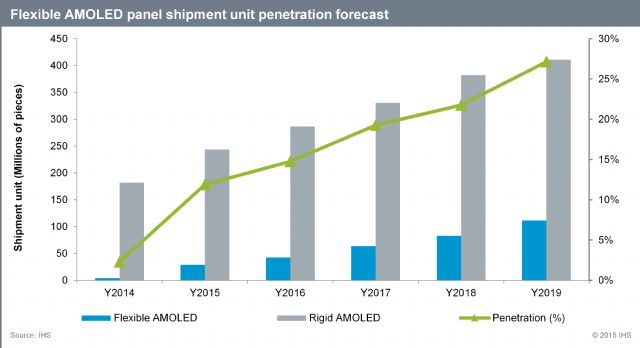 IHS says growth in wearable devices will drive flexible AMOLED display shipments to exceed a forecast 11% of rigid AMOLED shipments in 2015. (photo from IHS)
Manufacturers of small- and medium-sized displays are rapidly shifting from the production of rigid OLED panels for smartphones and wearable devices to flexible AMOLED panels, IHS said. In particular, Samsung Display and LG Display are pursuing enhanced technological differentiation for LCD panels, in order to expand the supply capacity of flexible AMOLED displays.
Declining prices of low-temperature poly-silicon (LTPS) LCD displays has quickly undermined the price competitiveness of AMOLED panels. "Smartphone makers were unhappy with the price of AMOLED panels, because higher-priced pentile-pixel AMOLED displays had lower sharpness than LTPS LCD displays with the same resolution," an IHS analyst said. "As the wide color gamut of AMOLED displays has not been a major differentiation factor in the smartphone panel market, current AMOLED panels will eventually lose their appeal, unless prices decline further."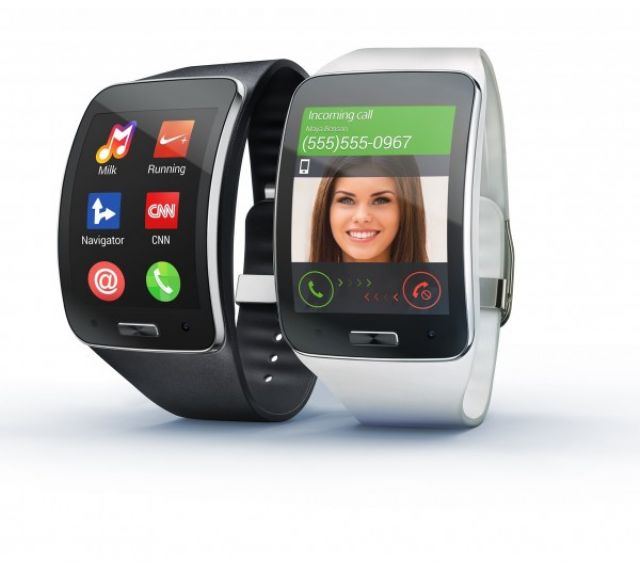 A smartwatch with flexbile AMOLED display. (photo from Internet)
To cope with these market conditions, and to differentiate their offerings, AMOLED panel makers are offering flexible displays. For example in 2013, LG Electronics launched the G Flex and Samsung Electronics launched the Galaxy Round. In 2014, the companies introduced the G Flex 2 and the Galaxy Note Edge, respectively. Samsung's latest flexible display smartphone model, the Galaxy S6 Edge, was unveiled earlier this year.
Flexible OLED-based products are not fully differentiated from the ones using conventional rigid, flat, mobile handset and smartwatch panels, IHS said. Now with curved, bendable and edge AMOLED display designs, panel form factors are truly differentiated; however, they have not been actively used to offer new functions or to provide an extended user experience. "Flexible OLED panels are used to add value, and as a way to differentiate products from traditional rigid panels," the analyst said. "Flexible OLED panel makers should now focus on providing a more advanced form factor—and a better user experience—than what is available in current products."