Bai Weimin, vice chairperson of the China Video Industry Association (CVIA), recently announced that China has plans to procure US$4.5 billion worth of, or about 27 million, thin film transistor-liquid crystal display (TFT-LCD) panels from Taiwan this year, the second annual high in three years.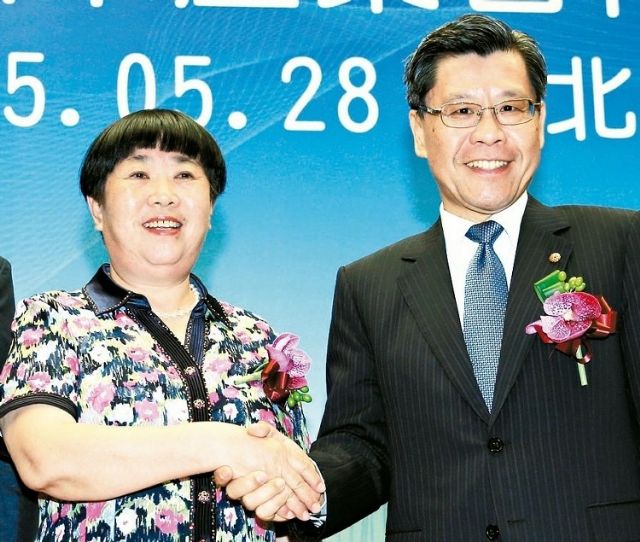 Bai Weimin (left), vice president of CVIA, and Francis Liang, chairman of TAITRA, at a press conference before the cross-strait FPD industry seminar held in Taipei, Taiwan. (photo from UDN).
Bai made the statement in a cross-strait display industry seminar held May 28 in Taipei by the Taiwan External Trade Development Council (TAITRA), a semi-official trade promoter. The CVIA vice president, who is sometimes quaintly referred as "Queen of Panel Procurement", attended the seminar by leading a Chinese panel-procurement delegation consisting representatives of six major color-TV vendors in China.
Francis Liang, chairman of TAITRA, said in the seminar that China has become the world's largest TV market, in which development of high-end TV technologies pulled ahead other countries. Currently, he added, Chinese color-TV makers together command a global market share as high as nearly 50 percent; so its makes business sense for the China-Taiwan partnership in panel procurement and supply to move towards quality oriented rather than one continually revolving around quantity. In addition, he said, the mutual cooperation in the panel industry should focus more on stable profitability and joint R&D.
Bai clarified China's panel purchase from Taiwan last year to ease worries of perhaps dwindling demand on the mainland but also exposed supply-demand imbalance. She said that China had originally planned to procure 27 million to 28 million TFT-LCD panels, or US$4.5 billion worth of such products, from Taiwan in 2014, but ended up buying only 23 million panels valued at US$3.52 billion, to which she attributed insufficient production capacity of Taiwanese panel suppliers, adding that the average screen size of TVs in China has been increasing. Bai, however, did not talk about the intractability of the supply problem in Taiwan, whose makers may not be able to keep up with inevitable rising demand alongside increasing affluence in China, where families will likely buy multiple TVs in future.
In 2015, Bai stressed, China's panel procurements from Taiwan will grow 17.4 percent in volume to some 27 million panels, with a 27.9 percent value increase to US$4.5 billion.
FPD Industry in China
Regarding the development of the Chinese flat panel display (FPD) industry, Bai said the supply chain of the industry has been upgrading, and that eight 8.5th-generation (8.5G) TFT-LCD lines are set to start production this year in China. In 2014, she added, the local content in the Chinese FPD industry for the first time broke 30 percent; while in 2015 Chinese panel suppliers will likely satisfy about 48 percent of local demand for TV panels, with, she stressed, Chinese panel suppliers still setting up new production lines.
While implying that Chinese panel suppliers are gradually becoming less reliant on imports and outsourcing, Bai said that many chances remain for cooperation between players on the both sides of the Taiwan Strait, including jointly setting up industrial standards, joint development of higher-end panel technologies etc., which will help panel makers on either side gain increasingly solid foothold in the international display market. In addition, she continued, the Chinese governmental policy to promote the "Internet+" concept should create a new and big market for displays.
During her speech lasting about 30 minutes in the cross-strait industry seminar, the vice president spent about 20 minutes to stress the importance of inclusiveness rather than rivalry as well as collaboration between Taiwan and China. Obviously a seasoned politician, she praised Taiwan for its many capable entrepreneurs who can be expected to contribute to the FPD industry on either side in the future, also stressing that the FPD industry will continue to grow as business, and the global TV market nearing a generation-shift whereby big and lucrative business opportunities can be expected for players, and reiterated that Taiwan-China collaboration will enhance bilateral global competitiveness. The gist of her speech hinged clearly on cultivating mutual exchanges and collaboration between Taiwan and China.
While Chinese panel suppliers have been aggressively adding new-generation panel capacity, she added, Taiwan's advantages in talented professionals, advanced technologies, and strong manufacturing expertise continue to strengthen alongside accumulation of experience. Bai said that this time many senior executives of Chinese panel makers, such as BOE OT, China Star etc. are in the delegation, to offer a great opportunity for bilateral discussions.
7th Time
As the key representative for China's panel procurement mission to Taiwan, Bai has come to the island seven years in a row, and has each time brought notable news to the local panel industry.
In fact, according to industry insiders, Bai's role is mostly symbolic as is for many trade representatives or even senior governmental officials, even when she announces upon arrival China's planned annual FPD procurement value from Taiwan; because the Chinese TV vendors and Taiwanese panel suppliers had already mapped out the volumes and specifications a year earlier.
The harsh reality for many of Taiwan's technology industries is the unprecedented competition from Chinese counterparts, whose operators in the FPD, LED and Photovoltaics (PV) sectors continue to grow in technological and production capacities. BOE OT, for example, has announced recently to construct the world's largest, most advanced 10.5G panel factory, as well as add another 8.5G line in China, to ultimately target building China into the world's largest FPD producer in terms of production volume.
Thanks to the established technical strength of companies such as AUO and Innolux (recognized industry leaders in Taiwan), industry insiders say that Taiwanese panel suppliers are trying to leverage their size-differentiating strategies to evade and offset impact from Chinese counterparts' clout to be realized from capacity expansion.
New Ideas
In addition to her meetings with senior executives of AUO and Innlux, Bai also made time to exchange opinions with the Industrial Technology Research Institute (ITRI), a major industrial technology R&D body on the island, to discuss future possibilities for the FPD industry on both sides.
According to Bai, today is an era of ubiquitous displays, where every industry requires FPDs for all kinds of applications, with Chinese panel supplier also keeping up with such trend. The vice president also anecdotally said that TAITRA's chairman Liang told her upon arrival of his frequent engagement in telemedicine at home, which suggests bilateral cooperation opportunities in the medical-application display segment.