Driven by increased shipments of Taiwanese major vendors' new models, sales of new powered two-wheelers (PTWs) on the island rebounded by 6.8 percent in May from a year earlier, or year-on-year (YoY), and 6.6 percent from the previous month, or month-on-month (MoM), to 55,346 units, according to statistics compiled by the Ministry of Transportation and Communications (MOTC). Many vendors are also optimistic toward sales in June, which may see deferred new-PTW purchases occur. Some people opt not to buy PTWs in May, the tax filing month when consumers in Taiwan perceive having less disposable cash, to defer such purchases till June or over the next few months.

Yamaha Motor Taiwan Co. (Yamaha) kicked off volume shipments of its new CygnusX 125cc scooter last month; while Sanyang Motor Co., Ltd.'s (SYM brand or formerly Sanyang Industry Co., Ltd.) new Mii 110cc scoter won hot market response in May. Both two of the top-3 PTW vendors in Taiwan achieved impressive sales to have helped raise the overall market volume.

Industry experts anticipate improving sales in June of new PTWs, to be driven perhaps by the festive mood after university-entrance examinations as well as strong demand among new graduates who buy scooters as they enter the job market. Based on sales figures in the past few months, they forecast over 60,000 new PTWs to be licensed in June, with the monthly volume to continue to grow over the next few months.

Recovering sales of new PTWs in May lifted the grim mood of the stagnant domestic market that pervaded since early this year. In the first five months, new-PTW sales totaled 262,125 units, a minor YoY decrease of 0.33 percent.


New PTW Sales in Taiwan (Jan. - May, 2015)
Maker
May
Volume
Market
Share
YoY
Jan.-May.
Volume
KYMCO
22,627

40.9%

3.56%

109,578

Yamaha Taiwan
17,863

32.3%

-9.68%

77,974

SYM
8,479

15.3%

15.72%

42.348

PGO
2,987

5.4%

44.0%

15,283

Overall
55,346

100.0%

6.80%

262,125

Source: MOTC

Kwang Yang Motor Co., Ltd. (KYMCO), the largest PTW vendor in Taiwan for the past 15 years by volume sold, retained its lead in May by delivering 22,627 new PTWs, up 3.56 percent YoY, for a dominant market share of 40.9 percent. By successfully promoting its entry-level 125cc scooter KYMCO V2, the company sold more than 11,000 125cc scooters in the month, retaining its championship in the 125cc-scooter segment and has minimized the impact resulting from the delayed demonstration of its new VJR 125.
Yamaha Taiwan continued to consolidate its No.2 position by widening its lead from SYM. In May, 17,863 Yamaha PTWs were licensed in Taiwan, up 15.72 percent YoY, representing market share of 32.3 percent. Yamaha hit the highest monthly market share record last month, and the company enjoyed the highest YoY sales growth during the period among the top-3 vendors.
SYM delivered 8,479 new PTWs, down 9.68 percent YoY, winning market share of 15.3 percent. The firm's "black or white" special editions of the Mii 110 scooter successfully elevated SYM's 110cc-scooter monthly shipments to outstrip 2,500 units.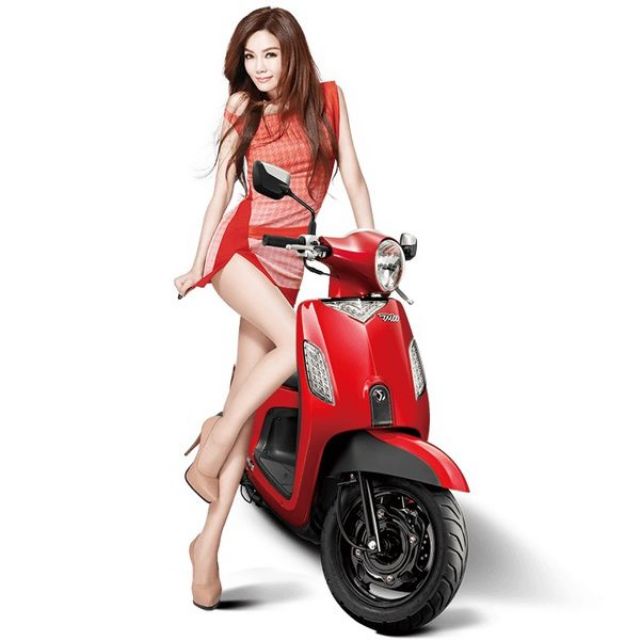 Rising sales of SYM's Mii 110 scooter is the momentum behind the vendor in the domestic market. (photo from SYM)
Motive Power Industry Co. Ltd. (PGO brand), sold 2,987 units in May, up 44 percent YoY, and won the No. 4 position. PGO has been busy with filling export orders in recent months, which caused inability to supply some hot-selling models for the domestic market. The supply tension also led to PGO's sliding sales volume in May, but which was still a 44 percent YoY increase.
125cc moves upmarket 
To protect its profitability, KYMCO recently announced plans to stop producing and vending its entry-level 125cc scooter models, including V2 and GP125, a decision that SYM had made earlier. Soon in the near future, industry sources say, Taiwanese consumers will no longer be able to buy a 125cc scooter for less than NT$50,000 (US$1,666), a trend that will help to return the local PTW market to healthier competition, one not fully reliant on price.
At almost the same time, the top-3 PTW vendors in Taiwan, including KYMCO, Yamaha Taiwan and SYM, have in-turn launched luxury versions of 125cc scooters, a strategy clearly designed to move upmarket to secure bigger profits.
Yamaha Taiwan, for example, launched the CygnusX luxury version equipped with front and rear disc-brakes to have immediately won hot market response. In June, KYMCO and SYM are scheduled to launch the new VJR 125 and JET 125, respectively, targeting also the luxury segment, which typically commands fatter margins.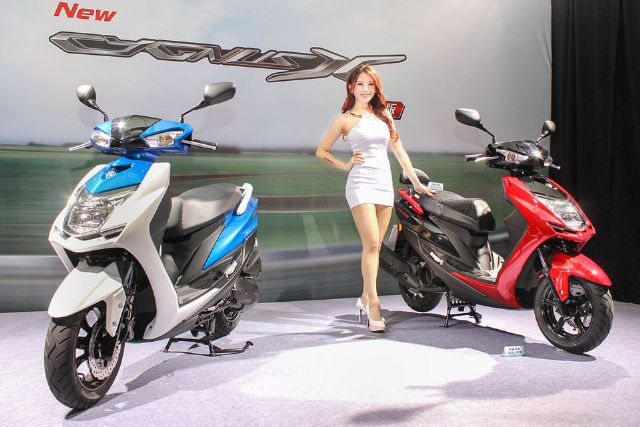 Yamaha Taiwan's new CygnusX luxury version with front and rear disc-brakes gained immediately hot market response. (photo from Internet)
Industry experts say to comply with Taiwan's existing fifth-stage emission standard, comparable to the European Union's existing third-stage standards for pollutant emissions, all local PTW vendors have to add electronic fuel injection (EFI) system to products that inevitably raises production cost considerably on each vehicle. An EFI-equipped, high-end 125cc scooter is priced close to NT$80,000 (US$2,666). But previously vendors had been pushing same-displacement, entry-level models with price tags kept under NT$50,000 (US$1,666) to retain their market shares. However, the sources further said that such budget-priced entry-level 125cc scooters had become a means for PTW distributors to  pursue higher sales bonus, as distributors of different brands opt to pre-license those models to  achieve higher sales scores (to gain higher bonus), and then sell them as "new secondhand models" at discount to consumers. Such tactic to artificially inflate sales volume formed the basis of unhealthy rivalry because a big part of new, licensed PTWs was mere figures rather than genuinely sold  vehicles running on roads.
A PTW vendor pointed out that entry-level models had unexpectedly become mainstream in the 125cc scooter segment, comprising as high as about 60 percent of the overall segmental sales, which only eroded profitability with each scooter sold simply because vendors gave discounts on the so-called "new secondhand models."
Among the top-3, SYM was the first to announce to halt introducing the entry-level 125cc models, then stopped production of a model while raising the price of another to the original price tag of NT$54,500 (US$1,816). KYMCO, then, announced to gradually lower production volumes of its V2, GP 125 entry-level models, to also have stopped providing incentives to secure profits.