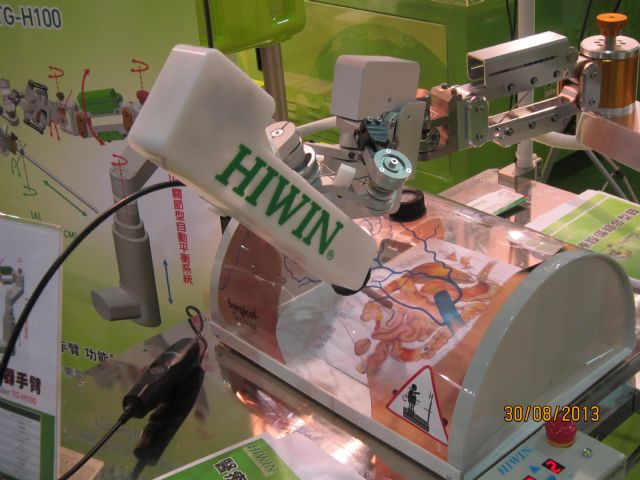 Strong market for automaton systems and robots drives Hiwin's sales. (Pictured is a Hiwin medical robot.)
Hiwin Technologies Corp., recognized as Taiwan's No.1 manufacturer of ball screws and linear guideways for mainly machine tools as well as industrial robots, announced posting consolidated revenue of NT$1.46 billion (US$47.22 million) in May, rising 4.9 percent  from the previous month and 24 percent from the same month of last year.
The May revenue helped swell the company's consolidated revenue for the first five months of this year to NT$6.49 billion (US$209.51 million), an increase of 22 percent from NT$5.32 billion (US$171.67 million) it had in the comparable period of last year.
The company attributes the impressive revenue growth mostly to the brisk market for automation systems worldwide and the company's increased shipment of industrial robots.
Industry executives point out that the company has been swamped with orders for ball screws and linear guideways not to mention increased orders for its medical and industrial robots. They predict promising outlook for the company's robot business in consideration of its acquisition of Luren Precision Co., Ltd., a Taiwanese manufacturer of precision gear cutting tools and gear-processing machines, and its partnership with Symtek Automation Asia Co., Ltd. on the development of six-axis robots.
Hiwin has reportedly landed sizeable orders for Delta-model robots from mainland Chinese handset makers, with the company's robotic gait-training systems are expected to pass the mainland's verifications soon.
Industry executives estimate Hiwin's robot shipments for this year to exceed that for last year, with sales likely to rise to make up over 10 percent of the company's total revenue in the second quarter compared to the first quarter's 8 percent.
Hiwin's other significant revenue earner for the coming years is a high-speed combination milling-grinder, whose manufacturing was licensed to a Hiwin customer in mainland China in May and uses Hiwin's key components.
Last year the company had consolidated revenue of NT$15.08 billion (US$486.67 million), increasing over 21 percent year on year. Industry executives project the company's revenue for this year to likely outstrip NT$15.8 billion (US$509.67 million) it posted in 2011 to hit new high.
Hinwin Chairman and Chief Executive Officer (CEO) Eric Chou points out that although the global economy remains gloomy, the company's sales remain buoyant thanks to the strong market in mainland China for increasingly automated machine tools mainly driven by automotive and electronics industries. Also, he expects the merger between China CNR Corp., Ltd. and CSR Corp., Ltd., reportedly the mainland's top-2 train makers, to create more demand for machine tools and components.