Apple's order for A9 processors with TSMC is among factors behind the chairman's optimism
Compiled by KEN LIU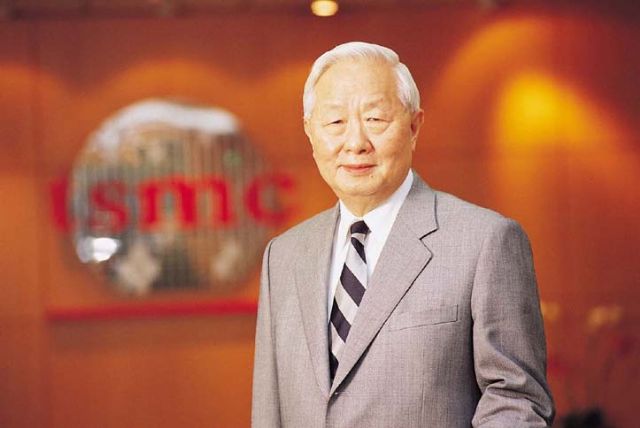 Morris Chang projects rising H2 revenue for TSMC amid gloomy market outlook. (Photo courtesy of TSMC)
Taiwan Semiconductor Manufacturing Co. (TSMC), recognized as the world's No.1 pure silicon foundry, Chairman Morris Chang projects its revenue for the second half of this year to outperform that for the first half and its revenue for the entire year to grow at double-digit rate year on year regardless of gloomy market outlook.
Some industry executives expect the company's revenue to halve in the second half due to recent developments that could upset the status quo, including Intel Corp.'s acquisition of Altera Corp. and the rising semiconductor supply chains in mainland China.
Since Intel is TSMC's competitor in the silicon foundry market and Altera, an American programmable logic IC vendor, is among TSMC's prime customers, the acquisition could potentially enable Intel to take over all of Altera's contracts.
Nevertheless, Chang points out that although Intel is a formidable chipmaker in technology and capacity supply, the company won't be able to easily transform itself into a pure foundry supplier from an integrated device manufacturer (IDM) in the short term, also citing Intel Chief Executive Officer (CEO) Brian Kranich's statement at the acquisition conference that Intel would still depend highly on TSMC for its valuable partnership.
Chang said two or three years ago that TSMC expected acquisitions to happen in the industry, but the acquisitions would not affect TSMC simply because TSMC is the world's leading contract manufacturer of logic ICs with reliable technology and production capacity.
Responding to reported anxiety in the sector that rising semiconductor supply chains in mainland China would soon impact Taiwan's semiconductor supply chains, Chang points out that although the mainland's authorities are determined to develop homegrown supply chains, so far they have not been able to compete against Taiwan's supply chains simply with determination and abundant capital.
Suggesting the critical necessity of advanced technologies, he notes that over the past 10 years, China's semiconductor industry has not been able to catch up to TSMC after years of development on government incentives, instead has lagged further behind because of lacking cutting-edge technologies, adding that they can not even compete with Taiwan in the advanced fields of IC testing and packaging.
Industry executives point out that this year TSMC's revenue growth will mostly driven by Apple's contracts for making the A9 microprocessors. They say TSMC beats Samsung with its 16nm FinFET process technology vs. Samsung's 14nm FinFET to win such contracts. Samsung's 14nm FinFET process, they say, failed to build an A9 sized as small as the one with TSMC's 16nm process, with performance of the two chips being similar.
TSMC began pilot production of A9 in March this year before volume production in June, with output topping 20,000 chips a month based on 16nm FinFET Plus process.
Industry executives say the company will begin to deliver the chips in September in large volume, likely bringing its revenue of that month to fresh all-time high.
TSMC has reportedly won not just the contract for making A9s but also the contracts for packaging and testing the chips, having reportedly had 100 tailor-made packaging and testing machines verified at Apple for the production.
Industry executives point out that A9 is a downsized version of A8, using fin field-effect transistor (FinFET) process to outperform A8 in energy efficiency and clocking speed.
A8 is built on 20nm process by TSMC, which won the contracts after tough competition with Samsung. Industry executives say the competition worked to TSMC's favor not just because its 20nm process outperformed Samsung's but also Apple found the South Korean maker a thorn in its side: Samsung was on its way off Apple's contract supplier list as the two have been engaged in smartphone patent lawsuits.
Thanks to A8 contracts, TSMC's revenue and earnings for 2014 set historical highs, according to industry executives. Last year, the company earned NT$263.9 billion (US$8.51 billion), or NT$10.19 per share, in after-tax net income on revenue of NT$762.8 billion (US$24.60 billion).
While many foreign institutional investors project TSMC's revenue for the final quarter to grow at annual rate of only 2 percent, Andrew Lu, Head of ex-Japan Asia Pacific Semiconductor & TFT Research with Barclays Capital Securities Taiwan Limited, gives a double-digit rate projection, which is based on estimates that revenue from A9 contracts will rise to account for 12 percent of TSMC's total in the final quarter from only 1 percent in the third quarter; Analog Devices, Inc. (ADI) will switch the contract manufacturing of the 300,000 wafers of Force Touch sensors for iPhone 6 by TSMC to 12-inch wafer process from 8-inch wafer process to boost cost and energy efficiency; TSMC's capacity utilization ratio and profitability will further climb along with foundry technology switching to 16nm process from 20nm process; and the foundry giant's customers will not build inventories until the end of the final quarter or the first quarter next year after two quarters of inventory adjustments.
The recent sale of 82 million shares in Vanguard International Semiconductor Corp. (VIS) for around NT$3.88 billion (US$125.16 million) will also contribute to TSMC's profit this year. After the sale, the company still has 28.3 percent stake in VIS, a specialty IC foundry supplier.