Compiled by KEN LIU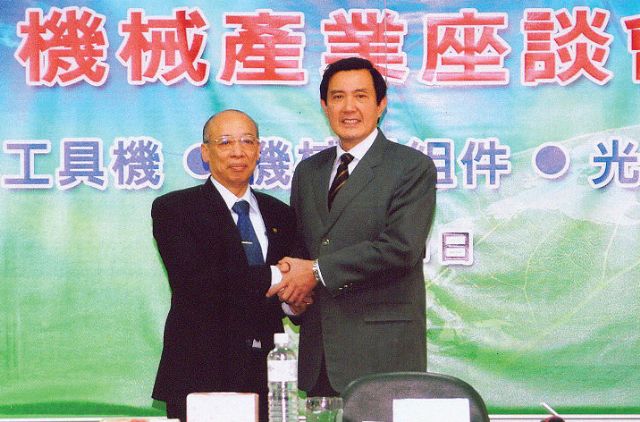 W.H. Wang (left) and President Ma at a machinery trade forum.
W.H. Wang, chairman of the Precision Machinery Development Association R.O.C. (PMDA R.O.C.), is pleading with the Taiwan government to allow the NT-dollar-to-greenback rate to fall to 33-to-1 to strengthen the island's machinery makers' competitiveness on the global markets, a suggestion he made when President Ma Ying-jou visited his company, Ching Hung Machinery & Electric Industry Co., Ltd., in central Taiwan.
Wang blames Taiwan's declining year on year exports in recent months on the relatively stronger NT-dollar-to-greenback rate compared to those of Japanese yen and South Korean won.
In the first quarter, Taiwan's exports by various industries slipped 4.2 percent year-on-year, to US$70.25 billion, with the exports in March alone hitting 31-month low of US$25.27 billion.
The island's exports of US$23.49 billion in April represented the steepest year-on-year decrease, at rate of 11.7 percent, in five years and the exports in May sank 3.8 percent, declining for the fourth month.
Although the NT-dollar has recently slipped in value to the greenback, such ratio is apparently moderate relative to that of the won and yen, Wang says. He notes that the NT-dollar-to-greenback rate devalued only 4.14 percent from the rate of 30.03-to-1 on June 4, 2012 to 31.27-to-1 on June 8 this year whereas the yen depreciated as much as 60.15 percent from 78.2-to-1 to about 125.23-to-1 in the meantime.
Wang stresses that the steep depreciation of yen has undermined export competitiveness of Taiwan's industries, including machine tool, precision machinery, metal, and plastics, so urges the Central Bank to take immediate action.
According to Wang, the depreciation of the yen has resulted in Taiwan's imports of wire electric discharge machine (EDM) to rise to 715 systems in 2013 from 2011's 293 systems a month, with the imports from Seibu Electric & Machinery Co., Ltd. of Japan alone doubling to 40 systems a month. In contrast, Taiwan's exports dwindled 6.56 percent to 942 systems in 2014 from 2011's 1,129 systems. His company is Taiwan's No.1 and the world's No.5 supplier of the equipment.
In mainland China, the gap in price quotations between Taiwan-built wire EDM and machines built by Fanuc Corp. of Japan has narrowed to only 5 percent due to the steep depreciation of yen, Wang adds.
Although Taiwan's machine-tool exports increased 5.8 percent year on year throughout 2014, Wang notes such growth was mainly due to the fairly low comparative base of the previous year, during which the Taiwan exports dropped at annual rate of 16.2 percent. Of the island's machine-tool industry, the wire EDM sector actually posted an 8.2 percent decrease in exports by the end of 2014, compared with the 22.4 percent increase in Taiwan's imports of the machines.
Depreciation of the yen has helped boost global orders for Japanese machine tools by 35.1 percent last year alone, to ring alarm for Taiwan's machine-tool industry, Wang says.
Yen's steep depreciation has also badly hurt South Korean exports, prompting a comment from a senior South Korean financial official that the won should be pegged to the yen, according to Wang.
He notes that Taiwan's gross domestic product (GDP) growth and government tax revenue are dependent on exports, to justify the government to allow the NT-dollar to fall against the greenback, believing the ideal depreciation rate to be about 15 percent or one-fourth of the yen's. Based on his formula, the NT-to-greenback rate should stand at 33-to-1.
Wang also believes now to be opportune time for the NT-dollar to devalue against the greenback because of the relatively low prices of crude oil and metals.