The "235" strategy proves effective in boosting the firm's operating efficiency and profits
Compiled by KEN LIU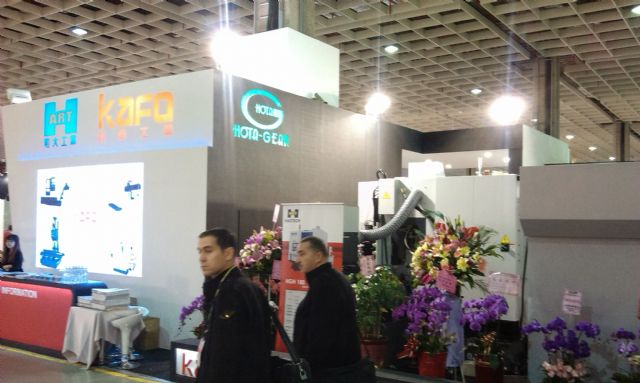 Seven years of restructuring results in Kao Fong's revenue tripling to historical high in 2014.
Seven years of restructuring beginning in 2007 has finally paid off for machine-tool maker Kao Fong Machinery Co., Ltd., the owner of the brand "KAFO", whose revenue tripled from NT$490 million (US$15.80 million) in 2009 to record high of NT$2.1 billion (US$67.74 million) in 2014.
Before Hota Industrial Mfg. Co., Ltd., a leading manufacturer of all terrain vehicles and transmission systems for automobiles and motorcycles in Taiwan, took over Kao Fong in 2007, the machine-tool maker had suffered five consecutive years of losses that topped NT$500 million (US$16.12 million) in total.
David Shen, Hota's chairman, engineered the successful restructuring. As soon as his company acquired Kao Fong, Shen began examining the company from top to bottom looking for the causes that put the machine-tool maker in the red, a firm he thought should have been profitable with its technological advantage and status as Taiwan's first maker of crane-type machine tools.
In no time at all, he found the company had been struggling with three major problems: unstable chairmanship, unsustainably low pricing range of its machines in mainland China, and the company's manipulative or dishonest mainland Chinese dealers.
Before Hota's acquisition, Kao Fong obviously was beset by poor leadership, having had its chairman replaced three times in nine years, to have undermined the company's employee cohesion and policy consistency.
The company's 18 mainland Chinese dealers were focused on self interest, having sold machines at unreasonably low prices and passing the loss to the company, which also reflected Kao Fong's flimsy management of dealers and weak supplier-distributor policies.
Realizing the problems, Shen quickly terminated the dealership contracts and began finding new dealers that would fully abide by the company's sales policy. In return, the company promised to back them up with after-sale service. He also raised prices without seeing sales significantly impacted in the mainland.
As for Kao Fong itself, Shen began restructuring by implementing the "235 Strategy", which involved reducing overhead by 20 percent, boosting efficiency by 30 percent and accelerating R&D speed by 50 percent.
Shen points out that many Taiwanese machine-tool makers have been unable to develop differentiated products for international customers all due to being accustomed to using typical components, which results in weakened competitiveness that lead to losses for unable to win on underselling.
Compared to Taiwanese manufacturers, German and Japanese manufacturers are much more profitable thanks to outstanding ability in designing components that set their machines apart from the crowd in precision and durability.
Shen says Kao Fong has begun modeling itself on German and Japanese industry peers and set up a components-development center. The company now builds in-house key components for its machines, with production lines equipped with crane-type five-sided machining centers built by Mitsubishi Heavy Industries Co., Ltd., horizontal-type boring machines by Shih Nippon Koki Co., Ltd. and horizontal-type machining centers by Yamazaki Mazak Corp., all of which have significantly boosted degree of processing precision of components.
To strengthen its R&D capability, the company has taken on two Japanese engineers who have been in machine-tool industry for over 40 years as  advisers, who Shen says have helped Kao Fong make significant breakthrough in mechanical design, assembly technique and onsite production management.
Shen notes that with new concepts and new techniques, the company's R&D engineers are now better at using the design concept of modularization to not just pare down production cost and speed product delivery but also shorten development and testing time of new product.
A case in point of the modular design is the KG5A-3025 family of crane-type five-axis machining centers, debuted at the Taipei International Machine Tool Show 2015 (TIMTOS 2015) held in early March, that are composed of three series with 15 specifications, which show impressive quality, reliability and precision processing.
Shen points out that America is trying to promote "re-shoring" or relocation of overseas American and Japanese carmaking plants stateside on the back of its program to rebuild industries and mainland China's gradual shift away from being the world's low-cost factory, which provides potential opportunities to automation-system suppliers worldwide. He suggests Taiwan's machine-tool and automation-system makers take advantage of such opportunities to increase their sales in the United States, where his company has opened a subsidiary.
Although Shen is upbeat about Kao Fong's future, he is wary of the impact of the devalued Japanese yen, the Free Trade Agreement (FTA) signed between South Korea and mainland China, and the rising threat from mainland Chinese machine-tool industry on Taiwan's counterpart. His company has targets revenue goal of NT$2.4 billion (US$77.41 million) for this year.