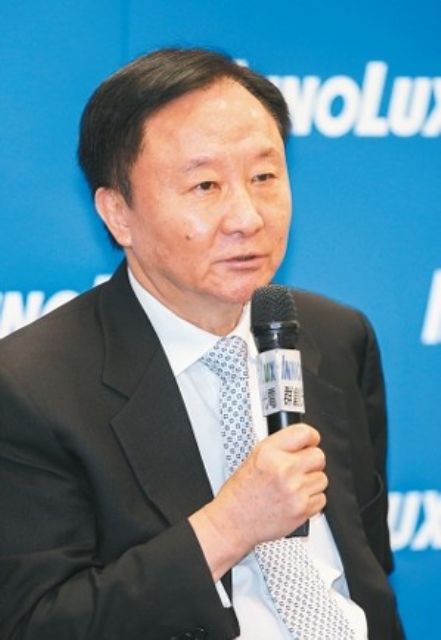 Innolux's chairman and CEO Duan Xian-jian. (photo from UDN)
Responding to the supply tension of large-sized (larger than 10-inch) thin film transistor-liquid crystal display (TFT-LCD) TV panels in the overall market, Duan Xian-jian, chairman and CEO of Innolux Corp. of Taiwan, recognized as the largest TFT-LCD panel supplier on the island, recently said that his company is eyeing even-better profitability this year than in 2014, despite rapid changes in the market.
Innolux reported core-business earnings of NT$28.1 billion (US$936.7 million) in 2014, for earnings per share (EPS) of NT$2.31 (US$0.08), the highest since 2010. The company aims to achieve even-better revenue and earnings this year, targeting to challenge 30 percent profit growth.
Duan made the above statements at his company's recent shareholders meeting, in which Wang Jyh-chau, Innolux president, pointed out that the maker's large-sized TV panel shipments will still fall short of demand this year, with demand for information technology (IT) panels to be relative flat due to the demonstration of Windows 10 operating system (OS) to be postponed to late July. The IT-panel segment, he added, is expected to heat up in the second half after the launch of Microsoft's new OS.
Smartphone-panel shipments are expected to continue increasing this year, Duan said, but there are still fierce price-cutting competitions. Demand for small- and medium-sized panels this year is weaker than originally expected, but only moderately. In general, the chairman and CEO added, China will continue to be the biggest market for Innolux this year.
Innolux registered consolidated revenue of NT$31.2 billion (US$1.04 billion) in May, down 3.7 percent from the previous month, or month-on-month (MoM) and a 14.1 percent year-on-year (YoY) drop. The company delivered 10.83 million large-sized panels in May, up 7.6 percent MoM, and 19.37 million small- and medium-sized panels, up 5.4 percent from the previous month.
Due to seasonality factors, Duan said, Innolux's second-quarter revenue will be down a bit from the first quarter's. For the second half, despite very limited market visibility for now, strong demand for TV panels can be expected. Shipments of smartphone panels will face declining pressure on price, while IT-panel shipments will rely on the Windows 10 effect.
World's No.1
By achieving technology breakthroughs in production processes of large-sized TV panels, Innolux is expected to pull ahead major rivals AU Optronics Corp. (AUO) of Taiwan and Samsung of South Korea to be the world's No. 1 supplier of 65-, 75- and 85-inch LCD TV panels in terms of shipments in the second quarter.
If things go to plan, that will be another world's No. 1 to be held by Innolux, which already is reportedly the No. 1 supplier of medical-, automotive- and aerospace-application panels.
To further consolidate its lead and strengthen its competitiveness in niche markets, Innolux has demonstrated its brand-new 4K, or UHD (Ultra High Definition), high color gamut (HCG) curved TV panels, panels for wearable devices, x-ray diagnosis panels, 
TOD
 (touch o display) and 
TID
 (touch in display) embedded touch panels, and super-thin, flexible, and curved active matrix organic light-emit diode (AMOLED) panels.