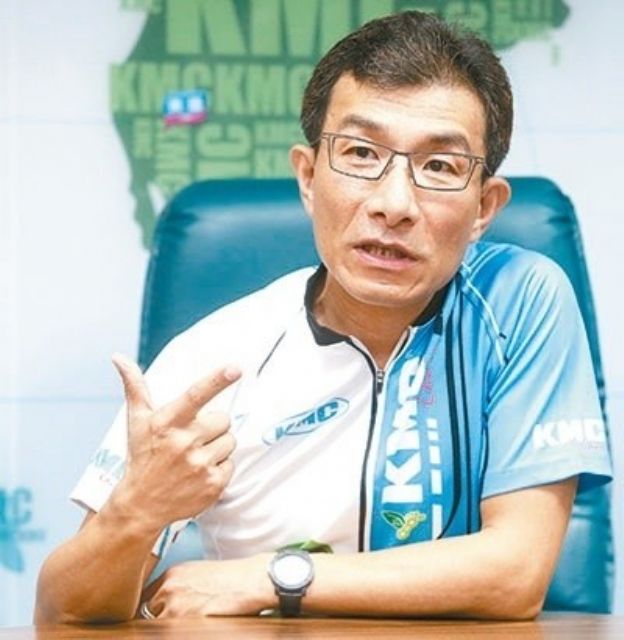 Robert Wu, chairman of KMC, a major bicycle-chain maker headquartered in Taiwan. (photo from UDN)
KMC Chain Industrial Co., Ltd. of Taiwan, the chain maker set up in Tainan, southern Taiwan in 1977 with its own KMC line of bicycle chains as well as affiliates in the USA and EU, is likely to benefit from share subscriptions by the three major suppliers in the bicycle industry.
In June of 2014, KMC announced that the three major players in the global bicycle industry have committed to take part in its private capital-increase project, including major assembled-bicycle makers Giant Manufacturing Co., Ltd. and Merida Industry Co., Ltd. of Taiwan, and world-leading bicycle-parts vendor Shimano Inc. of Japan.
Joining the fund raising by the three players is likely a synergistic move, which injects capital into KMC to enable acceleration of product development and innovation to meet their procurement requirements, as well as sets the stage for the new strategic investors to place more orders for the chainmaker. KMC predicts the investors to help the company increase annual revenue growth to 15 percent, from an originally target of about 10 percent. In fact, KMC enjoyed 50 percent revenue growth in 2013, 34 percent in 2014, and is anticipating 25 percent this year.
KMC issued 3.6 million shares at per-share price of NT$105 (US$3.5) to strategic investors. Giant and Shimano each acquired 1.5 million shares, while Merida subscribed the remaining 600,000 shares.
KMC's capital-increase project is a first in the global bicycle industry where a chain maker has gained both capital and implicit support from leading assembled-bike makers and top-tier bike-parts suppliers, industry insiders pointed out. With the chain and gear-shifting mechanisms being arguably the most-important parts of a bicycle, the partnerships formed through the private placement are expected to accelerate the advancement of key industrial technologies at KMC, the sources explained.
Focus: China + ASEAN
Robert Wu, president of KMC, during a recent interview by the Chinese-language economic daily newspaper 
Economic Daily News (EDN),
 expressed optimism towards the global bicycle market. He said that even today bicycles are major transportation and commuting vehicles in China, which used to produce some 30 million units per year but the annual production capacity has grown to about 85 million thanks to Chinese government's incentives to encourage industry. To date, he added, China is the world's largest production nation of assembled bicycles, exporting massive volumes to almost every nation in the world except the European Union (EU), which has levied protectionist duties against China-made bicycles for more than 20 years.
Besides being commuting tools, bicycles in China, alongside rapidly rising living standard as well as higher environmental-protection and health-leisure consciousness, is expected to continue to grow as segment, with the nation to also likely become the world's largest single market for higher-end bicycles. The attitude towards bicycles among people living in China and Association of Southeast Asian Nations (ASEAN), Wu said, is changing, which shifts habit of cycling that will inevitably lead to the highest bicycle-sales growth over the next 10 years in the region, compared to the rest parts of the world.
Generally the total global production of bicycles does not change significantly, but the annual sales revenue has been rising every year by an average of 5 percent to 8 percent. That means, Wu said, the overall industry has been restructuring gradually, to show the shrinking sales of cheap, transportation-oriented models, and the increasing volume of bicycles built for leisure and fitness across the world. Such trend unquestionably benefits Taiwan, the home to Giant and Merida, both major suppliers of wide ranging bicycles including upscale models.
Uptrend This Year
This year, Wu said, global bicycle sales are expected to continue rising. While the depreciating euro will impact sales prices, but more so with transportation or lower-priced models than leisure or higher-priced bikes. So the overall industry is optimistic.
China is undergoing a major structural change in its bicycle market, in which the annual demand is about 25 million units. In the past, Wu said, most demand was driven by riders who depend on bike for commuting, but now a demand for about 10 million higher-end leisure-purpose bicycles has been confirmed, which is likely to continue increasing an average of 8 percent to 10 percent year on year. Such increasingly strong demand for higher-end bicycles, in fact, has in the last decade been the major growth driver of revenue and profit for the top-two Taiwanese assembled-bicycle makers: Giant and Merida.
Thanks to steady promotions and efforts poured into leisure, healthcare and tourism fields in recent years by various parties, Wu said, Taiwanese bicycle and parts makers have been on track to achieve higher profit margins due to continual devotion to product R&D and innovation. Such trend is continuing, he added, but the high stakes and threshold to compete in the sector only allow survival of Taiwanese players with long-term commitment to product R&D and upgrading.
King Liu, chairman of the Taiwan-based bicycle maker Giant, is often reported in media as a high-profile promoter of bicycles and cycling, with his firm also sponsoring around-Taiwan cycling trips for visitors. Obviously a man with evangelistic enthusiasm for cycling and the role of bicycles, Liu always tries to promote one key concept in cycling activities: the bicycle is the "simple solution" to all problems of the earth, regardless of global warming, air pollution, traffic jams, sickness etc. However detractors would argue that cycling even for leisure is hazardous for most people during summer in India, where temps exceed 40C, as well as other tropical locales with equally forbidding climate.
Wu also has been the chairman of Taiwan's Cycling & Health R&D Center, a key R&D hub for the local bicycle industry, for many years. He points out that in the past the center focused more on material technologies and quality, but now on pursuing unlimited business opportunities to be generated with the bicycle.
Citing a case from Giant, Wu said that the bicycle maker recognized the importance and potential of female cyclists to have specifically developed a sub-brand for the segment. In addition, the company was also aware that most female riders applied makeup before and during riding, so the female-bike specialty stores also offer many products catering to skincare and wide-ranging products to help shape different parts of the body as thigh, waist. These are just examples of opportunities that have been discovered from thinking about gender-specific cycling habits and habits.
Globally-leading Shareholders
KMC has maintaining very close partnerships with the top-two Taiwanese assembled-bicycle manufacturers for about 40 years since its establishment, Wu, the second-generation entrepreneur, said. Such trend is likely due more to reality of business than strategy. KMC in its early days probably relied on Giant and Merida for survival due to volume of order. The chain maker, in fact, had canceled at least twice its public-listing plan in recent years before finally carrying out initial public offering (IPO) in 2011. Earlier and through a private placement, Wu said, Giant and Merida acquired shares in KMC as a customary practice between the first-generation owners of the company and investors. For Giant and Merida to buy shares in KMC, Wu said, also indicates the faith of the two world-class bicycle makers hold in the chain maker.
KMC has also kept long-term ties with Shimano, the brand ubiquitously seen on many brakes and gear-shifting mechanisms. Their close partnership prompted Shimano to authorize KMC to be its sales agent in Asia starting 1986, and the Japanese company has expressed willingness to invest in KMC. After the recent capital raising, Wu said, the KMC-Shimano partnership has become even closer, and in the future the two parties will further expand cooperation in other business fields.
Group Biz Integration
After KMC became a listed company, Wu said, he has focused on two important missions. One is to integrate group businesses and another to explore applications in other industries. Only after accomplishing the two missions, he said, can KMC begin to work on the true goal of going public, which is business development.
"We ran a family business and operational points in Tianjin and Shenzhen (China), Vietnam, Taiwan, and the United States before going public, and have integrated group businesses by combining sales-channel or distribution companies in Taiwan and Vietnam. We are now integrating the Shenzhen operation this year, and then Shanghai in 2016," said Wu.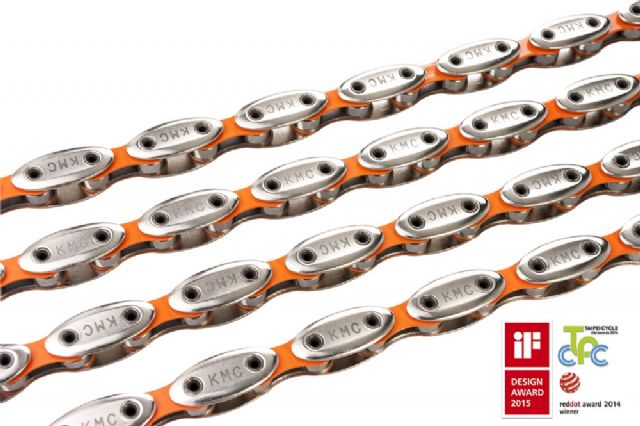 The company's long-term devotion to production R&D and innovation makes it a frequent winner of design awards worldwide. (photo from KMC)
KMC kicked off the first-phase group business integration in 2012, injecting more resources into KMC Taiwan, which now focuses on R&D, manufacturing and sales of high-end bicycle chains. In 2013, the group completed its second-phase integration by further consolidating sales channels in Europe, the U.S. and Indonesia, effectively upgrading KMC's market access and brand-marketing strength in major markets.
Wu said that the application range of chain products is very wide, with unlimited business potential for KMC. After his company has gained a very solid foothold in the global bicycle-chain market, Wu said that his company targets expanding business into other applications such as automotive and other industries.
Continued Growth
Driven by the group business integration plans, KMC has been enjoying continued annual revenue growths averaging between 25 percent and 30 percent. The KMC Group entered its third-phase integration in 2014, leading to a revenue growth of 34 percent; while Wu said that the fourth-phase integration kicked off this year and will be completed by 2016.
After KMC completes its integration in the bicycle-chain business, Wu said that the company will move toward new application markets such as automotive chains, garage-door chains, and others, which are expected to help drive growth momentum in the future.
Business Strategies
Regarding KMC's major business strategies, Wu said that his company maintains close partnerships with globally-leading assembled-bicycle manufacturers; contract supplies chains to the renowned bicycle-parts vendor Shimano; and aggressively develops own-brand operation.
The purpose of offering own-brand product lines is to have direct dialogue with end consumers to know what they want and dislike, Wu said, with profitability being another major concern in the development of in-house brands. The average price for chains delivered to bicycle makers or parts vendors under B2B (business to business) mode is only one-third that of the business-to-consumer (B2C) mode.
Alongside continued and rapid development in the past years, Wu said, KMC is no longer a single-nation enterprise, but a cross-national business group requiring new development strategies such as transformation from pursuing shipment volume to product quality, further strengthening branding and marketing, pursuing better distribution-chain management, R&D of newer and more advanced products as well as manufacturing processes.
In the eyes of most people, Wu furthered, the chain is a cold industrial product, but to KMC such product is a boutique and high-performance item able to win consumer confirmation. KMC, on the one hand, he says, tries to upgrade the functionality of bicycle chains, and also pursue higher consumer confirmation of KMC-brand chains through sport marketing efforts. Many of KMC's innovative products have set trends in the segment, such as the first lightweight chain the firm launched in 2001, a 10-speed chain with golden coating, or an 11-speed high-performance model that had been recently demonstrated.
"We appeal to the distributors with the slogan "Worry Free" to promote our brand," Wu said. "And we have to solve consumer problems by offering technical and product specification solutions, especially when complexity of mechanical structure of bicycles increases, as is demand for specifications, performance and smoothness of operation. Such is a necessary road on which we must travel if we want to transform from an OEM-only supplier to original brand maker." To be able to answer consumer questions may be the ultimate way to win total consumer satisfaction for a brand vendor, said Wu.
Sponsoring First-class Racing Cyclists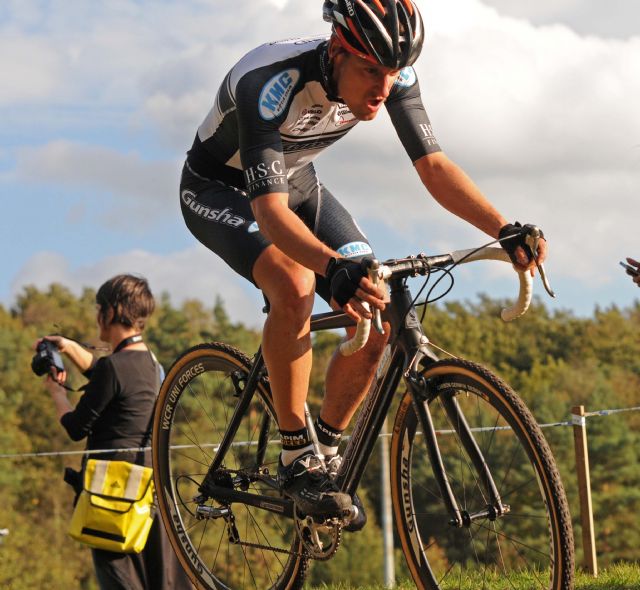 KMC sponsors many world-class racing teams and cyclists who have performed well in important races worldwide. (photo from KMC)
"We target only the world's first-class racing cyclists from the very start of our sport-marketing program, because we know mass consumers are drawn to products promoted and used by top-level athletes," said Wu, echoing the sentiment and practice among global brands as Nike, Adidas that spend millions on sponsoring NBA players, tennis pros and track and fields athletes.
Since 2008, KMC-sponsored bicycle racing teams and cyclists have won top rankings in important races worldwide, including two gold and two silver medals at the 2008 Beijing Olympics, alpine-stage championships in the 2011 Tour de France, Tour of Spain 2011 (group and individual championships), two gold and one silver medals in the 2012 London Olympics etc.