The repeatedly mentioned issue has become a hurdle in industry's pursuit of NT$1 trillion revenue target for this year
Compiled by KEN LIU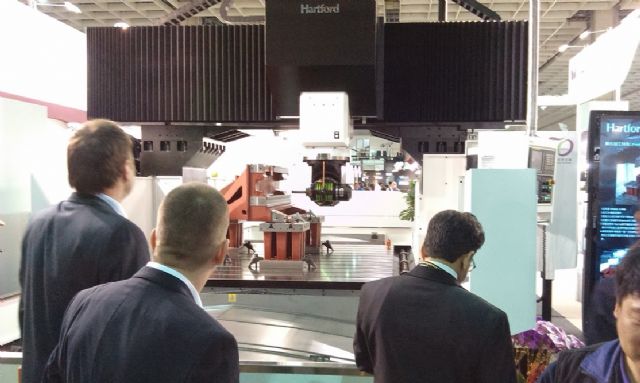 Taiwan's machine-tool exports drop in Jan.-May this year. (Foreign buyers shown looking at machine tools at a Taipei international machine tool show.)
While Taiwan's machinery exports overall increased 2.3 percent year on year in the first five months of this year, to US$8.43 billion, the machine-tool export was down 6.7 percent due to strengthened NT-dollar-to-greenback rate relative to weaker counterparts of Japanese yen and South Korean won.
Denominated in NT-dollar, Taiwan's machinery exports as a whole were NT$264.1 billion (US$8.51 billion) in the first five months, rising 5.9 percent from the same period of last year, according to the Taiwan Association of Machinery Industry (TAMI), which represents around 3,000 Taiwanese machinery manufacturers.
In May alone, the exports increased 9.0 percent year on year, to NT$58.8 billion (US$1.89 billion).
TAMI President J.C. Wang points out that the island's machinery manufacturers are encouraged by such export growth due to not being driven by global demand but postponed shipments that were originally scheduled for this April, as well as irregular orders from Taiwanese manufacturers and foreign manufacturers who have migrated to Vietnam, the Philippines, and India from mainland China.
Uneven growths
The association's statistics show that in the first five months Taiwan's machinery exports grew 30 percent to the Philippines, 28 percent to Vietnam, 22 percent to India, 7.5 percent to mainland China and 2 percent to the United States. In the meantime, the Taiwan exports dropped 24 percent to Brazil, 19 percent to Russia, 16 percent to Singapore, 10 perceent to Thailand, 5 percent to Germany, and 0.7 percent to Japan.
In May, Taiwan's exports of machinery grew 81 percent to the Philippines, 71 percent to Vietnam, 24 percent to Turkey, 11 percent to Japan, 7 percent to the United States and 2.4 percent to mainland China, contrasting the exports to Germany, Thailand, South Korea and Malaysia that continued to drop.
For the island's machine-tool sector, the exports were weak, decreasing 9.8 percent year on year to US$298 million in May not to mention the 6.7 percent decline in the first five months.
In the Jan.-May period, Taiwan's machine-tool exports surged 42 percent to Vietnam, 16 percent to Japan, 11 percent to Turkey, 9 percent to India, and 6 percent to Holland. But to the traditional major markets, the Taiwan exports dropped around 41 percent to Brazil, 28 percent to Thailand, 21 percent to England, 17 percent to South Korea, 17 percent to Indonesia, 12.9 percent to mainland China, 7 percent to Russia, and 0.9 percent to the United States.
Most of the island's machine-tool makers are currently taking orders for production in the third quarter. Wang points out that, despite prices of locally made die-cast parts for locally-made machine tools being quite fair and machine tool components supply adequate, the strengthened NT-dollar and weaker yen, won and euro have eroded competitiveness of Taiwan's machine-tool exports.
Cheaper-yen advantage
He says Japan's machine-tool industry had received over 100 billion (US$815.06 million) of orders in each of the past 21 consecutive months through May due to the yen's 50-percent-plus devaluation since 2008. In the meantime, the euro has dropped over 26 percent and won has declined to 1,119 for one US dollar, versus the NT-dollar-to-greenback rate having rallied to around 30.7-to-1.
Industry executives suggest that the Taiwan government allow the NT-dollar-to-greenback rate to drop to 33:1 to shore up Taiwan's export competitiveness, pointing out that Japanese machine-tool makers are taking advantage of the weakened yen to cut prices of their high-end machines on the international market. Meanwhile, South Korean manufacturers are using the cheaper won and the Free Trade Agreements (FTA) South Korean government has signed with major economies like America, mainland China and European Union to outdo Taiwanese manufacturers.
Another looming threat is mainland Chinese manufacturers' encroachment on Taiwanese manufacturers of low-end, mid-range machine-tools. Such phenomenon is inevitable in the wake of migration of Taiwanese makers to the mainland over the last two decades, as Chinese operators gradually learn via cooperation with and working for Taiwanese makers, to slowly gain capacity to duplicate technologies to set up own business. The same process happens in Taiwan among all kinds of businesses.
Wang urges the Taiwan government to accelerate negotiations with China to include the island's machine-tool sector in the Cross-Strait Agreement on Trade in Goods, which is based on the Economic Cooperation Framework Agreement (ECFA) signed bilaterally in 2010, to counter South Korea's trade agreements. The mainland is Taiwan's largest market for machine tools, absorbing over 30 percent of Taiwan exports every year.
He predicts Taiwan's machinery industry overall to again miss the revenue target of NT$1 trillion (US$32.25 billion) for this year based on the poor exports in the first five months. Last year, the Taiwan industry posted revenue of about NT$964 billion (US$31.1 billion).
Taiwan's Exports of Machinery and Machine Tools (Jan.-May '15)
Category

Machinery

Machine Tool

Export revenue

US$8.43bn

US$1.36bn

YoY change (%)

+2.3

-6.7%

Top-3 export destinations  as  Taiwan's total exports

Mainland China (27.6%)
U.S. (17.2%)
Japan (6.1%)

Mainland China (29.9%)
U.S. (11.6%)
Turkey (6.0%)

Note

TAMI originally forecasted 10% increase year-on-year each for Taiwan's machinery and machine-tool exports in 2015.

Source: TAMI