Catering to local younger riders proves to be a savvy marketing strategy by the motorbike brand
Yamaha Motor Taiwan Co., subsidiary of Yamaha Japan and the No. 2 powered two-wheeler (PTW) vendor on the island by sales volume, recently announced its restyled or remodeled scooter, BM'S R, which is designed to further raise sales in the summer-vacation season.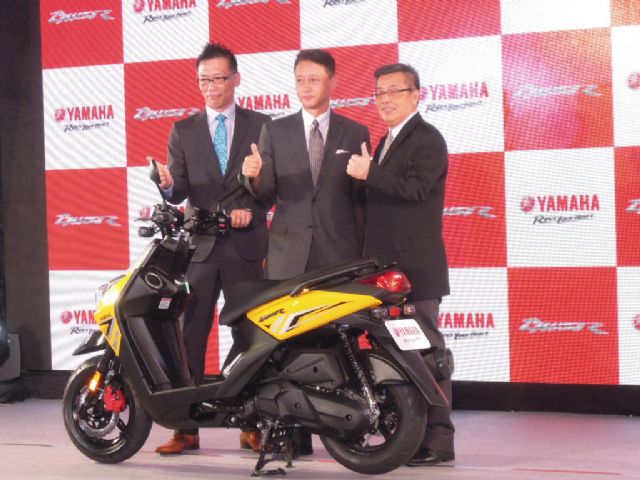 Shinji Takeda (center) has been president of Yamaha Taiwan since late 2014 and has kicked off intensive marketing activities to expand Yamaha's market share in Taiwan.
Yamaha gained the No. 2 position from the long-term rival Sanyang Motor Co., Ltd. (SYM brand and formerly Sanyang Industry Co., Ltd.) starting in 2014, and has expressed eagerness to become the No. 1 player in the Taiwanese market. To achieve such goal, Yamaha Taiwan has introduced at least one new PTW model monthly since January this year. In May, the firm launched the Cygnus-X 125cc luxury version with front/rear disc brakes; while in July, the local subsidiary will kick off vending the imported Yamaha YZF-R3 320cc street-racer on the island. Yamaha Taiwan has announced the goal to win at least a 30 percent share in the domestic PTW market this year. Kwang Yang Motor Co., Ltd. (KYMCO), the No. 1 PTW vendor in Taiwan for 15 years in a row by sales volume, has a market share of over 40 percent.
Yamaha Taiwan's New-PTW Sales (2011-2015)



Sales Volume

Market Share

2011

176,030

27.5%

2012

174,952

27.9%

2013

192,557

28.8%

2014

206,497

30.9%

Jan.-May, 2015

77,974

29.7%

Source: Ministry of Transportation and Communications (MOTC)

Shinji Takeda, took over as president of Yamaha Taiwan in late 2014 and has constantly shown ambition to further expand the Japanese brand's market share on the island via steady, aggressive marketing activities, including new-model launches, owner activities, outdoor sales promotions, etc. Those efforts have paid off in Yamaha Taiwan's sales number: in the first five months, the vendor sold some 77,947 new PTWs in Taiwan, making it the only nameplate among the top-three to enjoy year-on-year (YoY) volume growth. Yamaha Taiwan delivered about 40,000 125cc scooters from January to May, also being the No. 1 vendor in the domestic mainstream PTW market except sales of entry-level 125cc models.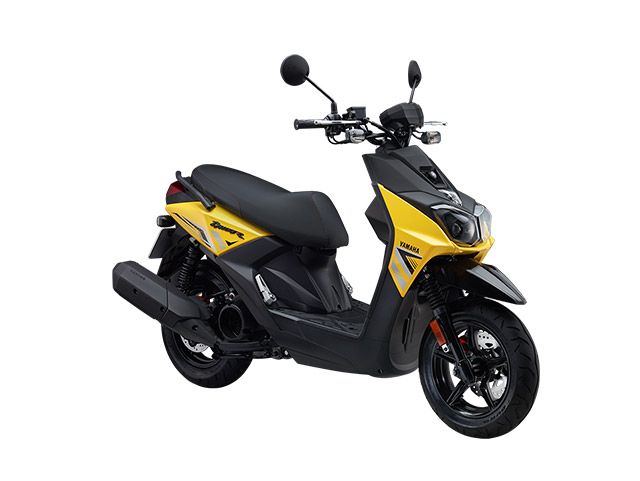 The new Yamaha BM'S R is currently the only crossroad-like 125cc model available in Taiwan. (photo from Yamaha Taiwan)
Though domestic new-PTW sales growths are stagnant this year, senior Yamaha Taiwan managers said, most of Yamaha Taiwan's new models are in serious short supply, which has resulted in Yamaha Taiwan's sales division being pressured by distributors island-wide for faster delivery of new vehicles on order.
Sales of imported, big-displacement (typically 300cc-plus) PTWs have been increasing to account for more than 10 percent of Yamaha Taiwan's overall volume. In conjunction with the start of sales of the new Yamaha YZR-R3, and the increasing export volume of the MT07 road bike and TMAX maxi-scooter promised by Yamaha Japan, the local subsidiary said combined sales volume of big-displacement motorcycle and motor scooters is expected to account for more than 15 percent of the company's total this year.
To further consolidate its foothold in the 125cc scooter segment, the core of domestic new-PTW sales, Yamaha Taiwan has launched the Cygnus-X and BW'S R, targeting sales of about 2,500 new BW'S Rs per month, or about 30,000 per year.
Both the two new 125cc scooters are highly popular among local younger riders, especially due to the BW'S R being currently the only "crossroad-type" or hybrid motor scooter in the domestic market. Its predecessor, the BW'S, was launched in 2008 to have seen encouraging sales. A crossroad motor scooter supposedly is equipped to handle both street and off-road riding.
To fuel the demonstration of BW'S R, Yamaha Taiwan has developed a series of tuning parts and accessories for the new model, as well as launched several online marketing videos to attract more younger buyers.