Compiled by STEVE CHUANG

Just as the plastics industry gave birth to one of the pioneering industrial giants in Taiwan, the sector is proving to be a driving force in China, with advanced plastic technologies and machinery displayed at the ChinaPlas 2015 (29th International Exhibition on Plastics and Rubber Industries) setting up a platform to enable exchanging among global exhibitors and buyers, networking opportunities.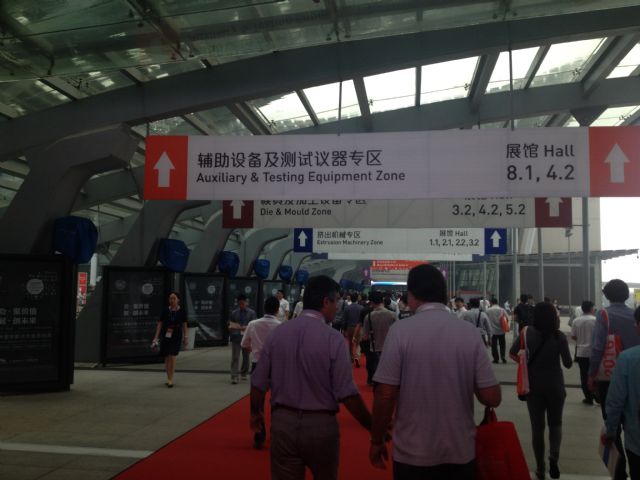 ChinaPlas 2015, held May 20-23, in Guangzhou, southeastern China.
Alternatively held in Shanghai and Guangzhou, China yearly and organized by Hong Kong-based Adsale Exhibition Services Ltd. in cooperation with Messe Düsseldorf China, ChinaPlas is Asia's largest, world's second-largest trade fair for plastics and rubber industries by size, only next to Germany's K Show, a triennial trade fair staged in Düsseldorf. ChinaPlas has steadily achieved rising turnout in exhibitors and buyers due to positive response among attendees, who agree that the event creates ample business opportunities.
Held May 20 through 23 in the China Import & Export Fair Complex in Guangzhou, this year's ChinaPlas hosted over 3,200 exhibitors from 39 countries, with products spread across 240,000 square meters in 26 exhibition halls and the exhibitor number and floor space both hitting record highs. The show's increasing influence is also reflected in the surging number of first-time exhibitors. According to the organizer, over 700 of the total exhibitors joined the show the first time, mostly anticipating to meet more potential global buyers.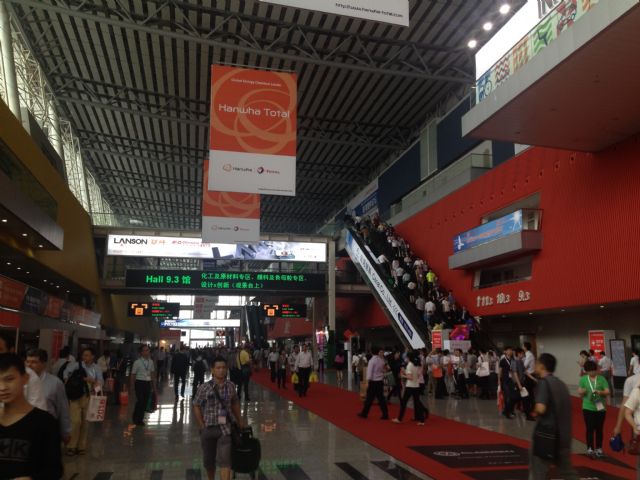 The show set a record high in visitor number despite downpours during the 4-day run.
During its four-day run, the show attracted 128,264 visitors, a new high, including 49,732 on the second day alone despite a downpour. With ChinaPlas increasingly recognized as a key yearly event for global plastics and rubber industries, this year's exhibition saw foreign visitors increase to 35,090 to account for 27.36 percent of the total, reflecting desirable global representation. The organizer reported that they came from 137 countries, with India, Hong Kong, South Korea, Taiwan, Indonesia, Vietnam, Thailand, Iran, Malaysia and Japan being the top-10. Compared to the 2013 Guangzhou edition, the show registered a 12.41 percent growth in visitors, with overseas visitors up 14.04 percent.
Not only were new, advanced raw materials main attention-getters among visitors, but processing technologies and equipment that help streamline and sharpen efficiency in production were also popular, especially when plastics continue to be widely applied in automotive production, flexible packaging, medical device production, construction etc., hence sustaining global market demand for plastic processing machinery.
Daily Stats of Visitors at ChinaPlas 2015


Overall Visitors

Foreign Visitors (Proportion)

Day 1

34,640

7,794 (26.88%)

Day 2

49,732

14,522 (26.17%)

Day 3

32,570

9,574 (28.99%)

Day 4

11,322

3,200 (41.06%)

Total

128,264

35,090 (28.26%)

Source: Adsale Exhibition Services Ltd.
Among other attractions, wide-ranging exhibits that were systematically laid out also help to make ChinaPlas 2015 popular. Raw materials and chemicals were the largest category, of which 800-plus exhibitors were available in Halls 10.2, 11.0, 12.2, 13.2, 9.3, 13.2, 10.3 and 11.3, with zones specifically for bioplastics, compounds and special materials set up in Halls 12.2 and 10.3.
As for machinery, rubber-processing machines were displayed in Hall 10.1. Packaging and blow molding machines were showcased in Halls 9.2, 11.1 and 13.1. Plastic injection molding machines were the largest machinery category at the show, occupying Halls 3.1, 4.1, 9.1 and 12.1, with Halls 1.1, 2.1, 2.2 and 3.2 full of extrusion machines, Halls 3.2, 4.2 and 5.2 housing suppliers of molds, dies and tooling equipment. Blown film and bag making machines were concentrated in Halls 7.1 and 8.1; auxiliary and testing equipment were presented in Halls 8.1 and 4.2. Automation equipment was laid out the first-time in the Industrial Automation Zone in Hall 4.2.
The German Pavilion.
As is usual for trade shows, 12 national pavilions were set up at the show by exhibitors from Austria, Canada, France, Germany, Hong Kong, Italy, Japan, S. Korea, Switzerland, the U.K., the U.S. and Taiwan. Sponsored by Taiwan Association of Machinery Industry, booths manned by Taiwanese exhibitors were mostly set up in Hall 10.1.
Positive Market Outlook
In addition to the organizer's decades-long effort on promotion, ChinaPlas 2015's phenomenal success is also due to several market realities, including unbeatable prices of plastic items that are used by information and communication technology, automotive, houseware, fashion, footwear sectors, and in all kinds of industrial applications, relative ease of production with turnkey equipment, steady demand for affordable plastic items among massive low-income consumers, and rising eco-awareness that deters use of natural raw materials as woods and minerals. For example, the siding on many western-styled Japanese homes even in the 1980s were already made of plastic.
With global population continuously expanding and consumer purchasing power in emerging countries strengthening, the organizer reported that the global packaging sector, for instance, will keep growing at compound annual growth rate of over 3 percent in the years to come, to US$477 billion by 2016, to certainly drive demand for packaging machines.
Flexible and rigid packaging aside, the organizer indicated that automotive production will also help to fuel growth of global plastics and plastic-processing machinery industries, given that ever more engineering and advanced plastics, which improve structural strength relative to conventional plastics, are applied in cars to replace metal parts, to reduce weight and lower fuel consumption. Such trend benefits machinery suppliers, particularly those capable of supplying large-sized, plastic injection molding machines.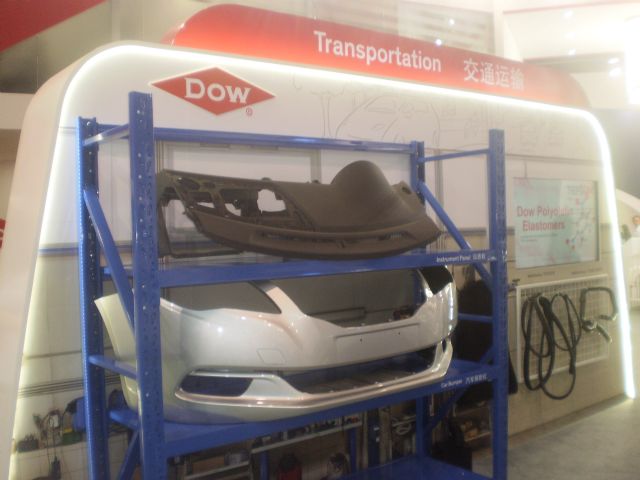 Auto parts production drives global market demand for plastic processing machinery.
With the said trends as backdrop, the U.S.-based market research firm, Freedonia, issued a report in 2013 to stress that packaging machinery will significantly increase to account for one-third of global machinery shipment in the short term, while plastic injection molding machines are expected to make up about two-fifths of the total, mostly thanks to wider application of plastics.
Mainly on upbeat market outlook, the global plastic machinery industry is expected by VDMA Plastics and Rubber Association, a Germany-based association representing over 200 machinery makers and exporters across the EU bloc with annual turnover exceeding euro 7 billion, or over 90 percent of the total in Germany alone, to maintain a yearly growth of around 3 percent in 2014 through 2016, with the major suppliers, namely China, Germany and Italy, having enjoyed solid performance throughout 2014.
Biggest Supplier
China in 2014 remained the world's largest supplier of plastic-processing machinery, with the domestic industry continuously expanding to include 397 operators whose turnover and size meet VDMA's standard as world-caliber firms, 5.6 percent more than a year ago. VDMA reported that China's exports increased 71 percent year-on-year in volume, with export value reaching US$1.85 billion. Exports of injection molding machines and extrusion machines both exceeded 26,000 units for a 9.3 percent and 207.1 percent rise, respectively, valued at US$1 billion and US$260 million, to which persistently bullish markets for cars, construction materials and energy were attributable.
Also notable is that sales of 3D printers in China were 53,800 units, valued at US$24.61 million, in 2014, with second-half sales totaling 42,000 units to underline the great potential of such products in the country, according to VDMA. Such printers are relatively new technologies that repeatedly lay paper-thin slices of plastic to create items from schematics, skipping the need for tooling to cut cost.
In the meantime, Germany ended last year with exports of euro 6.7 billion in plastic-processing machinery, down 1 percent year-on-year, mainly due to weak demand from Brazil, India, Turkey, Mexico, China, and, particularly, Russia, whose trade with Germany has plummeted after Western sanctions due to Russia's annexation of Crimea in 2014.
Contrasting stagnant exports to the said destinations, Germany's domestic orders for plastic-processing machinery, however, soared over 20 percent in the first eight months of that year, due largely to local manufacturers actively introducing automation equipment and related technologies as part of the country's adoption of Industry 4.0, while its exports to the 28-nation EU bloc also surged 10 percent in the year. With Europe's manufacturing industries gradually on the mend beginning in May, 2015, VDMA predicts the country's plastic-processing machinery shipments to rise 4 percent in the year, with the growth to be led by growing plastic consumption in the U.S. and China.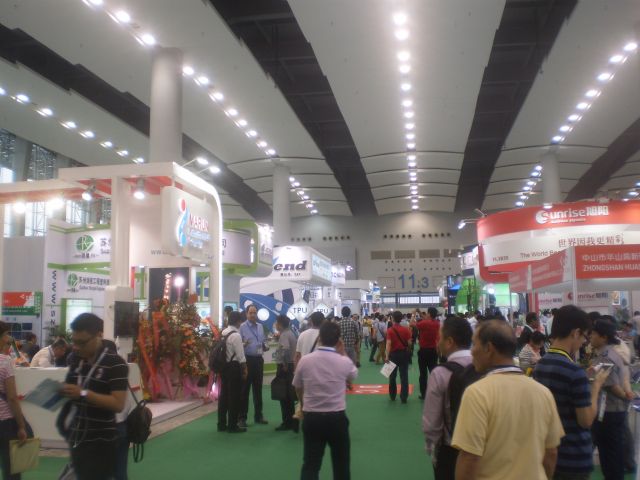 More than 3,200 exhibitors demonstrate the latest plastic and rubber materials, as well as related machinery.
Despite growing rivalry from emerging competitors in China, Turkey and other countries, along with inertia among Italian enterprises to invest in fixed asset amid the bearish domestic economy, Italian plastic-processing machinery suppliers still saw export orders throughout 2014 surge 8 percent, hence driving the industry's overall output value back to the euro 4 billion level, according to Assocomaplast, a local industrial federation of plastic-processing machinery suppliers.
While Europe absorbed over 60 percent of Italy's plastic-processing machinery as the biggest export market, Asia Pacific and North America bought 16.7 percent and 10.9 percent, respectively, of the total as the second- and third-largest destinations. Assocomaplast indicates that Italy's shipments of blow molding and flexography printing machines grew 11.6 percent and 11.1 percent, respectively, year-on-year, but those of injection molding machines dived 16 percent, for which the rise of Chinese suppliers being responsible.
Under such scenario, ChinaPlas 2015 saw more exhibitors who aggressively attempted to boost business by showcasing new plastic-processing machines that are developed to meet market trends.
Robotic Arms
Among the observations recorded at ChinaPlas 2015, one was that ever more robotic arms were displayed, which was unsurprising primarily because such products are essential for industrial automation that is widely regarded as solution for manufacturers in Taiwan and China, for examples, to solve manpower shortages amid graying population, rising affluence among migrant workers in China and wages.
For instance, Shanghai-Fanuc Robotics Co., Ltd., a joint venture between Japan-based Fanuc Group and China's Shanghai Electric Group, showcased a series of robotic arms for automotive production, from spot welding, arc welding, laser welding, sealing, body transfer through online testing, assembly, body vision compensation, windshield sealing and assembly. Additionally, this exhibitor also promoted its LR Mate 200iD robotic arm, whose very rigid arm is human-sized to minimize collision with surrounding equipment. This robot is fully controlled by advanced servo technology to move stably and accurately at high speed without shaking, also capable of great dexterity and mobility thanks to its compact size.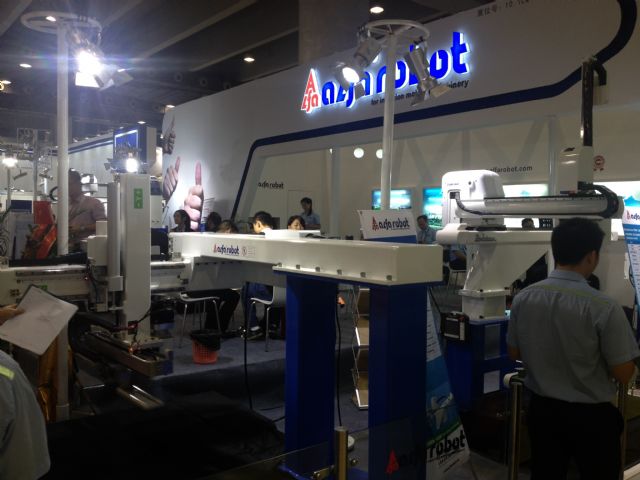 Robotic arms grab ample attention among visitors.
Wittmann Battenfeld (Shanghai) Co., Ltd. promoted its robots as part of its thorough automation solution at the show, including a take-out robot noted for rigid structural design and stable movement at high speed; a full servo robotic arm for high-speed operations, high return-on-investment and high load ranging 3-125 kilograms; and other customized robotic arms for special requirements such as horizontal travel and takeout of thin-walled parts.
The Taiwan-based Alfa Auto. Machinery Co., Ltd. presented a slate of robotic arms, including Redstone, Vantage, Titan and full servo driven robots. Among those, the Bomarc Economical series robot is designed specifically for horizontal injection molding machines ranging from 80 to 280 tonnes in clamping force, with two types of arms: single stage arm and telescopic arm capable of vertical stroke of 650-850mm; while the traverse axle is driven by AC servo motor and built with a precision planetary gear head reducer for precision tolerance of plus and minus 0.1mm, with the vertical axle and kick axle driven by cylinders for better cost efficiency. All the axles adopt advanced high-rigidity linear guides for high-speed movement.
With China actively upgrading its industry and nurturing development of the local tech sector, many Chinese firms have also joined the big league of advanced robots, as reflected by the number of local exhibitors at ChinaPlas 2015.
Among them was Gree Electric Appliance, who displayed numerically controlled 3- and 5-axis robotic arms, all with key components from top-end suppliers including linear guides from Taiwan's Hiwin Technologies, servo controllers from Panasonic, servo motors from Sampo, etc., as well as user-friendly interface for ease of operation.
Zhongshan Technology Dragon Robot Co., Ltd. displayed its DG series traverse robots, DG-S3 series 3-axis servo motor traverse robots, DG-S5 5-axis servo motor traverse robots. The DSV series high-speed side-entry robots, for example, is applicable to horizontal injection molding machines ranging 50 to 350 tonnes in clamping force, with a highly-rigid structure and stroke range of 900mm to 1,500mm, and options of various jigs for improved utility and productivity.
Chinese exhibitors in this segment also included Shenzhen Yangsen Precision Machinery, Foshan Chuanyi Precision Machinery, and Ningbo Dry Qianli Automation Equipment Technology, among others, which mirrors the market trend.
Full Electric and Energy-saving Injection Molding
Apparently makers are trying to enhance added-value by developing injection molding machines with full electric drive and energy-saving features, a transition driven by growing concerns of clean production and energy efficiency, as well as expanding applications of plastics as wide ranging products and parts. This trend was further confirmed at ChinaPlas 2015, where such machines and technologies attracted ample attention.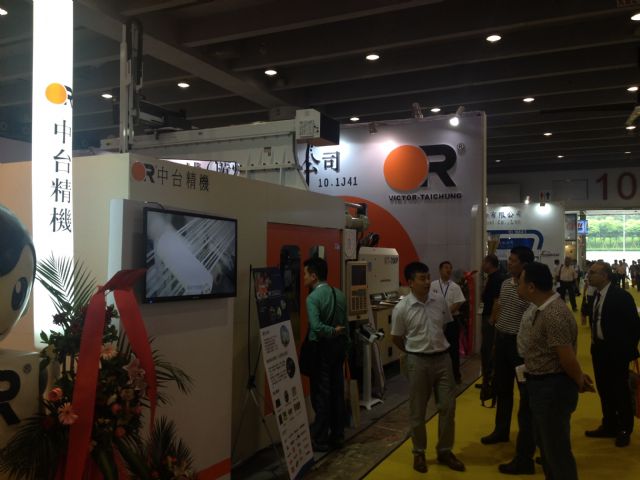 All electric and energy-saving injection molding machines.
Compared to conventional hydraulic-driven models, fully electric and hybrid injection molding machines generally consume less energy, achieve cleaner production, emit less noise, are easier to maintain and control, capable of higher forming quality, coupled with easier automation and Internet connectivity. Besides, such machines ensure clean output without contamination by oil and lubricants, hence cutting production cost to be suitable for food and medical device industries.
One such exhibitor at ChinaPlas 2015 was Victor Taichung Machinery Works Co., Ltd., who displayed its GS-100D all-electric injection molding machines, with high-performance servo motors coupled with absolute encoders and advanced load cells for effective control of positioning, speed and pressure, as well as high-precision ball-screws and high-performance PC-based controller for outstanding stability and precision, not to mention oil-free maintenance and clean output.
China's machinery builder Haitian International Holdings Ltd. also demonstrated independently developed all-electric injection molding machines, as well as all-electric packaging machines and a slate of injection machines built with hydraulic servo systems for low power consumption, which drew steady influx of visitors to its spacious booth.
With close cooperation with Italian partners, the China-based Ningbo KSM Machinery promoted its KSM-S series servo energy-saving injection molding machine, with energy efficiency, high response and low noise, along with excellent performance and quality, achieved by a strengthened connecting rod, automatic mold adjustment, zinc-alloy slide support, sealed structure with cone surface, screw speed measurement, arched bridge structure, etc.
The TME series injection molding machine demonstrated by Hong Kong-headquartered Tat Ming Technology Co., Ltd. also featured low power consumption comparable to that of all electric models, thanks to use of energy-saving variable displacement pump, which saves power especially during long holding pressure and cooling time in production of thick-walled parts, as well as the so-called Yuken servo motor.
FCS Group, a Taiwan-listed builder of injection molding machines, showed its servo power-saving, multi-component injection molding machine to impress buyers looking for cost-efficient production of dual-toned plastic products. This machine features a rotary table controlled by a servo motor that shortens rotation time by more than 50 percent, with high positioning precision and rotational stability, and a high-efficiency double servo power system officially first-grade certified in Taiwan for power-efficiency of sub-0.40kw h/kg. It is ideal for making containers of dual-colored polystyrene.
Hybrid systems were also prevalent among injection molding machines at the show. One such exhibitor was Techmation Co., Ltd. from Taiwan, who displayed the HYB+ Hydraulic Servo Energy-saving System that combines advantages of hydraulic and servo-drive systems to save energy by 40 percent to 70 percent over traditional hydraulic systems. Moreover, it also features fast response, high precision control, excellent repeatability, low overflow unloading and smooth control of injection molding.
Application in Automotive and Medical Industries
Responding to rising demand for plastics as the major material in production of auto parts and accessories and medical instrument, many suppliers in the segment were on hand at ChinaPlas 2015.
One such exhibitor was Ningbo Shuangma Machinery Industry Co., Ltd., who demonstrated a full line of injection molding machines specifically for making auto parts, including front baffles, consoles, instrument panels, lamps, air outlet grilles, glove boxes, rearview mirror housings, front and rear pedals, roof racks, door frames, and many more, with clamping force ranging from 4,000kN to 33,000kN depending on model.
Wintec, an affiliate with Austria's Engel Group, showed its Wintec t-win 8500-7000 machine, a hydraulic-servo driven injection molding machine mainly for making door pockets and other mid-sized and large molded parts, and features high productivity, outstanding repeatability, small footprint, low energy consumption and excellent durability. The exhibitor says the machine, with unique, cutting-edge technologies, achieves 23 percent higher productivity than competing models, as well as 63 percent less power consumption, takes up 22 percent less floor space and lasts 80 percent longer.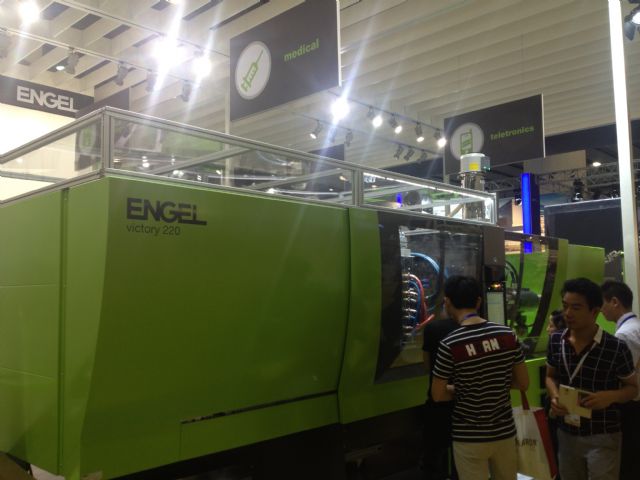 Plastic medical instrument production calls for more advanced plastic injection molding machines.
Engel also displayed various machines it has promoted worldwide for the medical and healthcare industry at the show, including a full line of high-speed, all-electric injection molding machines for making injection syringes, baby bottles and nipples, toothbrushes, etc. The firm says its injection molding machines are all developed and built in its cleanroom to meet DIN, EN, ISO14644 and c'GMP standards, therefore well recognized by professionals from medical and pharmaceutical industries.
Taiwan Pavilion
Organized by Taiwan Association of Machinery Industry (TAMI), the Taiwan Pavilion in Hall 10.1 and Hall 3.1 attracted many visitors and buyers interested in high-quality, reasonably priced machines developed by world-caliber suppliers from the island.
Globally known Taiwanese suppliers at the show included Jon Wai Machinery Works (injection molding machines for PET preforms), Multiplas Enginery Co. (injection molding machines), Jenn Chong Plastics Machinery Works (co-extrusion machines and plastic monofilament making machines), Kung Hsiang Plastic Machinery (blown film machines), Leader Extrusion Machinery (extrusion lines), Nan Yun Industrial (screws and barrels), Plas Alliance Ltd. (bag making machines), Sun Lung Gear Works (gear boxes), Venus Plastic Machinery (co-extrusion machines, inlation tubular film making machines, recycling machines), Cheng Mei Machine (thermoforming machines and automatic punch machines), C.S. Machinery (sheet extrusion machines), among others.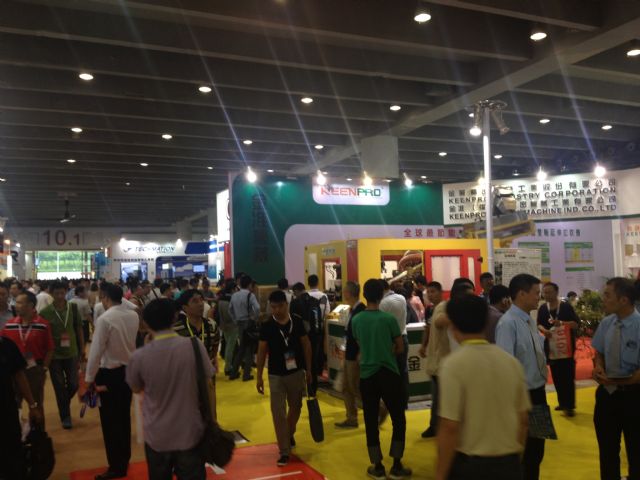 Taiwanese exhibitors in Hall 10.1.
Being one of the original export promoters in Taiwan with close partnership with TAMI, CENS occupied the booth S011 in the Hall 10.1 at ChinaPlas 2015 to provide useful buyer guides, including 
Taiwan Machinery
 and 
Taiwan Plastic & Rubber, Package and Printing Machinery Special,
 and real-time business matchmaking services to buyers looking for high-performance plastic- and rubber-processing machinery from Taiwan. Offering extensive information on Taiwanese suppliers of nearly all kinds of machinery, CENS's publications were sought-after by buyers.
Seminars and Forums
Designed to keep attendees updated with the newest market trends and technological developments regarding the plastic and rubber industries, a series of seminars and forums were held during ChinaPlas 2015.
The 
Design x Innovation Open Forum 
with the theme "Solution to Sustainability" invited several experts and industry professionals to speak on different topics, including "Yamaha Motor Design and CFMG" by Akihiro Nagaya, general manager of the design section at Yahama Motor, "Lighter, Thinner and More Stylish, the Innovation for Automotive Seating" by a senior manager from SAIC Motor, "Solving the Last Mile Transportation Problem for Smart Cities" by Oliver Risse, CEO of Floatility, and "Plastic Application with More Character and Difference: Cases of Inflight Tableware" by Wing Lee, design director of Milk Design.
Shedding light on innovations in medical device production and market trends, the "New Era Manufacturing—Medical Plastics Conference" discussed various issues in the field, including development of medical products in China, medical device design to suit human variations, 3D printed anatomical models for surgical planning, impacts brought by China's new regulations on medical device industry, adapting 3D printing for pharmaceutical applications.
The next ChinaPlas is scheduled April 25-28, 2016 in Shanghai.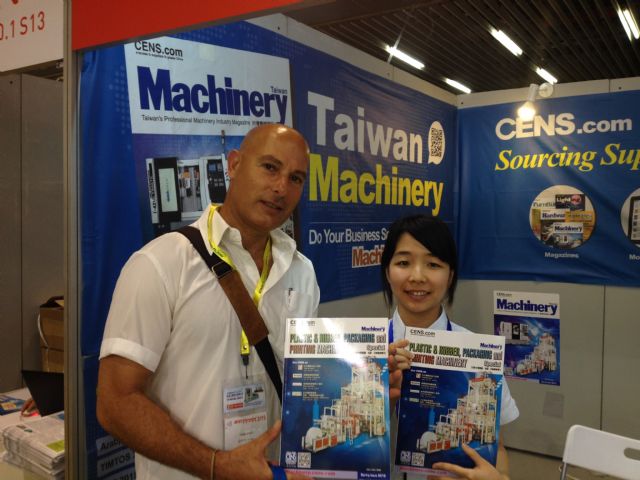 CENS publications continue to be popular with foreign buyers.