Founded in 1979 in New Taipei City, northern Taiwan, Chen Yi Electric Co., Ltd. is a maker of electro-magnetic devices including alternating-current/direct-current (AC/DC) solenoids, open-frame solenoids, tubular solenoids, DC open-frame solenoid, DC rotary solenoid, electromagnets and relays.

The company provides both standard and built-to-order products for various applications, including electrically-powered doors, parking lot lift-gates, and pressing machines.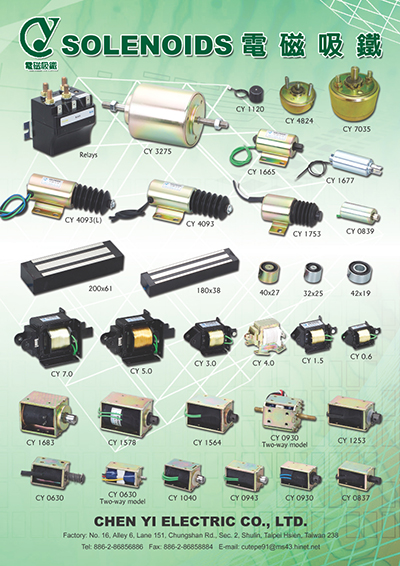 Chen Yi supplies various solenoids
The company is known for expertise in making built-to-order devices in diversified specifications and low quantity. Many of its products are CE marked to show conformity to European safety and eco-friendly standards.
Besides using materials like cooper wires from big-name suppliers to assure top quality, the maker provides one-year warranty on products under normal operation.
With monthly capacity of 1,000 units of electro-magnetic devices, Chen Yi has set up solid technical strength that is built on precision manufacturing equipment, stringent quality inspection, scientific management, and well trained R&D specialists.
The company's other advantages include full, pre-shipment inspection of every single machine and consolidated shipping, or shipment of all orders in one container, whenever practicable to minimize customers' cost.
Placing strong emphasis on research and development, quality, service and innovation, the company has been able to develop innovative products in tune with customers' tailored requirements.
Chen Yi Electric Co., Ltd.
No. 16, Alley 6, Lane 151, Zhongshan Rd., Sec. 2, Shulin Dist., New Taipei City, Taiwan 238;
Tel: 886-2-8685-6886;
Fax:886-2-8685-8884;
E-mail: cutepe91@ms43.hinet.net;
Website: www.chenyiele.com.tw