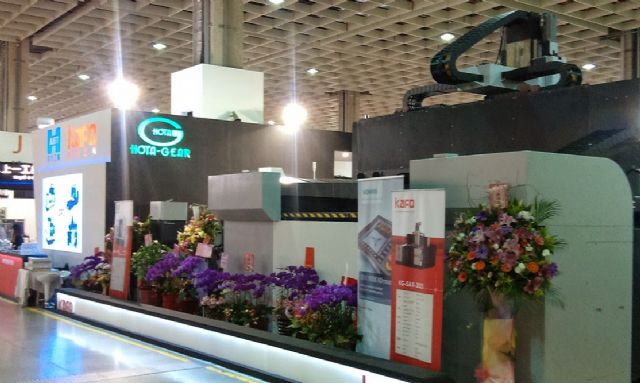 Kao Fong prepares itself to take on strengthening mainland Chinese competitors on international machine tool market. (Pictured is the company's booth at a Taipei trade show in 2015)
Chairman David Shen of Kao Fong Machinery Co., Ltd., a leading machine-tool maker under the Hota Group in Taiwan, forecasts mainland China to transform into Taiwan's foremost competitor on the global machine-tool market in only three years, and his company has drawn up strategies to counter such challenge.
He observes that the "red supply chains," a term obviously coined to refer to the rising homegrown integrated manufacturing capacity in mainland China purposefully being promoted, encouraged by Beijing to reduce the nation's dependence on imports or raise self-content ratio, will gradually intensify as threat to Taiwan's machine-tool and car-making industries throughout 2020, as is happening to the island's semiconductor industry.
Citing real-world instances to justify his stance, he says there are around 25 supply chains for Apple iPhones in the mainland, a significant number compared with zero several years ago.
Basically describing typical industrial upgrading through time that has been repeated in post-WWII Japan and Taiwan, whose manufacturing prowess before 1970 were often fodder for jokes in Europe and America. But now Japan rivals the best carmakers and information tech product makers, while Taiwan is frequently compared to Japan and even Germany in the machine-tool, hardware and bicycle sectors to show the island's progress. Shen advises Taiwan's makers of machine-tools, cars, and motorbike parts to prepare themselves for the imminent, dramatic change.
To minimize the impact on his company, Shen will move to China in six months all of the company's production lines of light-duty machines and vertical-type machines, machine tools that are now subcontracted to mostly mainland Chinese manufacturers. But the company will supply such machines to be built in the mainland with high-performance components that are usually needed from the company's factories in Taiwan to ensure  quality to international buyers.
The company will continue making high-end machines as horizontal-type machines, crane-type machines and five-axis combo-type machines in Taiwan, with production of horizontal-type and light-duty crane-type machines to be at the Chiayi Dapumei Intelligent Industrial Park in southern Taiwan and the production of heavy-duty crane-type machines as well as fixed-axis machining centers and five-face machining centers with universal spindle and 90-degree spindle at the company's factories at the Central Taiwan Science Park.
In addition, the company has recruited Japanese machine-tool experts as consultants to work on developing high-end machines such as high-speed machines, five-axis machines, and five-face machines equipped with universal spindle to compete against mainland Chinese rivals on the international market.
Regardless of the 6.7 percent year-on-year export reduction in Taiwan's machine tool industry in the first five months of this year, Shen feels confident of the company's outlook, saying the company has won considerable orders from North America, Europe, and Russia, adding that the company's revenue will ramp up quarter-after-quarter when its new factory at the central Taiwan park begins volume production this June.
The company has seen increased orders, which will not slow down at least until this September, with undelivered orders so far totaling NT$600 million (US$19.35 million), says Shen.
Shen notes that the American, Indian, Russian and South Korean markets for machine tools have clearly grown recently, estimating the company's sales in the American market to top NT$300 million (US$9.67 million) this year thanks to aggressive marketing effort by the company's branch office and dealers in America.
Nevertheless, the company has cut its projected consolidated revenue for this year to NT$2.25 billion (US$72.58 million) from the original NT$2.4 billion (US$77.41 million) due to weaker-than-expected orders in the first half of this year, with the reduced target still being a 10 percent increase from last year's NT$2.03 billion (US$65.54 million).
Shen expects the company's gross margin rate to rise to 25 percent in the first half of this year alone—an impressive increase since the company's gross margin throughout 2014 was 24 percent, to which he ascribes mostly the company's success in boosting management efficiency, product quality and production efficiency while reducing production costs.
The company holds optimistic expectations for its new factory at the central Taiwan park and the Chiayi Dapumei Industrial Park next year. The new factory at the central Taiwan park has begun pilot production and the other new factory, still  under construction, is scheduled for pilot production in the second quarter of next year.
Shen says the two factories will become the company's growth drivers, helping raise the company's consolidated revenue to NT$3 billion (US$96.77 million) by 2016.
The new factory at the central Taiwan park is to generate annual revenue of NT$1 billion (US$32.25 million) once running at full capacity. Still in initial production stage, the factory is estimated to generate around NT$600 million (US$19.35 million) this year.
The Chiayi Dapumei plant is designed to put out as much as NT$1.5 billion (US$48.38 million) a year when running at full capacity. Once starting pilot production in the second quarter next year, the factory is projected to bring in around NT$600 million (US$19.35 million) in revenue by the end of next year.
Mirroring most of the island's industry peers, Shen is also concerned about the impact of the steep devaluation of Japanese yen, South Korean won, and euro on Taiwan's machine-tool exports.