Locally made machines on display were notable for comparable performance to those in Germany and Italy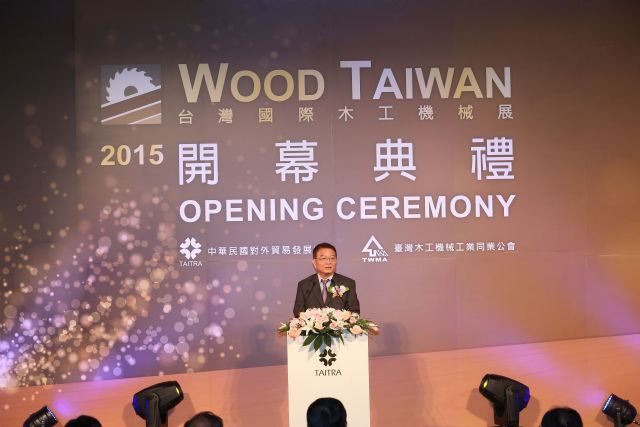 TWMA's Po stresses that Taiwan's woodworking machinery industry needs to develop automated turnkey solutions to increase added-value.
The four-day Taiwan International Woodworking Machinery Show 2015, or TaiwanWood 2015, wrapped up on July 5 at the TWTC Nangang Exhibition Hall to have created an estimated US$50 million plus of business for the exhibitors on-site and in post-show orders, according to surveys conducted by co-organizer Taiwan External Trade Development Council (TAITRA), the semi-official trade promoter, with the sellers and buyers having also met one-on-one to negotiate potential deals.
Polled exhibitors said they had received orders with value ranging NT$3 million (US$96,774) to NT$20 million (US645,161) on-site mostly thanks to the attendance of knowledgable buyers authorized to make decisions this year than last year.
The surveys show that over 80 percent of the polled buyers were satisfied with Taiwan-made woodworking machines in terms of cost/performance ratio.
This year, a total of 6,330 buyers, including 895 from overseas, browsed among 188 exhibitors occupying 1,040 booths for almost everything related to the woodworking machinery industry, from components and accessories to single-function machines and turnkey plants. The top five foreign buyer nations this year were Malaysia, Japan, mainland China, Thailand, and Indonesia.
Leading Platform
According to TAITRA, this trade show has evolved into a leading transaction platform for woodworking machines in Asia heavily attended by international buyers, who are generally impressed by the good quality and reasonable prices of Taiwan-made woodworking machines as well as the surprisingly advanced technologies of Taiwan's woodworking machinery that can hold their own to those of Germany and Italy.
TAITRA's statistics show that over 80 percent of the buyers at the 2015 show came from Asia, the Middle East and Africa, with many exhibitors having received enquiries or orders from India, Sweden, Russia, Canada, Indonesia, Vietnam, the Philippines, South Africa, Thailand, Myanmar, Australia, Romania, New Zealand, and Iran.
This year the attention-grabbing woodworking technologies at the show included high-speed automation, multitasking, and automatic sensing, mostly demonstrated by local and overseas heavyweight exhibitors, including the Anderson Group, Leadermac Machinery Co., Ltd., Boarke Machine Co., Ltd., Carpenter Machinery Co., Ltd., Shen Ko Machine Co., Ltd., Kuang Yung Machinery Co., Ltd., Cheng Kuang Wood Machinery Works Co., Ltd., Innovator Machinery Co., Ltd., and Technik Associates, Inc., Brother Woodworking Machinery Co., Ltd. of South Korea, Wood Mizer Industries of Singapore, and the Biesse Group of Italy.
The top-10 categories of machines that achieved the highest sales at the show were computer numerical controlled (CNC) routers, woodworking cutters, straight line rip saws, double surface planers, CNC drilling machines, panel saws, sanding machines, double-end tenon jointers, edge banding machines, and polishing machines.
Taiwan is already the world's No.4 woodworking-machinery exporter, with its export revenue increasing 15.4 percent year-on-year to US$585 million in 2014, due to the good quality and design of the woodworking machines, according to Chairman S.C. Po of the Taiwan Woodworking Machinery Association (TWMA), the other co-organizer of the show that represents around 300 manufacturers.
TAITRA Secretary General W.J. Huang pointed out that Taiwan has over the years been catching up to Germany and Italy in terms of woodworking-machinery technological level, after decades of development starting as subcontractors for European, American and Japanese big names. Now Taiwanese manufacturers, he noted, have the capacity to complete over 80 percent of a machine independently, to show encouraging self-reliance.
The Ministry of Economic Affairs (MOEA) set up a pavilion at the show to promote the national brand "W-TEAM" representing products by the island's woodworking-machinery industry, which is currently striving to claim one more spot among the global top-10 woodworking-machinery exporters list by developing integrated-production lines featuring automation and smart technology.
TWMA's Po pointed out that in recent years Taiwan's woodworking-machinery manufacturers have been vigorously transforming themselves into suppliers of high value-added products by developing automated, integrated-production lines.
W-Team
To help the island's woodworking-machinery manufacturers reinvigorate their industry that faces onslaught from emerging rivals from China, MOEA in 2012 coordinated the makers to form the "W-TEAM" consortium. A key motivator behind the formation of the consortium is the reckless underselling by mainland Chinese equipment manufacturers, whose low prices are practically destroying profitability of Taiwanese manufacturers. 
Beyond developing automated, integrated-production lines backed by computerization of information technology, the consortium has two other goals: to build innovative operational models and enhance manufacturing service by using information-communications technology (ICT).
According to senior MOEA officials, Taiwan's woodworking-machine industry must not get bogged down by competing against low-end mainland Chinese makers whose forte is single-function machines, especially when Taiwan moves towards becoming the world's No.3 woodworking-machine exporter.
Po stresses that, amid the mainland's strengthening woodworking machinery industry and increasingly diversified customer needs, the Taiwan industry needs to seriously tap teamwork to develop automated turnkey solutions, instead of continuing to rely on independent effort to develop single-function machines. The consortium has so far completed four automated production lines: one for making solid-wood flooring, one for shaping finger jointed wood, one for making panel furniture, and one for making joined wood boards.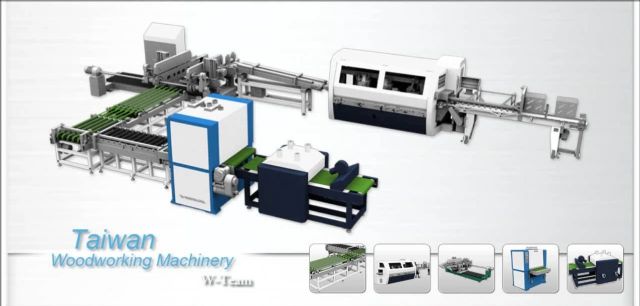 W-TEAM demonstrates Taiwan's first fully automatic production line of solid wood flooring. (Picture courtesy of MOEA.)
Automation design enables the flooring line, composed of a four-side molder, double-end tenon jointer, sander, wood-dust collector, and central vacuum, to put out 30 percent more workpieces than single-function models and therefore command much higher prices.
The team plans to ship 100 of the flooring line, each of which being priced twice that of single-function models, to mainland China over three years, generating an estimated NT$1 billion (US$32.25 million) in revenue for Taiwan's woodworking-machine industry. 
Equipped with automatic defect detector, the finger-jointing wood shaping line can put out 20-30 percent more workpieces than single-function machines, which is being promoted by the team in Southeast Asia, mainland China and America.
The panel-furniture production system combines a panel-making line and a paint-spraying line, enabling operators to efficiently complete workpieces featuring personalized design.
Automation enables the joined wood board production line to put out 30 square meters of boards a day, double the output of a traditional machine.
By building innovative operational or business models also enables makers to diversify product line and enter new segments, whereby the island's woodworking-machinery industry may not only push into the market of integrated production-line planning from single-function machine making, but also offer service as optimizing equipment application.
Higher Value
Offering such planning service commands higher value because it is a form of consultation and engineering that provides application-software planning, calculate footprint of production lines, processing-flow planning, capacity analysis and personnel arrangement, all based on computer analysis.
Offering optimization service, including remote monitoring and troubleshooting, can boost equipment output efficiency by 30 percent and wood material utilization to 95 percent, thereby adding value to Taiwan-built equipment to command sale prices with double to quintuple the premium to typical prices.
Po points out that, while woodworking machinery are adopted for a wide range of applications as forestry to secondary processing and recycling, Taiwan's equipment manufacturers can fill orders with short lead-times backed by good quality and competitive prices, with some equipment even qualitatively exceeding those made in the West. 
Over 80 percent of Taiwan's some 300 woodworking-machinery makers are clustered in central Taiwan to form an efficient satellite supply network that offers easy access to needed parts, services and tech support.
While Taiwan's woodworking-machinery makers remain relatively small in scale, such modest size actually works for them in terms of enhanced flexibility, proven by a track-record of fast response to market changes, Po added.