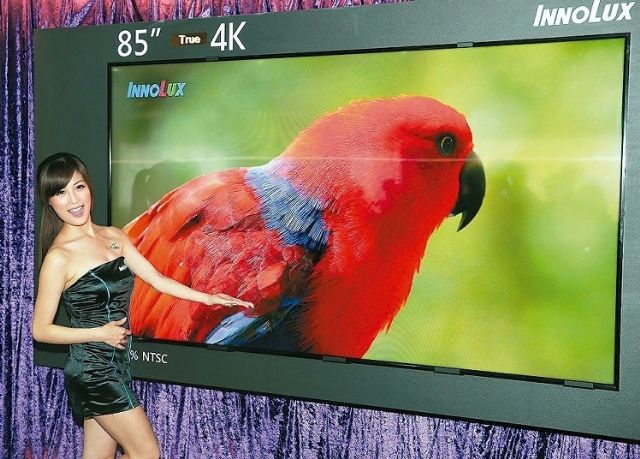 An 85-inch 4K LCD TV panel by Innolux, the first Taiwanese TFT-LCD panel supplier cooperating with ITRI in waste liquid-crystal recycling technology. (photo from UDN)
Taiwan's Environmental Protection Administration (EPA) recently announced its partnership with the domestic Industrial Technology Research Institute (ITRI) has led the world to develop technology to recycle scrap liquid crystal, whose annual production value in Taiwan from recycling waste thin film transistor-liquid crystal display (TFT-LCD) panels is estimated at least NT$400 million (US$13.3 million).
The administration added that the average selling prices (ASP) of TFT-LCD panels made of recycled liquid crystal is only half that of brand-new counterparts to make such venture commercially attractive. Currently, EPA said, ITRI has kicked off technical cooperation with TFT-LCD panel maker Innolux Corp., recognized as the largest in Taiwan.
Last year, recycled LCD panels in Taiwan totaled about 5,900 tons, EPA said, most of which were scrapped parts and materials (totaling some 5,300 tons) salvaged from display products as LCD TV sets, notebook PCs, monitors etc. Through the newly developed recycling technology, the administration stressed, most of the waste liquid crystal, ITO (indium-tin-oxide), glass substrates etc. can be recycled into useable materials.
Lu Jian-wei, researcher at ITRI, pointed out that used liquid crystal has very high value to total  some 5,900 kgs with value of about NT$398 million (US$13.3 million), and that resolution, picture quality and other major performance criteria of LCD panels made with recycled liquid crystal are nearly the same as those of brand-new liquid crystal. However, average price for 1g of recycled liquid crystal is only about half, or US$2 to US$2.7, to be a very cost effective option.
In an ITRI-Innolux cooperation project, all of Innolux's TFT-LCD panel factories in Taiwan adopt the continuous-type extraction system for waste liquid crystal developed by ITRI. Other local panel suppliers, Lu added, are also expected to engage in similar cooperation projects with ITRI, which is expected to complete technical certifications in the second half.
A senior official of EPA pointed out that LCD panels are now mainstream display components for various applications, testament to which being that more than 720 million large-sized (larger than 10-inch) TFT-LCD panels were shipped worldwide in 2014. The rapidly increasing volume of scrapped LCD panels has been a key environmental protection issue, where in the past most waste LCD panels were buried to cause environmental hazard as well as being costly.
Unique Technology
The ITRI-developed liquid-crystal recycling technology, which enables LCD panels made with recycled material to achieve the same performance as brand-new ones, is said to be unique in the world.
In fact, Lu said, ITRI had spent about 15 years developing the pioneering technology, for which the "purification process of recycled liquid crystal" alone took three years to achieve breakthrough. In the initial stage, Lu added, ITRI focused mainly on purifying liquid-crystal, and kicked off research on LCD panel materials about five years ago, specifically how to separate them.
Liquid-crystal purification is highly difficult work, Lu explained, as such material works by being driven by high-voltage, so the purification process must not be defective to leave behind electrons or ions, which would undermine future performance of such material. The ITRI-developed continuous-type liquid-crystal extraction system totally separates liquid crystal and glass substrate of LCD panels to extract high-purity liquid crystal. The technology has won five global patents, and ITRI will be able to transfer or license panel suppliers to use such technology after gaining related certifications.
Currently, Lu added, most other nations concentrate on using waste LCD panels to make building blocks, or recycling and refining ITO material, rather than extracting liquid crystal.