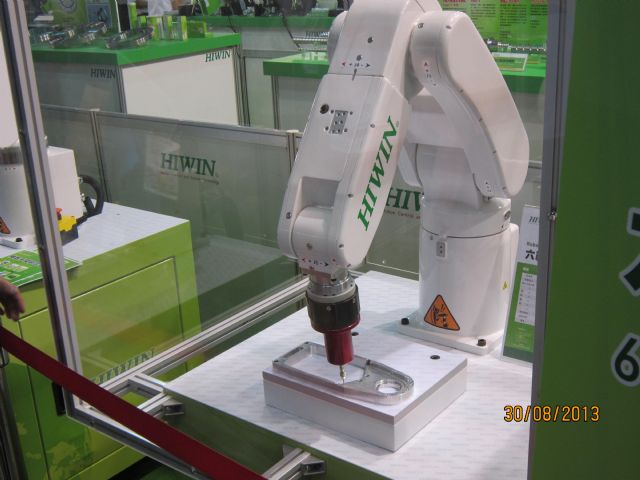 Robust orders for industrial robots prop up Hiwin's revenue.
Hiwin Technologies Corp., currently Taiwan's No.1 maker of ballscrews and linear guideways for precision machinery including machine tools, announced consolidated revenue of NT$1.46 billion (US$47.22 million) for last month, rising 19.3 percent year on year to set a new all-time high.
The June revenue helped swell the company's consolidated revenue for the first half of this year by 21.5 percent, to NT$7.96 billion (US$256.77 million).
Based on the stellar Jan.-June revenue result, industry executives project the company's revenue for this year to surge past its last historical high of NT$15.8 billion (US$509.67 million) set in 2011.
Throughout last year, the company had consolidated revenue of NT$15.08 billion (US$486.67 million), surging over 21 percent from the previous year.
The company's consolidated revenue for the second quarter of this year rose 18.8 percent from a quarter earlier, to NT$4.32 billion (US$139.45 million), topping its last record high set in the fourth quarter last year and setting an all-time high for quarterly-revenue since 2008.
Regardless of the steep devaluations of South Korean won and Japanese yen, which have impacted Taiwan's exports of machine tools due to relatively higher NT-dollar against the two Asian currencies, Hiwin Chairman and Chief Executive Officer Eric Cho still feels the company's revenue for the third quarter will outperform that for the second quarter to remain upbeat about the company business outlook in the second half.
He bases such rosy forecasts on the robust orders for the company's industrial robots and the company's mounting shipments of medical robots. To cope with such copious demands, the company is vigorously adding robot-assembly lines, with several new lines scheduled to begin volume production this July.
Also, the company will add production lines of ballscrews and linear guideways as well as production lines of components for five-axis machining centers and C-axis unit for combo machine tools in the third quarter.
The company will begin to ship high-speed milling-grinding combos in volume early next year, having also recently licensed a mainland Chinese manufacturer to build the machines, but to use key components supplied by Hiwin.