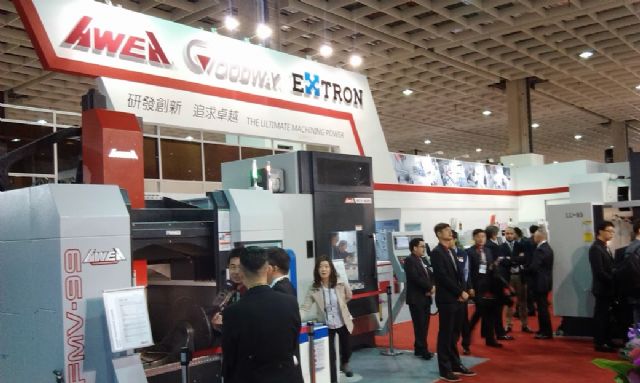 Many Taiwanese machine tool makers are offering discounts to shore up sagging sales.
Many of Taiwan's leading machine-tool makers saw their exports in June rise from the previous month as a result of their discount pricing strategy, temporarily halting their sagging exports impacted by strengthened NT-dollar-to-greenback rate relative to weaker counterparts of euro, Japanese yen and South Korean won.
Taiwan-built machine tools have recently become less competitive on the international market than machines from Europe, Japan, and South Korea, whose currencies have depreciated relatively more against the greenback than the NT-dollar to make their products more attractive, which is a serious threat considering Japanese, German and Swiss machinery are traditionally seen as superior to Taiwan-made items.
In April and May, Taiwan's machine-tool makers, in an effort to sharpen their competitiveness, quoted prices at exchange rate of NT$30.5-31 for one US dollar, a revision from the 31-to-1 basis used earlier this year. However, the NT-dollar rebounded close to 30.5-to-1 at one point before dipping below 31-to-1 versus the continual devaluation of the euro and yen.
To offset the impact of the devalued euro, won and yen on its exports, Taiwan Takisawa Co., Ltd. offered different ranges of discounts to customers in June, with such strategy having succeeded in landing more orders than in May. Currently the company still has NT$700-750 million (US$22.58-24.19 million) of undelivered orders, with the orders being booked not likely to wane for two to three months.
Goodway Machine Corp. won some NT$30 million (US$967,741) of orders in June from Swiss timepiece maker Swatch Group for 12 Swiss-type lathes also due to its discount strategy. The company's orders increased to some NT$200 million (US$6.45 million) in June alone, up from around NT$100 million (US$3.22 million) in May.
Falcon Machine Tools Co., Ltd. landed approximately NT$60 million (US$1.93 million) of orders for its grinding machines in June mostly thanks to its discount offer that motivated increasing orders from mainland Chinese manufacturers of components for automotive rotary engines. The company's executives say the orders will keep the company's grinding-machine production lines humming through September.
The discount strategy also landed NT$120 million (US$3.87 million) of orders for Falcon's heavy-duty milling machines and machining centers in June, an increase from some NT$80 million (US$2.58 million) of orders in May. The company still has NT$310 million (US$10 million) of undelivered orders for various machines.
Without budging from its original prices took a toll on Kao Fong Machinery Co., Ltd., whose June sales remained flat, with shipment and orders landed each totaling around NT$170 million (US$5.48 million). Currently, the company still has NT$600 million (US$19.35 million) of orders to fill. Company executives say the company has set aside capacity each of the month in the third quarter for the landed orders, without so far fully booking its production lines.
Victor Taichung Machinery Works Co., Ltd. says new orders for machine tools return to the normal NT$400 million (US$12.90 million) level in June thanks to the orders from Europe and South Africa, with still NT$600-700 million (US$19.35-22.58 million) of undelivered orders.
In spite of the increased orders received by some equipment manufacturers in June, the island's machine-tool exports in June still decreased from the previous month. According to Taiwan Machine Tool & Accessory Builders' Association (TMBA), the island shipped US$284 million of machine tools in June overall, down 3.4 percent from May.
Throughout the first six moths of this year, Taiwan's exports were US$1.64 billion, sliding 9.1 percent from the same period of last year.
The association attributes such weak shipments mostly to the still lackluster U.S. job market and slowing growth of the global economy, not to mention the relatively stronger NT-dollar in comparison with euro, yen and won against U.S. dollar.
Executives of the Fair Friend Group, Taiwan's biggest machine-tool manufacturer by revenue, fear that business outlook in the second half for Taiwan's machine-tool industry is unlikely to be brighter than in the first half given the steeply devalued yen. They point out that the yen and won could further devalue if euro continues falling, to further erode the competitiveness of Taiwan-built machine tools on the international market.