At this year's ChinaPlas (the 29th International Exhibition on Plastics and Rubber Industries), held May 20-23 in the China Import & Export Fair Complex in Guangzhou, southeastern China, over 3,200 exhibitors from 39 countries together showcased a full spectrum of products and services applicable throughout the plastic and rubber industries. An understated aspect of the show revolved around the various plastic-processing machinery and components laid out by Taiwanese exhibitors, whose offerings were not eclipsed by those from advanced countries, such as Germany, Italy, Japan, France and Switzerland that are traditionally taken for granted for superiority of mechanical products, instead attracted ample attention for not just comparable quality and friendly prices, but impressive performance and functionality that meet market demand.

As has its other industries like bicycles, hand tools and auto parts, Taiwan has developed into one of the world's major suppliers of plastic-processing machinery, with machine models mostly positioned in the mid-to-high-end segment.

According to statistics compiled by Taiwan Association of Machinery Industry (TAMI), the sector's output and exports steadily grew from NT$31.5 billion (US$916.49 million) and NT$26.39 billion (US$789.88 million), respectively, in 2003, to NT$45.69 billion (US$1.54 billion) and NT$37.46 billion (US$1.26 billion) in 2014. Last year, the island still met global demand with US$1.25 billion of various models and related parts, despite the impact from relatively high NT dollar-to-greenback rate along with growing rivalry from emerging competitors.

The decisive competitive advantage held by Taiwanese suppliers to grow sustainably over the long term in the global market is their flexible customization capability coupled with time-proven R&D prowess and timely service, which enable development of various functional, truly marketable machines, as seen at this year's ChinaPlas.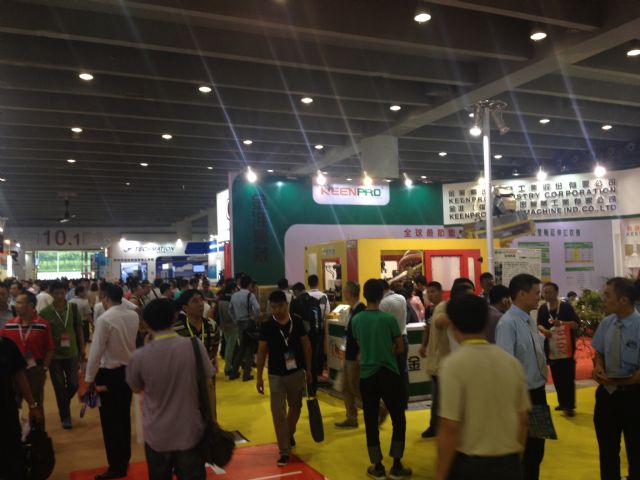 Taiwan Pavilion in Hall 3.1 and 10.1 at ChinaPlas 2015, held May 20-23 in Guangzhou, southeastern China.
Gearboxes by Sun Lung
Among Taiwanese exhibitors was Sun Lung Gear Works Co., Ltd., Taiwan's No.1 supplier of its kind with 70-percent-plus share of the domestic market as well as the best-known Taiwanese branded supplier in the global market, who showcased a series of high-performance models designed to meet demand in different regional markets.
For example, the Super Torque Gearbox for Co-rotating Parallel Twin Screw Extruder features high torque, low noise, heavy loading capacity and high productivity, achieved partly through a structure composed of the primary reduction section and the distribution section, which is combined by a thrust bearing housing and pressure flange to effectively absorb the axial loading from the extruder.
Under heavy loading, this gearbox achieves stable operation due to the excellent heat dissipation and oil lubrication system, able to outperform most competing models with its high gearing grinding precision that measures up to DIN 1-3 grade, with noise kept below 70dB during operation. Minimum rotational vibration from the solid structure whose strength is derived partly by the use of SNCM220 steel alloy is also among the product's features.
With Sun Lung actively boosting its global sales with a sensible market segmentation strategy, David Lo, sales & marketing manager, said that high torque, compact construction and precision aside, this gearbox is notable for its unparalleled productivity, and is applied mainly in compounding, masterbatch and suitable for engineering plastics. "Those features make it a potential hot-seller in Europe, the U.S. and Japan, where there are high demand for extruders driven by higher-end gearboxes for production using advanced materials," he said.
Another exhibit by the supplier to target buyers from emerging countries as India and Turkey, where pipe, profile and sheet production using PVC (polyvinyl chloride) has rapidly grown, was the Gearbox for Counter-rotating Parallel Twin Screw Extruders. Lo indicated that this item helps a machine achieve incredibly high qualitative consistency of output, thanks to its improved, highly precise mechanical system that enables stable, high torque generation at low motor speed. In addition, this gearbox is also capable of better mixing and plasticizing performance, thermal dissipation efficiency, transmission efficiency and energy efficiency, as well as longer lifespan, the manager added.
With an open, spacious booth to allow relaxed browsing of the abovementioned gearboxes along with other models on display, Sun Lung saw a constant influx of interested visitors during the event to have impressed potential buyers. Commenting on the show's effectiveness, Lo stressed that ChinaPlas is an ideal platform for Sun Lung to promote gearboxes for different regional markets, primarily because the exhibition has become Asia's largest, world's second-largest by size, which enables his company to boost global exposure and brand image.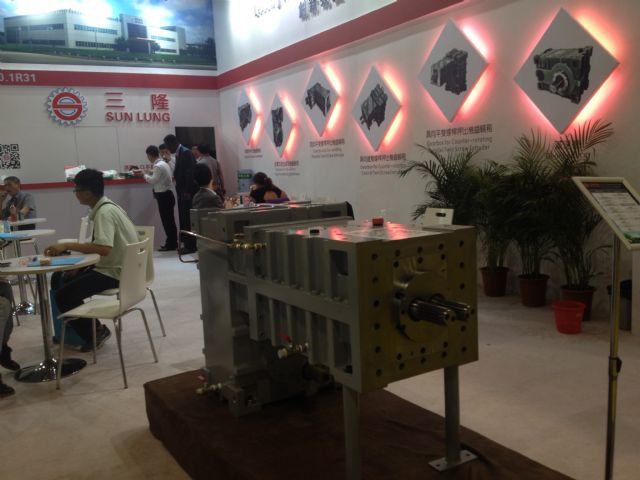 Sun Lung's gearbox for counter-rotating parallel twin screw extruders targets buyers from emerging countries with high production of PVC pipes, profiles and sheets.
Veteran Maker
Since its establishment in 1960 in Tainan City, southern Taiwan, Sun Lung has specialized in making gearboxes for plastic extruders, injection molding machines, recycling equipment and blow molding and film machines. The company is also a member of the American Gear Manufacturers Association (AGMA).
The company's product lineup revolves around high-precision gears and gear reducers, coupled with plastic extrusion machines, injection molding machines, blow molding machines, pipe, sheet and composite profile extrusion machines, and gearboxes specifically for recycling machines, all of which meet ISO 9001:2008 standards and are CE Mark certified.
Sun Lung leads domestic peers by cumulative global sales, with over 37,500 units shipped since 2004. The company has exported products to over 50 countries and enjoys sound reputation among buyers.
Lo ascribed Sun Lung's current success to insisting on exacting grinding precision, which is key to reducing vibration, temperature and noise, and enhancing mechanical efficiency and reliability. To that end, the firm has set up a full line of state-of-the-art gear grinders from Niles and Hofler in-house, and applied high-tech close-looped CNC direct-drive systems and in-form grinding technology in gear production, which help to satisfy customers with not just reliable quality, but short lead time, high production efficiency and punctual delivery.
Recycled PET Strapping Band Extrusion Line by Jenn Chong
Tapping the market trend towards responsible use of natural resources and recycling worldwide amid rising concerns over environmental protection, Jenn Chon Plastics Machinery Works Co., Ltd., a seasoned supplier of plastic extruders, co-extrusion machines, plastic monofilament making machines and flat yarn making machines, attended ChinaPlas 2015 to promote its JC-STP series PET strapping band extrusion line.
The JC-STP strapping band extrusion line is developed mainly to produce high quality packing straps made of recycled PET, notable for fully automated operation as well as high productivity, reliability, efficiency and quality. The general manager Tony Wang stressed that the unit is a very flexible strapping band making line that is reasonably priced but assures operators of great profit to meet requirements of all sectors.
With state-of-the-art technology, as well as high-quality components and parts, the machine turns treated PET bottle flakes into PET straps ranging from 85mm to 120mm in widths and with exceptional tensile strength comparable with those of steel bands. The machine has maximum capacity of 400 kilograms per hour and consumes relatively little power, with up to 8 slips produced at once.
Wang stated that PET straps are commonly used for medium to heavy-duty packing such as bricks, ceramic tiles, cotton bales, lumber, and other industrial uses, being increasingly popular simply because of environmental protection issues. "At the ChinaPlas we have actually met many potential buyers interested in our machine, even though we are not demonstrating it onsite. This is attributable to not only the market trend for eco-friendly packing and packaging solutions, but Jenn Chong's well-established reputation among global buyers," the general manager said, who added that the firm's strapping band extrusion line has remained the hottest seller among the company's lineup since 2014.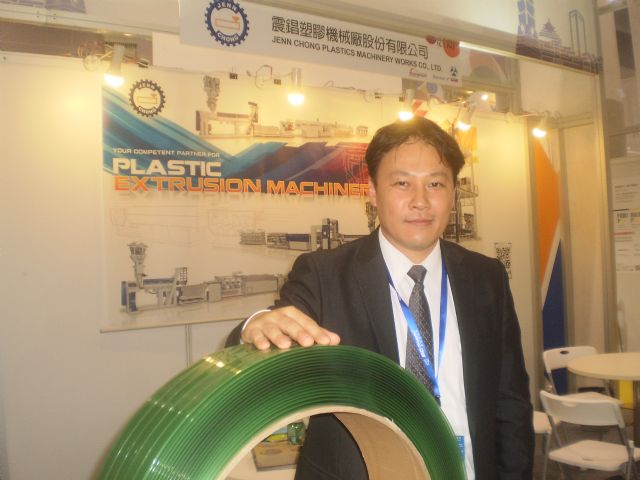 Jenn Chong's GM Tony Wang promotes JC-STP series PET strapping band extrusion line.
R&D-driven Manufacturer
Founded in the early 1980's, Jenn Chong is well recognized as a technology and engineering oriented company that has succeeded in maintaining its pioneering position as a supplier of a broad range of plastic extrusion lines to the global market.
The firm is an ISO-9001-certified manufacturer, with all machines constructed based on CE safety standards. Backed by an in-house R&D department, testing center, and dedicated team of highly qualified engineers with field experience in the plastic industry, the supplier capably develops and launches new machines periodically to meet customers' requirements, and has won several national awards for building machines with innovative functions and superior technology.
Wang mentioned that nearly all staff, from R&D engineers, salespeople to operators and electricians, are involved in R&D to improve performance, because such full participation enables the company to develop improved machines that meet market demand and suit customers' production lines.
3-Layer Heavy-duty Blow Film Line by Han King
To further seize increasingly robust market for packaging worldwide mainly sustained by steadily growing population and rising disposable income among emerging countries, Han King Plastic Machinery Co., Ltd., one of Taiwan's handful of blow film machinery makers still developing sustainably amid growing rivalry from Chinese competitors, showed the 3-layer Heavy-Duty (FFS) Blow Film Machine with an in-line embossing, gusseting and printing machine to leave lasting impression with visitors.
The 3-layer heavy-duty blow film machine is built with Han King's high-performance screws, gearbox and air rings and other high-quality components, and comes with an in-line embossing/gusseting machine and printing machine, able to achieve output of 350 kilograms per hour to match competing models made in Germany and Italy.
To satisfy bag-making operators in need of highly integrated production, the blow film machine is incorporated with an embossing and gusseting machine, as well as a printing machine, which are smoothly synchronized through Han King's improved electric control system and independently-developed software to ensure maximized performance, easy operation and safety.
The firm's sales representative Emma Ji stressed that this machine has proven to be a hot-seller since being displayed at ChinaPlas 2014, simply because of a growing concern over eco-friendly, innovative packaging worldwide. She went on to say that PE heavy-duty bags are increasingly applied in industrial packaging to replace woven bags, partly because such material is recyclable, and partly because conventional PP woven bag-making machines generate more waste materials and call for more peripherals and manpower to operate. Besides, PP woven bags have to undergo lamination to be unfriendly to the environment.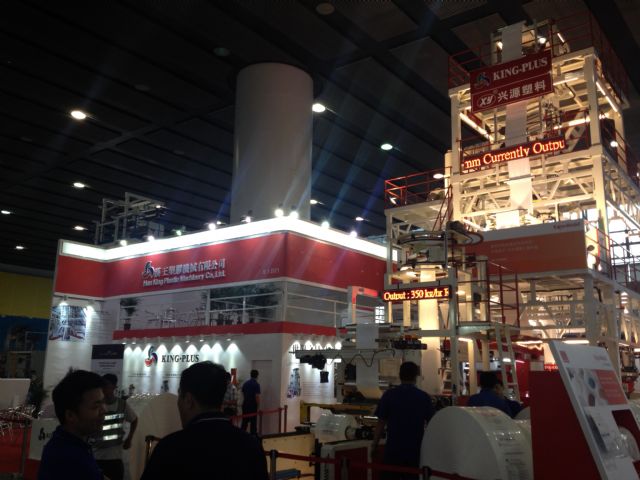 King-Plus branded 3-layer heavy-duty blow film machine draws constant influx of buyers to Han King's booth at the show.
Engineering-oriented Maker
Besides 3-layer heavy-duty blow film machines, Han King's major products also include 5-layer co-extrusion lines upgraded from small, single-layer ones it had developed at the very beginning, as well as slip-proof and bi-convex embossing devices, heavy-duty blow film machines, HDPE (high-density polyethylene) super high speed blow film machines, LDPE (low-density PE) super high speed blow film machines, blow film machines for agricultural and industrial films, blow film machines for stretch film etc., which are sought-after by all kinds of industrial operators mostly thanks to its focus on engineering and technology.
For instance, the company's superior technological advantage is reflected in its in-house designed screws, which are developed with advanced mechanical engineering technology, and repeatedly improved based on real-world feedback for several months till they are perfected to help maximize performance of the machine. Such effort enables the firm to claim the screws feature higher precision, better quality and longer lifespan than competing models. Furthermore, this maker is skilled at developing gearboxes and other key components.
Presently over 95 percent of the company's machines are shipped overseas under its "King Plus" brand, 30 percent of which going to China alone, 20 percent each to Southeast Asia and Latin America, and 10 percent each to East Europe and the Middle East. The company's products are well recognized for being cheaper on average than competing models made in Germany and Italy, but comparable in quality.
Known for dedication to supplying the world the best blow film machines, Ji mentioned that King Plus is regarded as a strong contender against German suppliers in the Chinese market, where sales have significantly surged to contribute around 30-35 percent to the firm's annual turnover over the past few years.
TX Plastic Injection Molding Machine by Chuan Lih Fa
With plastics increasingly applied in production of cars, medical devices and 3C products to drive considerable market demand for plastic injection molding machines, such machines, especially those with outstanding performance and productivity, captured intense attention from buyers as one of the most popular categories at this year's ChinaPlas. One such Taiwanese exhibitor was Chuan Lih Fa Machinery Works Co., Ltd., who brought its TX series plastic injection molding machine to square off against a large number of counterparts.
This machine features clamping force ranging 60-1,400 tonnes and high injection speed of 100mm per second, as well as greatly enhanced operational stability, to outperform most of the competing models at the venue, thanks to various breakthroughs the firm has attained in structural and mechanical design.
To ensure optimized clamping motion, the company builds an improved double-cylinder, 5-point toggle mechanism into the machine, which features highly-rigid, box-structure platen design achieved through application of advanced CAD (computer aided design) and CAE (computer aided engineering) software and Finite Element Analysis for extremely low deformation and excellent structural strength. The toggles are connected by the platens to ensure high rigidity.
This machine also has other notable features, including built-in symmetrical dual hydraulic cylinders for mold clamping, long-type slides for moving platens smoothly even under heavy pressure, an advanced micro-computer controller from Japan for exceptional precision, a high-performance mixing screw made of top-grade material imported from industrially advanced countries for better plasticizing efficiency and quality, improved tie bars with curved thread for stress relief, advanced logic hydraulic circuit equipped with imported high-precision solenoid valves, optional HMIs with color LCD display and 100 molding parameter settings for ease of operation, etc.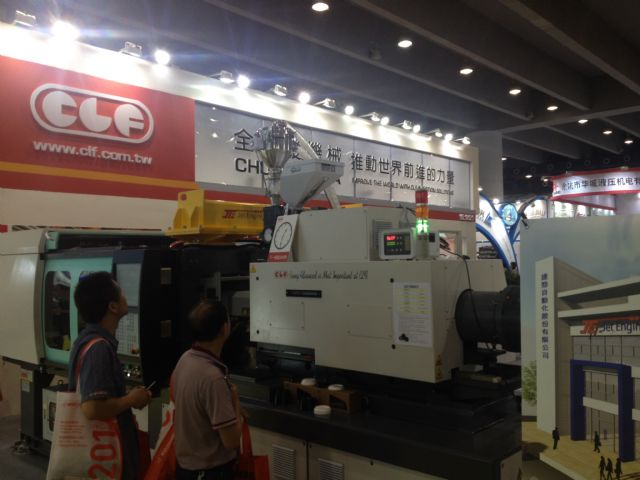 Chuan Lih Fa's booth and its latest plastic injection molding machines.
Leading Supplier of Plastic Injection Molding Machine
Chuan Lih Fa, founded in 1966, is one of Taiwan's major manufacturers of plastic injection molding machines that are marketed globally under its "CLF" brand. Underpinned by the motto "Prioritizing Quality, Best Technology," the company is dedicated to improving quality, innovation and providing prompt service to help clients create maximum profits.
With continued expansion of production capacity over the past several years, the firm has grown into a leading supplier on the island of a wide range of high-speed injection-molding machines, multi-resin/color injection-molding machines, vertical injection-molding machines, and mold-spotting presses, as well as one of only handful of Taiwanese suppliers of full electric injection molding machines.
Its ISO9001 certification, CE Mark certification, and good-product design awards all clearly demonstrate the firm's ceaseless efforts on not just continuous improvements for sustainable development, but offering the most satisfactory products and services to clients.
Chuan Lih Fa has over 200 employees in Taiwan, plus more than 250 people working at two factories in mainland China. The two China plants are in Shanghai Municipality and in Zhongshan of Guangdong Province that focus on the production of 100-1,380-ton injection-molding machines. Also, the company has set up service points in big mainland cities as Zhongshan, Shenzhen, Tanxia, Changping, Huizhou, Guangzhou, Xiamen, Shanghai, Kuengshan, Suzhou, Naning, Yuyao, and Huangian.