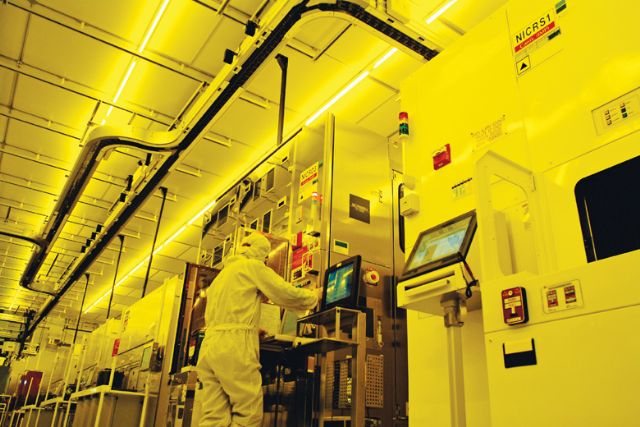 TSMC to begin trial production of its 10nm process in the fourth quarter of 2016 as scheduled. (Picture courtesy of TSMC)
Taiwan Semiconductor Manufacturing Co. (TSMC) Chairman Morris Chang, whose company is reportedly the world's No.1 manufacturer of built-to-order chips, says the company is on track with the 10nm process development for trial production in the fourth quarter of 2016 and regular production in the following quarter.
Compared with TSMC's glitch-free progress, Intel Corp., reportedly the world's No.1 chipmaker, has announced extending its schedule for volume production based on its 10nm process to the second half of 2017 from late 2016.
Industry executives point out that TSMC will lead Intel for the first time in competition of advanced silicon-foundry process development given the two companies' progress.
They say TSMC was eight quarters behind Intel in volume production with the 2Xnm processes. However, TSMC has shortened the trailing gap to five quarters in the 10Xnm process debut, and now will be at least two quarters earlier than Intel in commercializing the 10nm process.
Chang predicts the company's 10nm process will outshine its 16nm process in command of market share in the first year.
Industry executives point out that the 10nm process technology is crucial to TSMC in the competition against Samsung and Intel for Apple's A10 contracts, believing TSMC would be better positioned to bag most of Apple's contracts in the future if it makes the 10nm process available before Intel.
Chang also says his company is vigorously developing the 5nm and 7nm process technologies and predicts the company will release the 7nm process five quarters after the 10nm process rollout because of the similarities between the two technologies.
TSMC executives predict the company to begin trial production using the 7nm process in the first quarter of 2017 and general production in the second quarter of the following year.
Chang says the company's 16nm process has entered into volume production in the third quarter of this year although its revenue contribution remains low. He expects a rapid surge of the company's 16nm process production in the final quarter of this year and the rise to be much steeper than its 20nm process.
TSMC executives estimate the company's revenue from 20nm production to double this year from last year, with its revenue contribution to decline next year because most of the company's major customers will migrate to the 16nm process from the 20nm process.
Nevertheless, next year, the 20nm and 16nm processes will contribute to the company combined revenue that is higher than that collectively by the 16nm, 20nm and 28nm this year, they project.