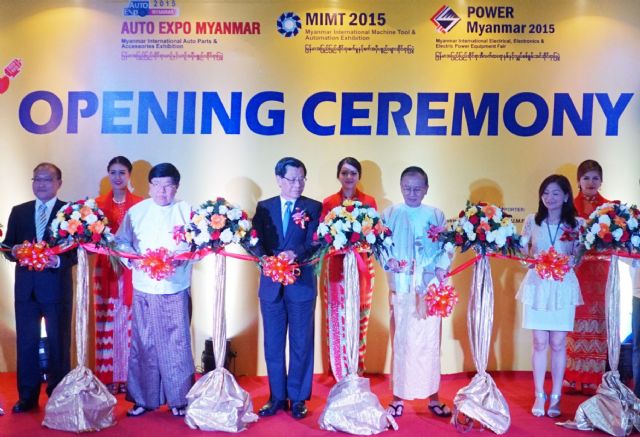 TAITRA's chairman Francis Liang (center), Yangon Divisional Minister for Electrical Power and Industry Nyan Tun Oo (second from right), UMFCCI president Win Aung (second from left) and TAITRA chief executive officer Peter Huang (first from left). attended the ribbon-cutting ceremony for the three concurrent trade fairs. (photo courtesy of TAITRA)
By organizing three concurrent exhibitions for different industries in Myanmar, the Taiwan External Trade Development Council (TAITRA), the semi-official export promoter, continues to try exploring new markets for Taiwanese suppliers, whose sales and market shares are being challenged by mainland Chinese rivals, to build new business opportunities across the AEC (the ASEAN Economic Community) bloc.
Held simultaneously July 22 through 26 in the Myanmar Event Park (MEP) in the country's capital of Yangon, the exhibitions were Auto Expo Myanmar 2015 (Myanmar International Auto Parts & Accessories Exhibition 2015), MIMT Myanmar 2015 (Myanmar International Machine Tool & Automation Exhibition 2015), and Power Myanmar 2015 (Myanmar International Electrical, Electronics & Electric Power Equipment Fair 2015), which occupied 5,500, 3,000 and 3,000 square meters, respectively.
According to TAITRA, the three trade fairs together drew around 130 exhibitors from 12 countries, including China, Germany, the U.K., India, Japan, South Korea, Singapore, Thailand, Indonesia, Vietnam and Taiwan, to have totally used some 200 booths. During the four-day run, the three-in-one event attracted 4,338 buyers from 14 nations, with Myanmar, Thailand, China, Vietnam and Singapore being the top-five buyer sources.
Among Taiwanese exhibitors, big-name firms included China Motor Corporation, a commercial vehicle maker; Nankang Rubber Tire Co., Ltd., a branded tire producer; Tatung Co., a veteran supplier of a line of eponymous white goods; Ta Ya Group, a domestically listed maker of power cables and magnet wires; Fusheng Industrial Co., Ltd., a world-caliber supplier of air compressors with operations across the ASEAN bloc; Marketech International Corp., a listed firm engaged in marketing, technology integration and manufacturing services mainly for ICs, flat panel displays, LEDs and optoelectronics industries; Tongtai Machine & Tool Co., Ltd., a large-sized maker of advanced machine tools; and Tung Yu Hydraulic Co., Ltd., a manufacturer of tire production equipment.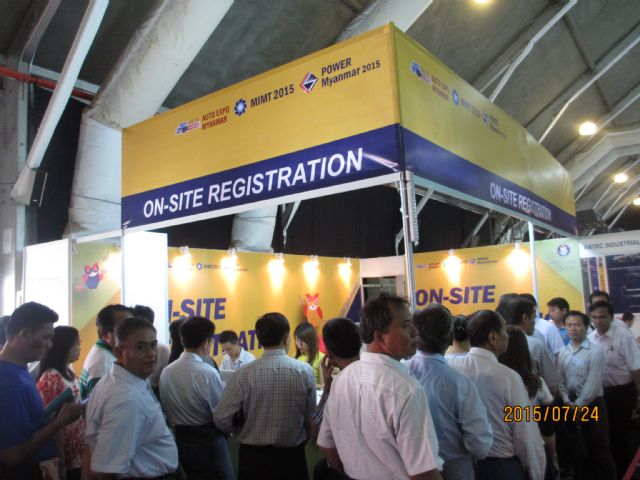 TAITRA reports 4,338 buyers from 14 countries attended the trade fairs. (photo courtesy of TAITRA)
To highlight Taiwan's capacity for superior product design to visitors at the venue, TAITRA set up the special exhibition area "Taiwan Excellence," where 146 award-winning products from 65 Taiwanese brands were demonstrated and promoted.
TAITRA also arranged over 770 one-on-one meetings between exhibitors and invited buyers from Yangon, Mandalay and Mawlamyine, in expectation to create onsite and post-show business opportunities of up to US$24 million.
Chairman Francis Liang of TAITRA and chief executive officer Peter Huang presided over the collective opening ceremony for the three exhibitions, along with H.Y. Chung, chairman of Chan Chao International Enterprise Group, a Taiwan-based exhibition service provider with membership in the UFI (the Global Association of the Exhibition Industry) and a co-organizer, and H.C. Lee, director of Taiwan Transportation Vehicle Manufacturers Association.
Designed to boost Myanmar's economic development, the three trade fairs were clearly endorsed officially in the country, as reflected by the presence of high-profile personalities as Nyan Tun Oo, Yangon Divisional Minister for Electrical Power and Industry; Win Aung, president of the Union of the Myanmar Federation of Chambers of Commerce & Industry (UMFCCI); and Dr. Aung Thein, deputy head of Myanmar Industries Association, who attended the ribbon-cutting ceremony together with the show organizers mentioned above, witnessed by over 100 local officials, personalities and industry experts.
In his opening speech, TAITRA chairman Liang emphasized that the AEC bloc is an emerging regional market with strong growth potential that Taiwanese suppliers should develop and tap as early as possible to get a head start on seizing any available opportunities. The AEC that covers Southeast Asian nations with total population of 600 million people is expected to become the world's fourth-largest economy by 2050.
Ever since setting up a foothold in Yangon in 2013, TAITRA has actively arranged various activities to promote Taiwan-made products in Myanmar, and organized trade shows in association with Chan Chao for three consecutive years. Such efforts have resulted in TAITRA, a non-profit organization, having helped drive bilateral trade between Taiwan and Myanmar to US$328 million last year, sharply up 16.7 percent over 2013. Noteworthy is that Myanmar has just opened its trade office in Taipei in late-June.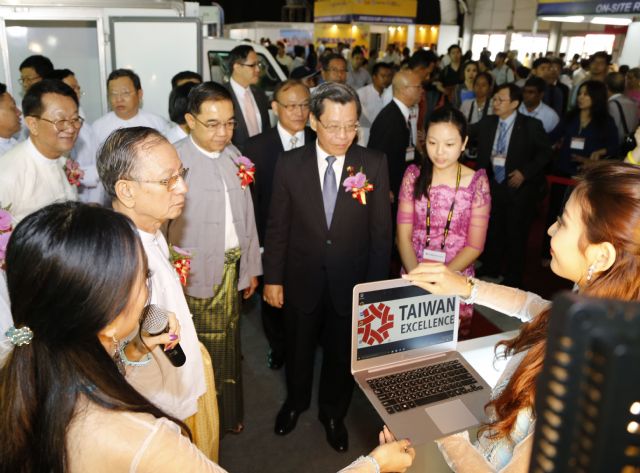 Asus' Zenbook US305 laptop demonstrated at the Taiwan Excellence exhibition area of the 3-in-1 trade fair. (photo courtesy of TAITRA)
Overview of TAITRA Trade Fairs July 22-26 in Myanmar
Exhibition

Auto Expo Myanmar 2015

MIMT Myanmar 2015

Power Myanmar 2015

Venue floorage 

5,500 square meters

3,000 square meters

3,000 square meters

Max. Booths Provided

200

120

120

Exhibit Categories

Auto parts, engine parts, auto body parts, steering systems, transmission systems, brake systems, automobile electronic components & parts, repair & maintenance tools, tuning & restyling, motorcycle parts & accessories, tires & steel wheels, auto accessories, chassis systems, automobile frames and parts, automobile electronic products, whole vehicles, etc.

Metal cutting machine tools, parts and components, tools, cutters, manufacturing systems and control equipment, production and process automation, industrial equipment, electrical systems, robotics and industrial automation IT & software, etc.

Power & electrical machinery equipment, generator & power systems, electric wires and cables, motor & pumps, power supply equipment, electronic products, printing press, plastics and rubber machinery, energy equipment, etc.

No. of  buyers recorded

 4,338

Source: Taiwan External Trade Development Council