Flexible displays are not only spawning a spate of applications and revolutionizing the display market, but also an increasingly important segment of overall display market revenues, according to a new report from IHS Inc., the leading global source of critical information and insight.

In fact, IHS says, flexible displays are expected to comprise 15 percent of the total display market revenue by 2024. As flexible organic light-emitting diode (OLED) production continues to improve, revenue from flexible display production will grow at a compound annual growth rate (CAGR) of 44 percent from 2014, to reach US$23 billion by 2024, the IHS report says.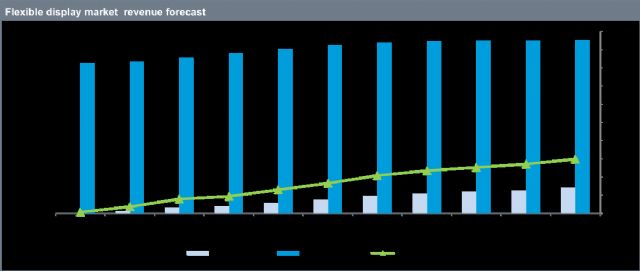 Flexible Display Market Revenue Forecast (2014-2024) (Source: IHS)
"Flexible OLED production yield has improved dramatically over the last few years, which could prompt panel manufacturers to ramp up flexible OLED production lines," said Jerry Kang, principal analyst at IHS. "Market growth could also accelerate when flexible displays debut in foldable, rollable and stretchable forms."
Rugged, light, thin, non-brittle and portable flexible displays are feeding the market for various applications. For example, LG Electronics and Samsung Electronics have both applied flexible OLEDs to their flagship smartphones, to bolster sales in the slowing premium-smartphone market. The Apple Watch, which uses flexible display technology, has also added to the momentum of OLED in wearable devices. "Flexible display technology is not only gathering heated attention from electronics giants, but it is also stimulating startups to experiment with novel applications and innovations," Kang said.
Smartphones & Tablets to Drive Demand for Cover Glass
With screen sizes increasing, smartphones continue to lead total area demand in the cover glass market; however, as the markets for smartphones and tablets mature, cover glass industry revenue growth has declined from 39 percent year over year in 2013 to 11 percent in 2015, IHS said. While the overall cover glass market growth is falling, increasing popularity of the Apple Watch is leading to growth in smart watch cover glass shipments.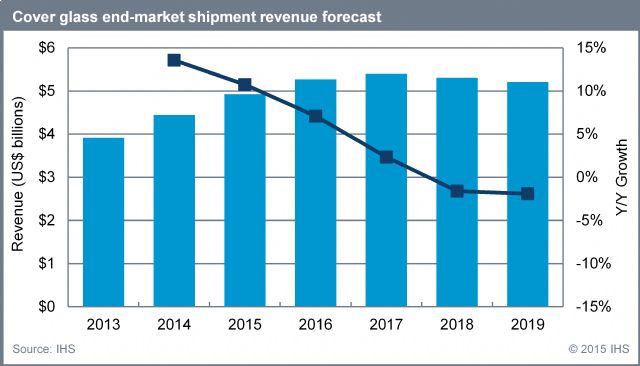 Cover Glass End-market Shipment Revenue Forecast (2013-2019) (Source: IHS)
Smartphones are forecast to comprise more than half (55 percent) of all cover glass area demand in 2015, followed by tablet PCs. More complicated requirements for smartphone cover glass -- including higher aluminosilicate glass penetration, more drilled holes and more ink layers -- are causing average selling prices (ASPs) to rise faster than area demand; smartphone cover glass is therefore expected to make up 63 percent of revenues in 2015. By way of comparison, tablet cover glass is expected to reach 29 percent share of total area demand in 2015, but will only comprise 25 percent of all cover glass revenue, according to the most recent 
Touch Panel Cover Glass Report
 from IHS.
Due largely to consumer demand for the Apple Watch, overall smartwatch cover glass area demand is forecast to increase by five-fold in 2015, reaching 33,000 square meters. That is still only a tenth of a percent of total cover glass area shipments, as cover glasses for wearable devices are much smaller than those used in smartphones and tablet PCs.
The slightly curved design known as 2.5D, along with higher sapphire glass penetration, will keep ASPs significantly higher, which will help smart watch cover glass revenue share rise to 3 percent of the total market in 2015, IHS said.