Reaping fruit partly from the Taiwanese government's effort on developing the Kaohsiung Port, Taiwan's largest commercial port in the south by container throughput, into a world-caliber cruise liner terminal and partly from promotions by various cruise operators, the port's cruise ship arrivals have steadily increased over the past few years and are expected to hit a record high of 49 this year, according to the Marine Bureau of Kaohsiung City Hall.

According to the statistics issued by Kaohsiung City Hall, cruise ship arrivals at the Kaohsiung Port have grown significantly from 15 in 2010 to 45 in 2014, hence driving overall cruise passenger arrivals from 27,435 to some 130,000. This year's expected cruise ship arrivals will rise 8.89 percent from last year, with the number of passenger arrivals to remain the same level.

In order to facilitate overseas travel for Taiwanese interested in cruise voyages, Marine Bureau deputy director-general S.Y. Ko indicated that the Kaohsiung City Hall has been encouraging cruise operators to make the Kaohsiung Port as their home port and launch various tours that include the southern Taiwan port as port-of-call in hopes of turning it into a popular destination on cruise routes worldwide.

In response to the city hall's promotion, Ko mentioned that Princess Cruises, an American-owned cruise operator, has been working with the Marine Bureau, Taiwan International Ports Corporation (TIPC), a government-funded operator of commercial ports in Taiwan, and a local travel agency this year since selecting the Kaohsiung Port as the home port for its cruise liner Sun Princess last year, to provide cruise-flight packages targeting travelers between Kaohsiung and Japan's Kobe.

Also worth mentioning is that Princess Cruises' other ship Diamond Princess, 116,700 in tonnage, also docked the first time at the Kaohsiung Port early-June, helping boost the port's image as a world-class cruise liner terminal. The Diamond Princess brought plentiful tourists, over 90 percent being Japanese, to drive spending in southern Taiwan's tourism and hospitality sectors.

To add amenities to transform the Kaohsiung Port into a cruise liner terminal, TIPC noted that it has been overhauling an old warehouse at the Pier 9 into a passenger terminal, in effort to attract more cruise liners to the port in the short term, as well as the Diamond Princess to dock again there next year.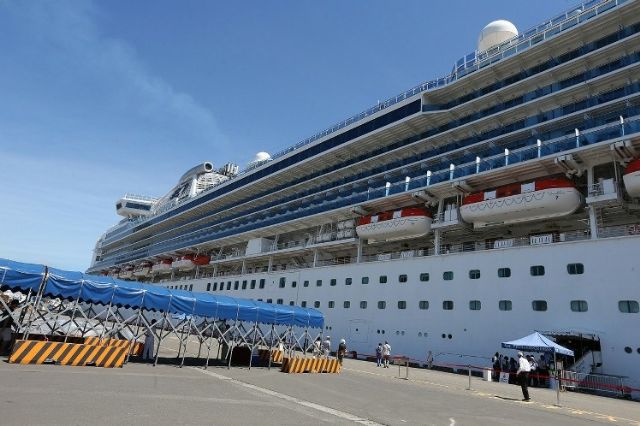 The Diamond Princess docked the first time at the Kaohsiung Port early-June.
Cruise Liner and Passenger Arrivals in Kaohsiung Port by Year
Year

Cruise Liner Arrivals

Growth Rate

Passenger Arrivals

Growth Rate

2010

15

--

27,435

--

2011

13

-13.33%

24,284

-11.49%

2012

20

53.85%

30,631

26.14%

2013

19

-5.00%

48,888

59.60%

2014

45

136.84%

130,000

170.83%

2015
(forecast)

49

8.89%

130,000

--

Source: Marine Bureau, Kaohsiung City Hall