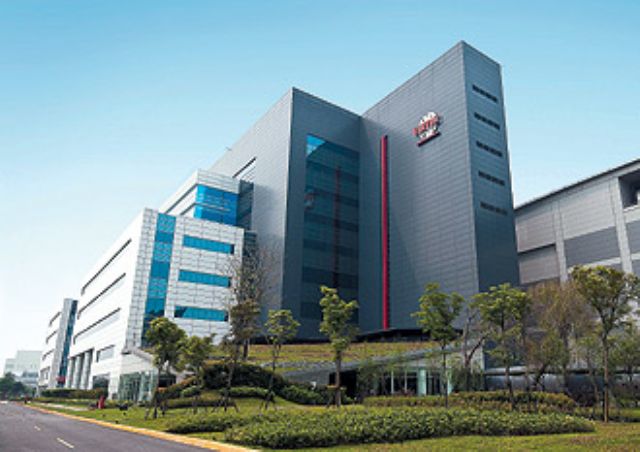 A 12-inch wafer plant operated by Taiwan's largest semiconductor company TSMC in STSP. (photo from Internet)
Despite recent reports of the decreasing exports out of Taiwan over the past five months straight, the Southern Taiwan Science Park's (STSP) accumulated export value in the first six months hit a same-period record high of NT$221.65 billion (US$7.39 billion), with accumulated first-half revenue in the park expected to challenge a new high of NT$350 billion (US$11.67 billion), according to the STSP Administration.
Statistics compiled by the STSP Administration show that the park's first-half total export value saw a 7.22 percent increase from a year earlier, or year-on-year (YoY), which is like a shot in the arm for residents in Taiwan amid sagging confidence towards economic performance this year. Based on past experience that STSP's exports in the second half typically exceed than in the first half, coupled with Taiwan Semiconductor Manufacturing Corp.'s (TSMC) new production capacity added in the park, the STSP Administration expresses optimism towards the park's whole-year export-value growth this year.
Two major moneymaking sectors in the STSP, including optoelectronics and semiconductor, reported eye-catching YoY export growth rates in the first half: semiconductor sector's 14.56 percent and optoelectronics' 1.06 percent. The STSP administration attributes the relatively-low export growth of optoelectronics companies in the park to fierce competition from Chinese rivals. To cope with such rivalry, the administration added, many companies in the sector have adopted strategies to differentiate products to upgrade competitiveness and margins. With their technologies continuing to pull ahead Chinese rivals and product application range still extending, the STSP Administration said, semiconductor companies in the park enjoyed clear growth in exports to Japan and South Korea in the first half.
The STSP officials said that in most cases, the demand peak period for optoelectronics and semiconductor companies in the park lies in the second half, thanks to vendors' higher sales during summer vacation, Christmas, New Year holidays etc. If things go smoothly, the officials added, STSP's whole-year export value is expected to see increase this year.
Statistics compiled by the STSP Administration show that in 2014, STSP's overall revenue generated by companies in the park totaled NT$639.4 billion (US$21.31 billion); while in the first four months this year, the accumulated revenue was NT$227.1 billion (US$7.57 billion), up 23.68 percent from a year earlier.
The STSP Administration noted that some leading semiconductor companies in the park have been aggressively researching new-generation production technologies; while TSMC's new 20-nanometer production capacity located in the park is expected to further raise overall revenue this year in the park, which is forecast to reach NT$740 billion (US$24.67 billion).
The STSP includes the Tainan Science Park and the Kaohsiung Science Park. The Tainan Science Park is situated in Tainan City with a total area of 2,578 acres; while the Kaohsiung Science Park is in Kaohsiung City with a total area of 1,409 acres.
STSP's Export Values (2012-H1, 2015)



2012

2013

2014

H1, 2015

Export Value

NT$384.58 billion

NT$416.1 billion

NT$415.2 billion

NT$221.7 billion

YoY

12.63%

8.18%

-0.2%

7.22%

Source: STSP Administration.