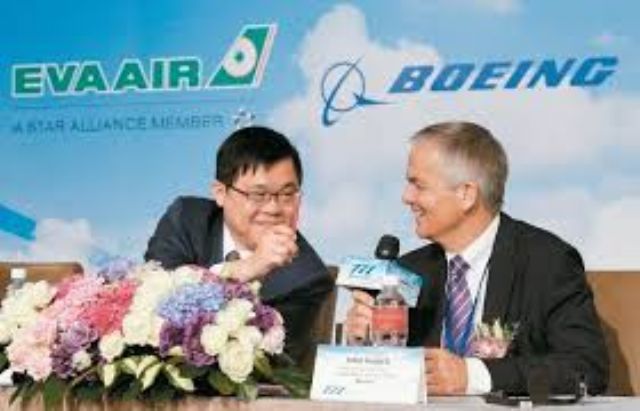 EVA Air chairman K.W. Chang (left) and Boeing senior deputy president John Wojick at the press conference to sign the agreement for five new Boeing 777-400F freighters. (photo courtesy of UDN.com)
Apparently shrugging off impact from protracted downtrend in the global air cargo industry, as well as betting on better prospects on the back of lower fuel prices, EVA Airways Corporation (EVA Air), Taiwan's top-2 airline by size, has just finalized an order for five new Boeing 777F freighters for less than NT$50 billion (US$1.58 billion) as part of its fleet expansion plan that involves NT$65.5 billion (US$2.07 billion) in total spending for the coming few years.
Chairman K.W. Chang of EVA Air noted at a press conference held earlier to seal the said deal with Boeing's senior vice president John Wojick that these newly ordered freighters are scheduled to be delivered continually beginning in October 2017 through September 2019, mainly to upgrade its cargo fleet by replacing obsolete, less fuel-efficient Boeing 747 series planes. Presently the firm's cargo  fleet includes eight Boeing 747-400F and six MD-11 freighters, all of which will be decommissioned in the near future, Chang mentioned.
In the face of the gradually shrinking global market for air freight services, resulting mainly from decreased bulk of the prevailing trend for smaller, thinner and lighter 3C products, Chang indicated that the industry's heyday as seen five to ten years ago is unlikely to return in the short term, simply because the sector is undergoing significant structural change with freightage continuously dropping as required by customers. However, EVA Air will never leave the market, in consideration of Taiwan's export-driven economy that always creates some domestic demand for air freight services, stressed the chairman, who added the firm began offering airfreight services in 1989.
Market observers noted that EVA Air's decision to purchase the five new freighters to upgrade its fleet makes sense regardless of the current market doldrums, primarily because of Boeing 777-400F being 25 percent more fuel efficient than Boeing 747-400F, which will help sustain the airline's competitiveness in the long run.
In-house Savings
Another decisive factor among others driving the Taiwanese airline to purchase those new freighters from Boeing, market observers mentioned, is the clause written in the agreement that allows EVA Air's subsidiary Evergreen Aviation Precision Corp., a supplier of aircraft parts, to supply needed bulkheads for production, maintenance and repair of the Boeing 777 freighters that EVA Air has ordered, hence helping the Taiwanese airline to cut cost and create business for its subsidiary.
Profiting from the purchase contract between its parent company and Boeing, EVA Aviation confirmed that it has already landed a 6-year order for 66 bulkheads for use in Boeing 777-400F freighters. After delivering two sets to Boeing last year, the firm will continue to ship 15 more sets this year. The delivered bulkhead is reportedly 3.3 meters in height, 4.9 meters in width, about 2,050 pounds in gross weight, and mainly installed in the front fuselage to protect the cockpit.
With Evergreen Aviation tapping Boeing's supply chain of aircraft parts, market observers generally opine that the EVA Group, a conglomerate of shipping, transportation and associated services composed of EVA Air and Evergreen Marine Corp., a globally known shipping line, as the flagship firms, has successfully diversified business into aviation, a potentially lucrative sector given its promising outlook with an estimated  30,000-plus passenger and cargo planes to be built to meet market demand in the next few decades.
EVA Air chairman Chang said earlier that the global aerospace industry is growing aggressively, whose related industrial technologies are applicable to a wide range of other industries, such as carbon-graphite composites already extensively used in golf club heads, bicycles and motor vehicles. Following the same logic, he has urged the Taiwanese government to bolster development of the aerospace industry on the island, to encourage more exchange and cooperation between the sector and others which can benefit from growing aircraft production, such as hardware, fasteners and machine tools.
Solid H1 Performance
Fueled mainly by low crude oil prices, EVA Air finished the first half of this year with revenue of NT$66.06 billion (US$2.09 billion), up 6 percent from the same period of last year, including NT$11.011 billion (US$349.55 million) earned in June, inching up 0.8 percent month-on-month but down 3.3 percent year-on-year.
With the high season soon to hit the global airline industry, institutional investors generally believe EVA Air will see its performance in Q3 surge on a yearly basis, and end the year with revenue growth of 9-11 percent and net profits of NT$9.573 billion (US$303.90 million)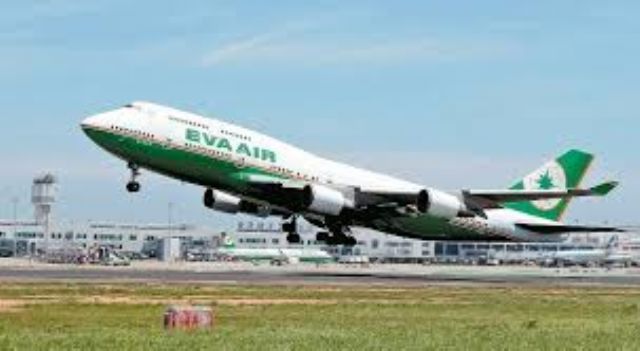 EVA Air finished H1, 2015 with impressive performance mainly on relatively cheap crude oil. (photo courtesy of UDN.com)