Times have changed since the 1980s before which few large-displacement powered two-wheelers (PTWs) were seen in Taiwan. Sales of both motorcycles and motor scooters have clearly grown in the past one to two years, to have drawn most major international and local vendors into the expanding segment.

Despite the big-displacement bike market mostly dominated by foreign brands as Suzuki, Yamaha, Harley-Davidson, BMW and Honda and to protect their market shares in the domestic PTW market, as well as ride the steady wave of larger bikes in the expanding segment, major Taiwanese players Kwang Yang Motor Co., Ltd. (KYMCO brand) and Sanyang Motor Co., Ltd. (SYM, formerly Sanyang Industry Co., Ltd.) have been accelerating development of PTWs with yellow license plate or engine displacement over 250cc and ones with red license plate or 550cc-plus models, to build a more comprehensive product lineup to counter the onslaught of imported counterparts.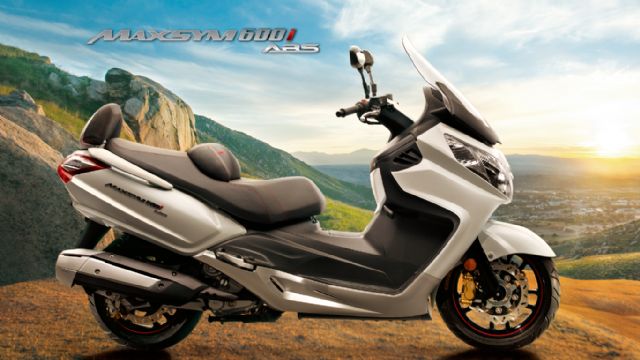 SYM, No. 3 PTW vendor in Taiwan, launches its Maxsym 600i maxi-scooter in Taiwan coupled with many incentives to show determination to win solid foothold in domestic big-displacement scooter market. (photo from SYM).
SYM, for example, recently launched its Maxsym 600i maxi-scooter to local consumers. The model has been exported to Europe for some time, with the flagship model enabling SYM to showcase its technical strength as well as promote brand image on the island. In Taiwan, the Maxsym is priced NT$299,000 (US$9,966), almost half the price of an import in the same-class, which may succeed to carve out a niche. In addition to its previously announced CB300 300cc motorcycle and GTS300i sport maxi-scooter, SYM has continuously launched three big-displacement PTW models in Taiwan in less than six months.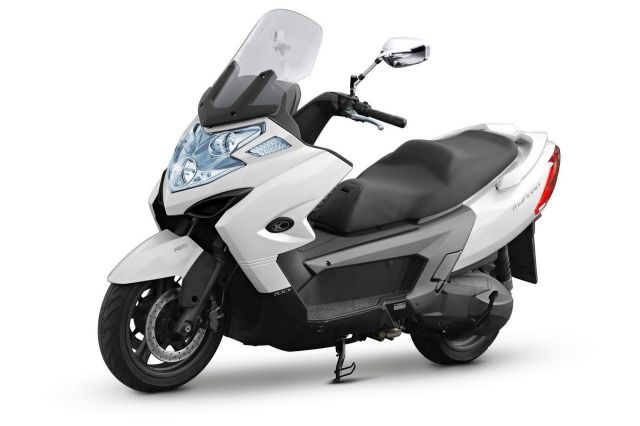 KYMCO Myroad 700i is currently the biggest-displacement scooter by local PTW vendors. (photo from KYMCO)
Expanding Segment
With the authorities having opened more expressways to yellow- and red-plated PTWs in Taiwan, rising spending power and increasingly popular recreational riding and tour cruising on the island, sales of big-displacement PTWs have increased in recent years. Statistics compiled by the Ministry of Transportation and Communications (MOTC) show that annual sales of 250cc-plus PTWs in the domestic market has risen clearly, from less than 2,000 units in 2009 to more than 19,000 by 2014, up some nine folds in annual growth.
Sales of 250cc-plus PTWs in Taiwan (2010-H1, 2015)



2010

2011

2012

2013

2014

H1, 2015

Sales Volume of 250cc+ PTWs

270

2,572

5,512

14,199

19,099

10,225

Source: MOTC

In the first half of 2015, more than 10,000 250cc-plus PTWs were sold in Taiwan, representing a 3 percent share of the overall market. Judging from the first-half volume, vendors forecast the annual sales to top 20,000 units this year.
Not to be left out the segment showing high growth potential and margin that has also drawn increasing number of international nameplates, KYMCO, recognized as the No.1 PTW vendor on the island for 15 straight years, is also an active player. KYMCO has announced a series of big-displacement PTWs with engine displacements ranging 250cc to 700cc, which has helped to broaden its product range to consolidate its lead on the island where KYMCO commands 40-percent-plus share in the domestic market. In addition, KYMCO recently also tied up with its Japanese partner Kawasaki to jointly unveil the twin models KYMCO Downtown 350i and Kawasaki J300 maxi-scooter on the island.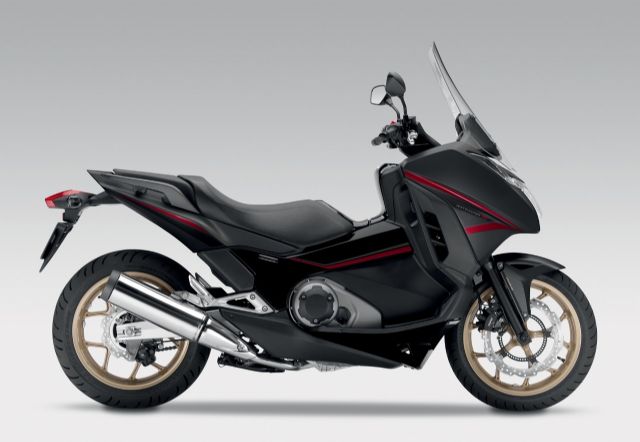 The Honda NC750D is a popular model in the red-plate (over-550cc) high-end scooter segment in Taiwanese PTW market. (photo from Honda)
As observed by some local PTW vendors, most local buyers of big-displacement scooters in Taiwan tend toward a yellow-plate model with sub-300cc engine displacement and prices between NT$200,000 and NT$250,000 (US$6,666 and US$8,333), with only a minor percentage purchasing red-plated, 550cc-plus high-end scooters. Among the red-plated maxi-scooter models currently available in Taiwan, KYMCO Myroad 700i, Honda NC750D and Suzuki Burgman 650 are the most popular. Of the red-plated maxi-scooter models priced NT$350,000 (US$11,666 for the locally produced Myroad 700i) to over NT$500,000 (US$16,666 for the NC750D and Burgman 650), monthly sales volume of such models remains quite stable at about 100 units.
Industry sources said that SYM had just launched its Maxsym 600i at the 2014 EICMA (International Bicycle and Motorcycle Exhibition) in Milan, Italy, having also introduced the flagship scooter in Taiwan by offering very competitive pricing, 30-month zero-interest loan, free upscale accessories such as the imported GIVI cargo box etc., which shows the company's determination in gaining a solid foothold in the big-displacement scooter segment.