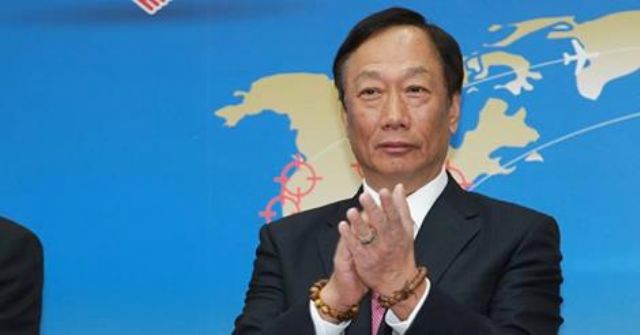 Hon Hai Group Chairman Terry Gou (photo courtesy of UDN.com)
According to media reports, Sony Corp. has contracted Hon Hai Precision Industry Co., Ltd., recognized as the world's largest contract manufacturer of electronic products, to make liquid crystal display (LCD) TVs at its manufacturing site in Chennai, northeastern India, on which Hon Hai has declined to comment while Sony India Managing Director Kenichiro Hibi has said the two companies will work together on production of the TVs ranging 22 inches to 42 inches.
With a financial news site focusing on India having reported that Hon Hai plans to set up a spate of plants in India, market sources in Taiwan said that it is the first time for Hon Hai to produce LCD TVs in India. Taiwan's industry executives point out that a driving force of the partnership is India's sizable market for TVs as well as Hon Hai Chairman Terry Gou's response to prime minister Modi's "Make in India" campaign.
Sizable Market
The Federation of Indian Chamber of Commerce and Industry has projected the nation's market for household appliances to top 520 billion rupee (US$8.14 billion) this year, with the color-TV market alone growing at annual rate of 15 percent. However as much as around 65 percent of the nation's electronic products are supplied by foreign makers because domestic Indian brand-name manufacturers can only supply lower-end products.
The Sony-Hon Hai partnership in India is not groundbreaking because industry executives point out that the two firms have been in close cooperation in TV manufacturing since 2009, when Hon Hai announced taking over Sony's LCD TV assembly facility in Mexico, with the factory not just enhancing Hon Hai's manufacturing capacity but helping Sony to land orders.
Hon Hai's TV-making deal with Sony in India may set a compelling precedent for Taiwan's other contract TV makers like Compal Electronics Inc. and Wistron Corp., who may follow suit to open assembly plants in India to tap cost saving advantages and the huge growth potential in the local market, industry executives predict.
They point out that brand-name customers of both Compal and Wistron still account for insignificant share of the Indian TV market due to not having manufacturing facilities in the nation. The Indian government levies high duties on imported electronic products including TVs, which makes products made abroad by Wistron and Compal contracted by brand-name buyers less price competitive than locally-made ones.
Industry executives indicate that second-tier contract manufacturers have mostly left the industry due to weaker demand for TVs globally, to make the segment more exclusively shared by Hon Hai (major supplier to Sony), Compal (major supplier to Toshiba) and Wistron (major supplier to Vizio and Xiaomi).
Tablet & Smart Phone Deal
While the reported cooperation with Sony in India raises buzz in the sector, Hon Hai is also said to have entered into an agreement with Adani Enterprise, held by the Adani Group of India, to open a US$5 billion joint venture in India to make tablet PCs and smart phones.
Gou says the agreement with Adani has not been finalized, but he is certainly willing to make long-term investments in India's tech industry and move some of his company's production capacity in mainland China to India.
All the reported deals provide more substance to Gou's announcement that this year is crucial for the group to develop presence in India, whose Prime Minister Narendra Modi publicized last year the "Make In India" campaign, which adds momentum to Hon Hai's plan to set up operations in 13 tech sectors, including cloud computing and Internet of Things.  
During his July visit in India, Guo told Indian news media that his group plans to open 10-12 production facilities in the country by 2020, to create around one million jobs there.
Guo's group is producing smart phones for the mainland Chinese brand-name supplier, Xiaomi, in Andhra Pradesh, India. Hon Hai plans to recruit 10,000 workers in the country for its smart phone production amid its negotiations with Nokia over subcontract manufacture of smart phones, as well as the Indian telecom service provider Airtel over a similar deal.
Also, Hon Hai has invested in India's electronic commerce industry, with news reports of the firm having teamed up with the Alibaba Group of China and Softbank of Japan to invest in the Indian e-commerce operator Snapdeal.