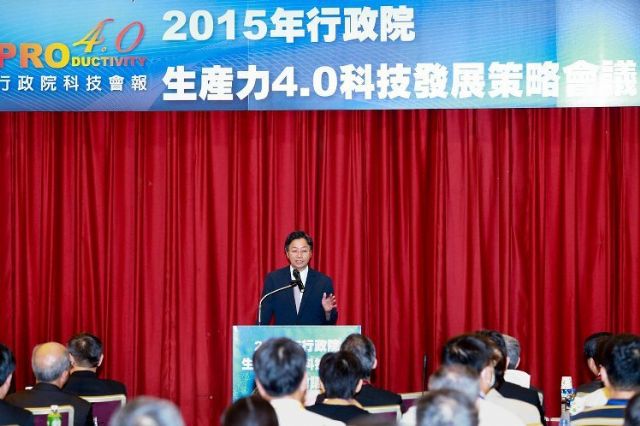 Taiwan's Cabinet plans budget about NT$36 billion for the "Productivity 4.0" project.
The Taiwan Cabinet or its executive ministry plans to spend roughly NT$36 billion (US$1.16 billion) over the next nine years on its "Productivity 4.0" project beginning this year, with the aim of boosting the island's total industrial revenue and helping 50,000 local manufacturers transform themselves to meet 4.0 standards.
The project aims to boost per-capita productivity of the island's manufacturing industry to NT$10 million (US$322,580) from the current NT$6.11 million, per-capita productivity of the island's commercial industry by 40 percent to NT$2.3 million (US$74,193), and per-capita productivity of the agricultural industry by 40 percent to NT$2 million (US$64,516).
Also, the project aims to elevate energy-related productivity by a quarter and attract around NT$250 billion (US$8.06 billion) of investment from the private sector.
"Productivity 4.0" project, an automation plan that emulates the "Industrie 4.0" version of Germany, involves building smart factories that use digital technologies including the Internet, big data and robots to carry out mass production of diversified products.
Although Taiwan's "Productivity 4.0" project is modeled after the "Industrie 4.0", the former covers manufacturing, agricultural and service industries to include two more industries than the German's.
In the initial stage, the Taiwan project's manufacturing industry category includes the eight sectors of electronics & information technology, metal & transportation, mechanical equipment, foods, and textile. The service industry category comprises retail and logistics.
The Ministry of Economic Affairs (MOEA) officials justify including the retail and logistics sectors by stating that the former alone accounts for around 27 percent of the gross domestic product (GDP) generated by the island's service industries, while retail operations are inseparable from logistics.
According to M.J. Wu, Director General of the Industrial Development Bureau (IDB) of the MOEA, who is in charge of mapping out the project, due to limited governmental resources, the "Productivity 4.0" project will first finance manufacturers that are seen as traditional and staple as well as small and medium-sized enterprises that are already equipped with basic information-technology (IT) and automation systems for production, leaving relatively bigger enterprises to fend for themselves or to depend on independent funding, adding that big enterprises will also benefit from such project when the 4.0 ecosystem will have been completed.
Wu points out that currently Taiwan's 4.0 landscape calls for system-integrated manufacturers equipped with international competitiveness, crucial technologies such as sensor chips and algorithm technologies, rational business model, and total solutions, which inadvertently implies that the project can only work with relatively advanced, IT-savvy enterprises, who may not need governmental help as much as the smaller, less-well equipped counterparts.
He stresses that the "Productivity 4.0" project is by no means designed to replace manual labor with robots, instead to help them boost productivity. For instance, Siemens' factory in Amberg has raised output by seven folds after deploying the "Industrie 4.0" automation project without cutting jobs.
Originally, the Cabinet planned to implement the project in 2016. However, the weak macro economy, with Taiwan's exports having dipped continually in recent months, has prompted its decision to push forward the implementation date to this year. The project will run through 2024, one year earlier than mainland Chinese version of Industry 4.0.
China will spend at least an estimated RMB 8 trillion (US$1.3 trillion) over the next few years to modernize its industries including information-communications technology, computer numerical control (CNC) machine tool, new energy and aerospace equipment.
Senior Cabinet officials point out that although the executive ministry had planned the budget of roughly NT$36 billion, it may raise the fund after an intra-government meeting held on Aug. 10.
Compared with the mainland's Industry 4.0 program, Taiwan's will place importance on building self-sufficient manufacturing capability of key components crucial to turnkey smart factory, such as the controller, sensor and transducer used on robots.