Established in 1987, Chaang-Horng Electronic Co., Ltd. has been dedicated to producing plastic surface treating equipment and electro-static removers as a specialized maker in Taiwan. 

Following decades of hard work, the company has sound reputation among customers worldwide, including Well-know enterprises as Nan Ya Plastics of Taiwan, Interplas of the U.S. and Marubeni of Japan. This maker's success is mainly built on steady research and development of plastic surface treatment Plasma/Corona, most of which improved with imported advanced ceramic electric discharge bars and special materials. 

The company offers a variety of plastic surface treating machines, automatic width controllers, surface corona treaters, static eliminators, static bars and 3-D electrical surface treating equipment, ideal for antistatic treatment of PE, PP, PET and PS films and metalized films, as well as plastic plates and laminates. 

One of its newest products is the Plasma Jet that treats in a single jet up to 50mm wide under atmospheric conditions and is suitable for various applications. This machine was shown in ChinaPlas 2015, held May 20-23 in Guangzhou, southeastern China, and drew considerable attention from professional buyers who were looking for high-performance plastic processing machinery with excellent productivity that ensures high return on investment.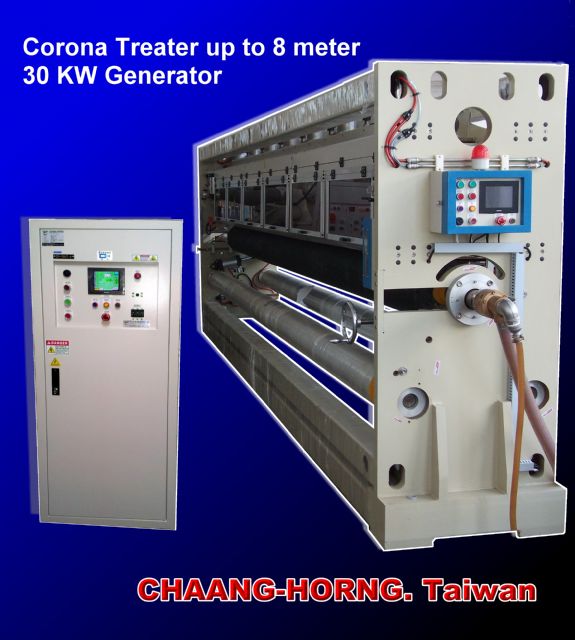 Chaang-Horng's corona treater has proven to be a profit maker for end-users from the plastic industry.
Chaang-Horng Electronic Co., Ltd.
No. 34, Alley 26, Lane 82, Tayung St., Sanchung Dist., New Taipei City, Taiwan 241
Tel: 886-2-2988-7213; 2981-8167
Fax: 886-2-2986-5484
Email: chaang.horng@msa.hinet.net
Website: www.chaang-horng.com