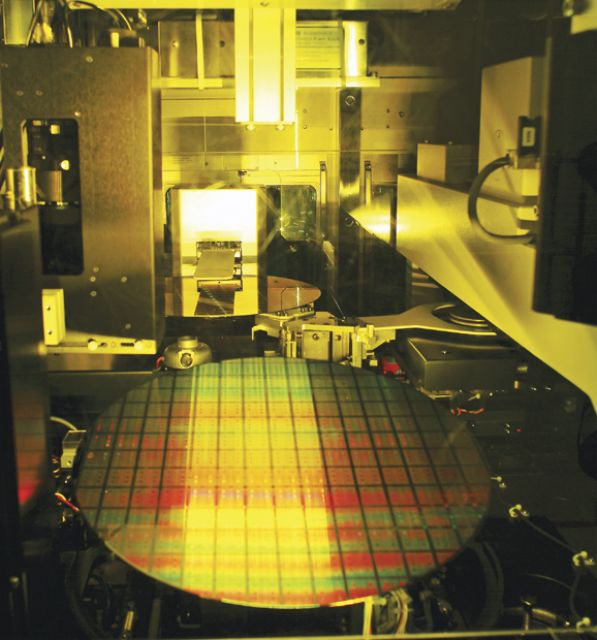 Taiwan plans to liberalize local chipmakers' 12-inch wafer fab investments in mainland China. (Photo courtesy TSMC)
Taiwan's Ministry of Economic Affairs (MOEA) plans to ease restrictions on Taiwanese companies' investments in 12-inch silicon wafer fabs in mainland China to allow them to construct new factories there as part of its effort to rescue the sagging economy on the island, where exports have been declining for the past six months and reports are that 2015 GDP may not even reach two percent.
The ministry, which has posted the plan on the Cabinet's online gazette, is expected to implement the plan by the end of this month after surveying opinions from all sectors for a week until Aug. 20.
Currently the Taiwan government only permits the island's chipmakers to run silicon-wafer factories in China through M&A or share-holding for fear that they could export their latest chipmaking technologies to the mainland if allowed to open new factories there. The new plan allows them to construct new factories in China whether wholly owned or jointly funded.
Industry executives feel that the new policy adjustment suggests the government has finally realized that deregulation may be the solution to dealing with local chipmakers' investment in China in hopes of reinvigorating the island's weakening economy.
According to the Ministry of Finance, the island's exports have declined for a sixth month in July mainly because of slower-than-expected clearing of inventory backlog throughout electronics supply chains worldwide and lukewarm global economy.
One more bête noire for Taiwan's electronics industry is the "red supply chains," a term obviously coined to refer to the rising homegrown integrated manufacturing capacity in mainland China that is purposefully being promoted, encouraged by Beijing to reduce the nation's dependence on imports or raise self-content ratio.    
Chairman Morris Chang of Taiwan Semiconductor Manufacturing Co., Ltd., recognized as the world's No.1 pure silicon foundry, personally suggested former Vice President Vincent Siew at a summit attended by business chief executive officers from Taiwan and mainland China held last year in Taipei that the government should permit the island's chipmakers to invest in wholly-owned 12-inch wafer fabs in the mainland, with the same suggestion reiterated to Primer Mao Chi-kuo this July at a Cabinet meeting on the governmental budget for science and technology development.
Defending the new policy of deregulation, Vice Economics Minister Shen Jong-chin points out that tight government control has taken a toll on Taiwan's tech industry at the cost of the liquid-crystal display sector, which has lost the opportunity to develop presence on the mainland, the world's biggest market for the display, IC chips, mobile phones and many other electronic devices.
Director of TSMC Corporate Communication Division, Elizabeth Sun, says the chip foundry is glad to see the government's move to deregulate investment in wholly-owned 12-inch wafer fabs in the mainland, but adds that the company has yet to finalize its 12-inch wafer fab plan in the mainland.
Industry executives predict TSMC to submit its investment application as early as September.
They point out that if TSMC becomes the Taiwan's first chipmaker to open wholly-owned 12-inch wafer fab in the mainland, such deregulation will not only allow TSMC to vie for market supremacy in the mainland against Intel and Samsung but also activate a downstream ripple-effect, to allow the island's chip making-equipment suppliers to want to be closer to clients by setting up industrial clusters in the mainland.
Industry executives say although TSMC would be a relative latecomer as 12-inch fab operator in the mainland compared with Samsung Electronics Co., Ltd., Intel Corp., and SK Hynix Inc., the company will quickly become a crucial supplier in the mainland's "Made in China" project thanks to its unmatched leadership in chip-making process technology.
The new policy is not without hitch. Chipmakers are forbidden to invest in new fabs in the mainland with financing from Taiwan's banking systems, are limited to transplanting to mainland factories process technologies that are at least one generation behind their latest, may not set up new factories in the mainland at the cost of eliminating jobs in Taiwan, and are required to propose investment plans in Taiwan that match their mainland investment plans.
The said conditions make TSMC possibly Taiwan's only qualified chipmaker for the mainland investment. With a 12-inch wafer fab costing between NT$100 billion (US$3.12 billion) and NT$150 billion (US$4.68 billion), TSMC is believed to have more cash than necessary. The chipmaker's latest commercialized process technology is 16-nanometer process, suggesting its eligibility to transplant its 20nm process to the mainland in its 12-inch fab investment plan. The company's phase-five investment project in central Taiwan should be accepted as an investment comparable to the company's mainland investment project if it submits an application.
TSMC opened an 8-inch wafer plant in Shanghai's Songjiang district in 2003, which resulted in TSMC's continual hiring of more people on the island, boosting its workforce by 20,170 since 2003, to handle its capacity expansion in Taiwan, according to the MOEA.
Over the past 12 years, the company has increased the number of its employees in the mainland by only 2,663, according to the ministry. Taiwan held a 73 percent share of the global wafer foundry market in 2014, up 67 percent from 2008, which proves that investment in the mainland by the local semiconductor sector has not adversely affected Taiwan's global competitiveness, the ministry says.