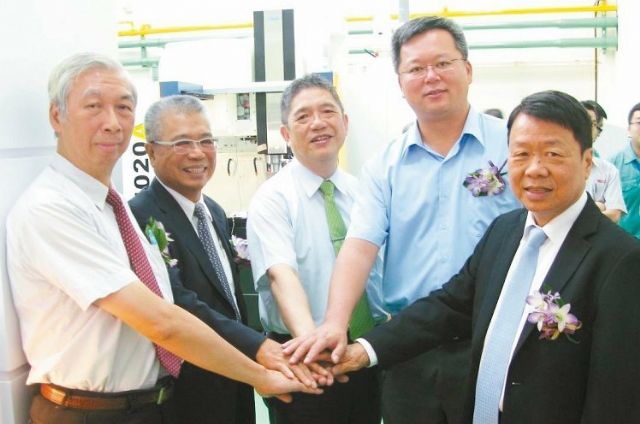 (From right to left) Fair Friend Chairman Jimmy Chu, PMC Yeong Chin Chairman B.Y. Chen, PMC Chairman J.H. Yen, Quasar Chairman R.M. Hsieh, and WELEE Chairman Y.C. Guang announce the establishment of the software-development lab.
Four leading machine-tool makers in Taiwan have recently opened a joint laboratory to develop software that can boost machining precision to more effectively control vibrations transmitted from cutters that typically occur when working on harder metallic workpieces.
Aided by the coordination of the Department of Industrial Technology (DoIT) under the Ministry of Economic Affairs (MOEA), the Fair Friend Enterprise Group, Yeong Chin Machinery Industries Co., Ltd., Quaser Machine Tool Inc., and WELE Mechatronic Co., Ltd. put up over NT$20 million (US$625,000) to set up the laboratory in the non-profit Precision Machinery Research Development Center (PMC) in Taichung, central Taiwan.
According to the four manufacturers, such software is designed to increase added-value of Taiwan-built machine tools by boosting machining efficiency by 30 percent.
Vibrations usually result in damage to cutters or workpieces because such micro-movements incur impact on cutters or workpieces. In the past, Taiwan's manufacturers using machine tools heavily depended on veteran workers with ample experience to manually recalibrate machines to avoid such vibrations, a technique that simply has been inadequate to meet the degree of precision demanded by customers.
Although most local machine-tool makers have outfitted their high-end machines with software developed by international players, the imported software can cost at least NT$2 million (US$62,500) per set, a substantial sum that further burdens cost to also erode cost-efficiency and profitability.
The software to be developed by the lab will be able to monitor and analyze vibration online to enable automatic recalibration, making it well suited to the Industry 4.0 automation model.
Fair Friend Vice President C.J. Lin points out that such software will provide the most precise and scientific data that can help overcome the Achilles heel of machining.
PMC Chairman J.H. Yen points out that Taiwan's machine-tool industry generates revenues exceeding NT$150 billion (US$4.68 billion) a year, with the four manufacturers accounting for nearly a quarter. The machines are used by various industries, including digital handset making, aircraft building, vehicle making and consumer hardware making, he notes.
Fair Friend Chairman Jimmy Chu points out that setting up the laboratory symbolizes that local machine-tool manufacturers, unlike their mainland Chinese and South Korean competitors who are substantially backed by governmental resources, can only count on themselves to cope with stiff competition amid relatively steeper devaluations of the renminbi and Korean won against the greenback, as well as free trade agreements that tilt the playing field to favor China and South Korea.
He adds that the Taiwan government allocates meager resources into the local machine-tool industry, leaving local manufacturers like his company to fend off international competitors alone. Through acquisition and merger deals, his company now owns 32 machine-tool brands and 51 manufacturing sites worldwide, generating approximately 80 percent of its revenue from operations outside Taiwan and mainland China.
Chu feels that the Taiwan government's "Productivity 4.0" project, an automation plan that emulates the "Industrie 4.0" version of Germany, will reinvigorate Taiwan's industries, while the Taiwan Association of Machinery Industry (TAMI) and the Taiwan Machine Tool & Accessory Builders' Association (TMBA) should integrate to create more opportunities with the lab project for Taiwan's machine-tool industry.
Quaser Chairman R.M. Hsieh indicates that the company depends on the European market for over 70 percent of the company's sales. In the first half of this year, the company lost around NT$80 million (US$2.5 million) in foreign exchange transactions as a result of the weakened Euro against the U.S. dollar, leading to the company's first loss since 2009. He believes the lab will help make the island's machine-tool makers including his company less vulnerable to fluctuations in foreign exchange rates.