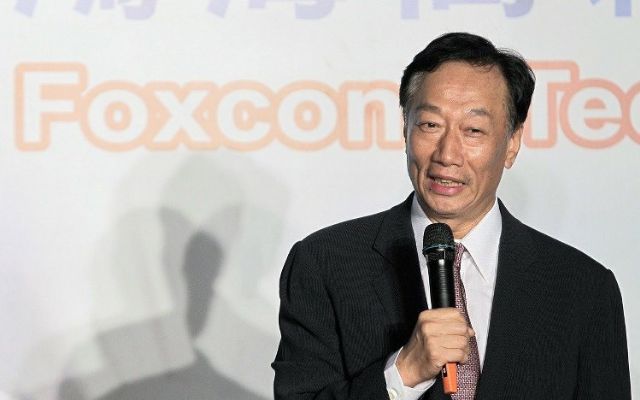 Hon Hai Group Chairman Terry Guo.
FIH Mobile Ltd., a subsidiary of the Hon Hai Group, has announced that its Singaporean subsidiary, Wonderful Stars Pte. Ltd., is investing US$200 million in Indian IT service company Jasper Infotech Private Ltd., which owns India's No.1 e-commerce provider Snapdeal.
The investment enables Wonderful Stars to acquire a 4.27 percent stake in Snapdeal. Industry executives estimate the acquisition to help accelerate FIH's expansion into information and mobile-connectivity services and provide Hon Hai an opportunity to improve its mobile-access infrastructure. Hon Hai is reportedly the world's No.1 contract electronics manufacturing services provider with its subsidiaries.
According to FIH Chairman W.H. Tong, investing in Snapdeal represents his company's response to the Indian government's vision for "Digital India", an initiative that aims to enhance efficiency of governmental services to citizens via provision of digital or electronic modes that also reduces paperwork.
Tong's company contract makes handsets and wireless communications equipment. He adds that the Snapdeal enables his company and its big-name international customers to set up closer connection with Indian consumers.
Tong stresses that working with Snapdeal will help his company further understand the Indian market, which he says is important to FIH, and amass the knowledge of the market. Also, the cooperation, he adds, is a part of his company's plan to build smart manufacturing system as well as develop innovative products and solutions for customers using Big Data.
Snapdeal Co-Founder & Chief Executive Officer (CEO) Kunal Bahl says that the company sees the FIH's investment as a significant endorsement of Snapdeal's strategy and commitment to create life-changing experiences for millions of small businesses and consumers in India.
Snapdeal is a huge online shopping platform in India not unlike Amazon of the U.S., depending on mobile devices for the majority of its sales. The platform is expected to benefit FIH in its online mobile-phone sale, distribution and marketing.
FIH mainly fills orders from non-Apple smartphone suppliers, including Beijing Xiaomi Technology Co., Ltd., Huawei Technologies Co., Ltd., InFocus Corp., whereas Hon Hai is the primary assembler of Apple iPhones.
Industry executives predict that smart phone sales will grow significantly this year based on forecasts that average selling price of such phones to drop 11 percent. Currently, around 80 percent of the Indian smartphone market is filled with low-end products, with market penetration of smartphones remaining low in India to indicate plenty of growth potential.