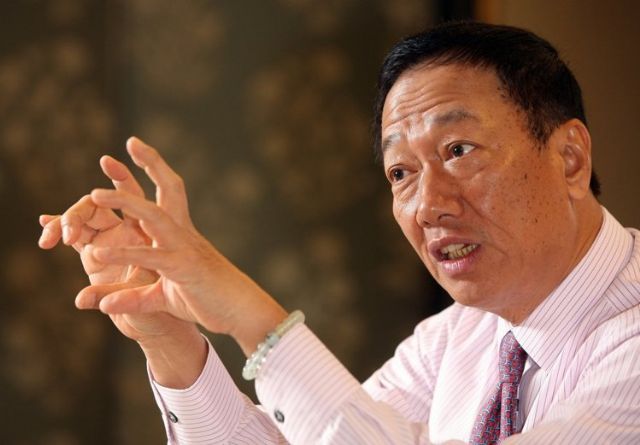 Hon Hai Group Chairman Terry Guo.
According to a Reuters report, Taiwan-based Hon Hai Precision Industry Co., Ltd., recognized as the world's largest contract electronic services provider, has been in talks with Japan's telecom service provider Softbank Corp. and Indian business conglomerate Adani Group over solar energy investments.
The Reuters report cites sources who are familiar with the negotiations that the three parties have been discussing the possibility of investing US$3 billion to manufacture solar cells and panels in India.
The report says the three companies aim to explore solar energy in India primarily because Indian prime minister Narendra Modi's government has been promoting to develop clean energy, hence anticipating that renewable energy could create US$160 billion worth of business opportunities over the next five years.
Adani proposes to build solar-power plants in Gujarat State of India with collective power generating capacity of three gigawatts of electricity by 2020.
A source cited by the Reuters report says that Adani Founder Gautam Adani, Hon Hai Chairman Terry Guo and Softbank Chairman Masayoshi Son have been negotiating the prospective investment project for weeks.
The source says that the three parties could finalize the investment projects in the coming few months, on which Hon Hai has declined to comment.
Before the latest report on the talks with Softbank and Adani surfaced, Hon Hai announced plans in late June to team up with the Japanese partner and another Indian business group Baharti to set up a joint venture, dubbed SBG Cleantech, to penetrate the Indian renewable energy market, with a focus on solar and wind energy.
Softbank's Son says that SBG plans to invest US$20 billion over 10 years to build solar-power plants in India, and that Hon Hai will supply the power plants with solar equipment from factories it will build in India, a move which he says is consistent with the Indian government's "Make In India" program.
Industry executives point out that building a solar-power plant in India is twice as cost-effective compared to a similar facility in Japan given that India's sunny duration is double that in Japan.
In addition, Softbank looks to tap the joint venture to help turn India into a world hub of solar-cell manufacturing.
Market sources say that speculation about the cooperation among Hon Hai, Softbank and Adani in solar energy development has been circulating for some time.
In addition to the solar energy project, Hon Hai reportedly will work with Adani's subsidiary Adani Enterprise to invest US$5 billion to churn out tech gadgets, including tablet computers and smartphones, in India.
Hon Hai and Adani Enterprises are expected to build two plants in Gujarat and Karnataka in the initial stage of their investment, the sources say. The two partners could assemble Apple iPhone in the South Asian country.
In early August, Guo announced in a news conference during his visit to India that his group is planning to invest US$5 billion in India's Maharashtra state over the next five years.
Hon Hai, also known as Foxconn Technology Group, is one of Apple's most important suppliers, and fills substantial orders for iPhones and iPads for the US consumer electronics giant.