Lien Yu-ping, Director General of the Department of Investment Services (DOIS) under the Ministry of Economic Affairs (MOEA), recently said that a Taiwanese delegation to attract investment from North America has shown promising results, having inked investment letters of intent (LOI) with various American and Canadian companies, including GE, S-Cubed, Alvogen, etc. She estimates that future investments from the potential investors might total about NT$11 billion (US$343.8 million) over the next three years.

In addition to signing the LOIs, GE of the U.S., a supplier of home appliances, airplane engines, healthcare equipment, electrical parts and financial services, also promised to increase its purchase value in Taiwan over the next three years to more than NT$27 billion (US$843.8 million), with major procurement categories such as aerospace equipment, medical equipment, etc.

Lien says that it's hard to estimate how much these new foreign investments in Taiwan will elevate the local gross domestic product (GDP); however, every NT$1 (US$0.03) of new investment used to contribute about NT$1 to NT$1.3 (US$0.03-US$0.04) to local GDP.

GE's Taiwanese operations comprise aerospace, medical equipment, energy, water disposal, water chemicals etc. businesses. The local branch previously invested NT$1.5 billion (US$50 million) to set up an airplane repair and maintenance venture in Taiwan with the local airline EVA Airways, and planned to designate the Taiwanese venture as the sole repair and maintenance base in Asia for the GEnx aircraft engines. GE's Taiwanese branch is also expected to continue seeking investment opportunities in local medical equipment and semiconductor packaging industries.

The Taiwanese delegation to North America, according to DOIS, also signed investment LOIs with some American semiconductor companies, including PraxAir (a top-three industrial-gas maker), Veeco, S-Cubed. PraxAir is expected to find investment opportunities in Taiwanese flat panel display (FPD) and medical equipment segments, the DOIS says.

Veeco holds more than 150 exclusive patents in thin film deposition-related fields, and more than 60 percent share of the global epitaxy equipment market. The company has been aggressively developing business in 3D semiconductor packaging technologies, and intends to set up a technical center in Taiwan. S-Cubed plans to find suitable business partners in Taiwan for setting up a semiconductor equipment R&D and manufacturing base on the island, DOIS says.

The DOIS adds that the American pharmaceutical maker Pfizer, which has investments in Taiwan, promised to expand the production capacity of a drug plant in Hsinchu, northern Taiwan, while continuing to carry out 40 to 50 clinical trial projects on the island. The American pharmaceutical maker Alvogen, in addition to its plan to pour NT$6.9 billion (US$230 million) into the local pharmaceutical company Lotus (to be completed this year), also plans to inject an additional NT$1 billion (US$33.3 million) to expand R&D and manufacturing scale at the Taiwanese company.

Beneficiaries
With GE promising to increase its future purchases of aviation products from Taiwan, some local companies are expected to be the first-tier beneficiaries, like Aerospace Industrial Development Corp. (AIDC), EVA Airways, etc.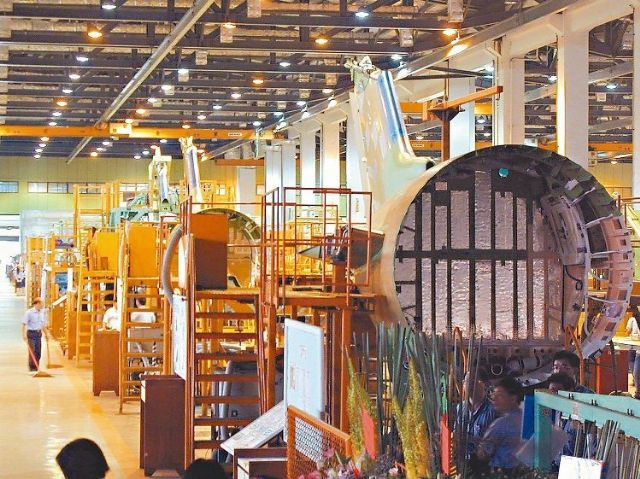 AIDC, the largest aircraft maker in Taiwan, has strong capability in aviation parts manufacturing, and is expected to benefit from GE's increasing procurement on the island. (photo from UDN)
AIDC, the largest aircraft maker in Taiwan, has already transformed into a private aviation company from a state-run enterprise. The company has been part of GE's aircraft-engine supply chain for years, providing many engine nacelles to the international customer. AIDC is also the hub of Taiwan's aviation central-satellite plant system, which, coupled with being one of GE aircraft engine's top-10 suppliers, helps to play a key role to fuel the development of the local aviation industry.
EVA Airways has been aggressively trying to win more aviation supply orders from international customers, by bidding for numerous procurement tenders issued by these airline companies. Just last year, Evergreen Aviation Technologies Corp. (EGAT), the aircraft repair and maintenance arm of EVA Airways, and GE Aviation set up a joint venture, the GE Evergreen Engine Services, to specialize in engine maintenance of commercial airliners, including Boeing's 787 Dreamliner.
GE Evergreen Engine Services is the first company in Asia to repair GE's GEnx engines, which are featured in the Dreamliner and the Boeing 747-8. With training and tooling provided by GE Aviation, GE Evergreen Engine Services have gained capacity to perform limited work on GEnx beginning in 2015 with full overhaul capability to follow by 2019. The GEnx family of engines is the fastest-selling engine in GE Aviation's history with more than 1,500 engines on order. The engine entered service in 2011 and powers both the Boeing 787 Dreamliner and the Boeing 747-8. GE Aviation has been increasing production of the engine for the last two years and delivered nearly 300 GEnx engines in 2014.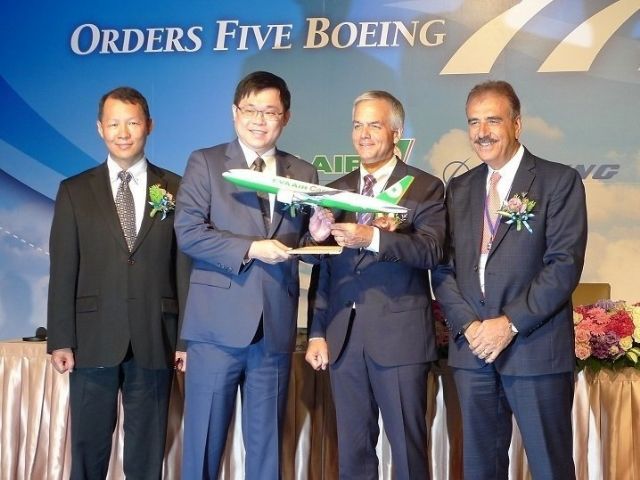 EVA Airways just finalized in late July with Boeing a firm order for five 777 freighters with GE engines. (photo from UDN)
Subsidies as incentive 
Thanks to the implementation of the new subsidies program for foreign investors in Taiwan by the MOEA, DOIS says that the recent investment-soliciting delegation to North America has successfully piqued interest among many foreign companies to plan to set up R&D centers on the island.
The new subsidies program offers a foreign company up to 50 percent of the investment cost to set up an R&D center when cooperating with Taiwanese supply chains. A foreign enterprise who sets up a joint venture in Taiwan with local partners will also be subsidized by the government for the venture's technical development in the first stage, as well as for the establishment of a local supply chain.
Despite turbulence such as the slowing economic growth in China that is impacting exports out of Taiwan, fluctuating foreign currency exchange rate, etc., DOIS says the recent delegation to North America received generally positive response from potential investors, some of whom have signed investment LOIs with the delegation while they closely observe the progress of Taiwan's signing of FTA (Free Trade Agreement) with other nations.
The executive ministry (Cabinet) of Taiwan recently also announced its agreement with the proposal from the National Development Fund to work with the private sector to set up a venture capital fund for acquisitions, which, according to DOIS director general Lien, is in tune to the global trend of mergers between enterprises and is expected to attract more foreign investors to Taiwan.
Compared to neighboring countries in Asia, Lien says, Taiwan has better legal systems, comprehensive supply chains, better protection of intellectual properties, etc., albeit lacking tax-reduction incentives.
DOIS says that the MOEA will arrange every year investment-soliciting delegations to North America, Europe and Japan, with such missions this year to North America and Japan having been completed. A delegation is scheduled to go to Europe early September, to call upon potential investors in Germany, Switzerland and Finland, with the focus on the telecom industry.