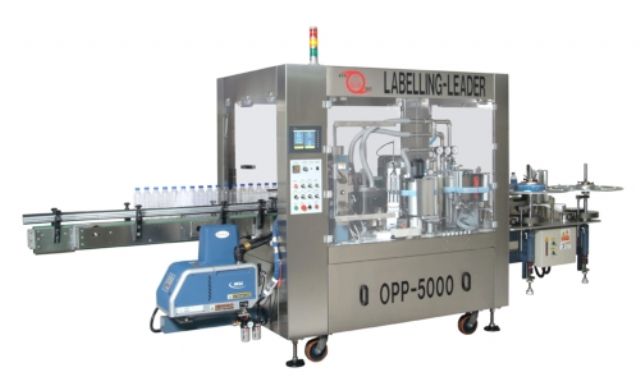 The automatic high-speed opp labeling machine developed by Gold Great Good
Gold Great Good Machinery Co., Ltd. is an industry-leading supplier of labeling machines in Taiwan, known among professional buyers from all over the world for its consummate R&D and production capabilities. 
The company develops and manufactures a variety of labeling machines, including servo-labeling machines, front and back labeling machines, eco-friendly labeling machines (OPP roll-feed labeling machines), labeling machines for various thermal-film bottle packaging, auto shrinkable label inserting machines, multifunctional two-sided labeling machines, and many others.
The company's MD-6000-OPP-series automatic high-speed OPP labeling machine for round bottles embodies its exceptional R&D ability, which is adaptable to labels of OPP and BOPP, thermal-adhesive applicable and adaptable to various containers under 3,000c.c. With labeling speed ranging from 60 to 800 bottles per minute, the machine is capable of 360-degree labeling for glass/plastic/PET containers holding mineral water, soybean milk, etc.
Gold Great Good is headquartered in Taoyuan City, northern Taiwan with a modern production factory, in which skilled technicians and advanced equipment are employed to ensure customers excellent quality and timely service. It has successfully exported its high-performance machines worldwide, partly under its own brand.
Gold Great Good Machinery Co., Ltd.
Tel: 886-3-489-0889 
Fax: 886-3-470-9902 
E-mail: ggg60968@ms52.hinet.net 
Website: labeling-leader.com.tw