Jiuh-Shin Machinery Co., Ltd. is a Taiwan-based, high-profile manufacturer of EPE/EPP/EPS whole-plant equipment, as well as a globally known supplier of EPS-processing machines. 
Ever since founded 1980, Jiuh-Shin has been dedicated to developing advanced technologies, in effort to set itself apart from competitors in the line. Today, the company has two manufacturing bases in Taoyuan County, northern Taiwan, for the production of different machine models, with one mainly for manufacturing machinery, and the other for packing research and development, which engages in testing and producing EPS, EPE and EPP products. Jiuh-Shin says it is Taiwan's exclusive firm focusing on EPS shape molding and machinery production. 
The firm's product lineup consists of the JSM-AB series of automatic block vacuum forming machines (vertical type), the JSM-HVA series of automatic EPS/EPE vacuum molding machines, the Carrier 20 series of automatic EPP/EPE/EPO/EPS vacuum molding machines, the JSM-AB series of automatic block vacuum forming machines (horizontal type), and the JSM-OE series of quantitative pre-expanders (batch type). 
Thanks to its expertise in this filed, Jiuh-Shin has gained a leading position in Asia, especially in machinery quality, while securing high market shares in the Middle East and Southeast Asia. It is not overstated that the company has built a relatively high profile among customers who demand high-quality machinery and quick after-sale services. 
At present, the company's annual production capacity reaches 200 units of machines. Approximately 90% of its total output is exported all over the world.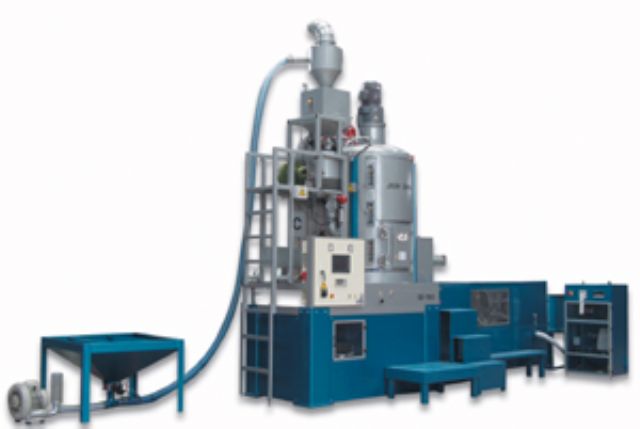 Quantitative pre-expander (batch type) from Jiuh-Shin
Jiuh-Shin Machinery Co., Ltd.
No. 206 Nanshan Rd., Sec. 1, Luchu Township, Taoyuan County, Taiwan 338
Tel: 886-3-321-3552 
Fax: 886-3-321-3551 
E-mail: jsm.com@msa.hinet.net 
Website: www.jiuhshin.com.tw