Quick-Tech Machinery Co., Ltd., a member of the Tongtai Group, makes a variety of computer numerical control (CNC) machine tools, including lathes, turning-milling combos, turret lathes, vertical machining centers, in addition to robotic loading and unloading systems and training-type milling machines.

Among the company's latest products with notable features are the I-series and S-series turning-milling combos, which are integrated with several unique and reliable designs including multiple axes, dual cutting systems, an adjustable control panel, and a wired handheld controller. These devices make these machines ideal for heavy-duty cutting of highly demanding workpieces calling for complex, diversified and miniscule specifications.

The combos come with several user-friendly functions, including the 12 icons displayed on tempered-glass doors indicating 12 operating modes such as conveying, lubricating, cooling, door, N.C. ready, CNC auto, and auto power-off. These icons are color coded in yellow, blue, green and red to indicate caution, normal, ready and alarm, respectively.

The icons on the doors is a practical, effective way for operators to monitor several machines at once by quickly seeing specific problems on the control monitor attached to each machine. The idea to display the operating status on the glass door stemmed from the head-up-display (HUD) technology that is often used in fighter jets.

To sharpen know-how, the company frequently sends its R&D and QC engineers for long-term training in Germany. The R&D team consists of 15 specialists, including the managing director, Jacky Huang.

The company's designers are always tasked with introducing products stressing efficiency, rigidity, compact design and ability to produce complex parts with reduced cycle time.

The company builds its latest machines to stricter European standards in addition to complying with the CE Marking and EMC.

Quick-Tech's efficiency standards are reflected not only in its work environment but also in the machines it turns out. To boost production efficiency by offering more pleasant working setting, the company has equipped production lines with air-conditioning.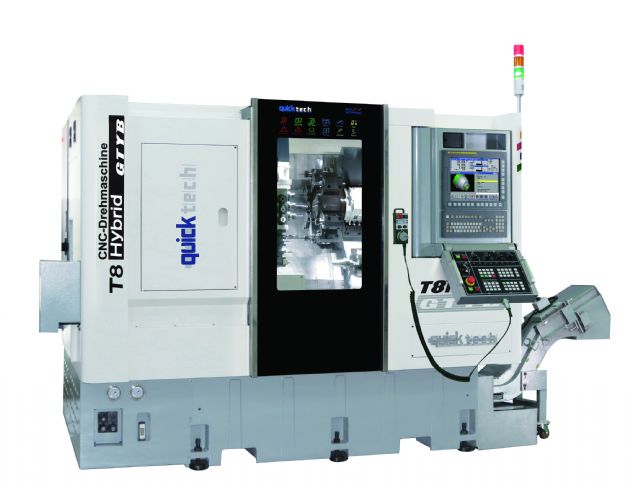 A user-friendly CNC turning-milling combo from Quick-Tech.
Quick-Tech Machinery Co., Ltd.
No. 35, Keji 1st Rd., Annan Dist., Tainan City, Taiwan 709;
Tel: 886-6-384-1155;
Fax: 886-6-384-1177;
E-mail: quick.tech@msa.hinet.net;
Website: www.quicktech.com.tw, www.cnc-quicktech.com