Stainless steel heavy-duty, medium-duty, light-duty casters, adjustable wheels, folding trolleys
Established in 1992, Ho Caster Industrial Co., Ltd. is a professional manufacturer of industrial casters and folding trolleys.

This maker's product portfolio consists of casters and wheels with various specifications, adjustable wheels, industrial wheels, carts, folding trolleys, stackable wagons, warehousing casters, nylon casters, swivel casters, rubber casters, brake casters, rigid casters, and so forth.

Among Ho Caster's newest product are the stainless steel series casters, which are available with wheels of advanced nylon and nylon-fiber covered with elastic rubber, and developed with integrated housing of 304-graded stainless steel and 3mm in thickness, hence high structural durability and carrying capacity of up to 300 kilograms.

Another new product is the medium-heavy-duty caster series, which feature bearings of 6202-type chrome steel and a well-engineered structure with a 3mm Zinc-coated metal plate, capably carrying 200-300 kilograms.

Following more than 20 years of dedication to continuously improving quality and techniques, Ho Caster has built a solid name among professionals as a quality and engineering-driven manufacturer with time-tested integrity and consummate production capability. Besides, the company is committed to customer satisfactions, willing to provide clients timely, thoughtful services to solve problems and help gain sales.

Bolstered by strong customer loyalty, the company has exported its products worldwide, some under its owned brands, well on its way to sustainable development.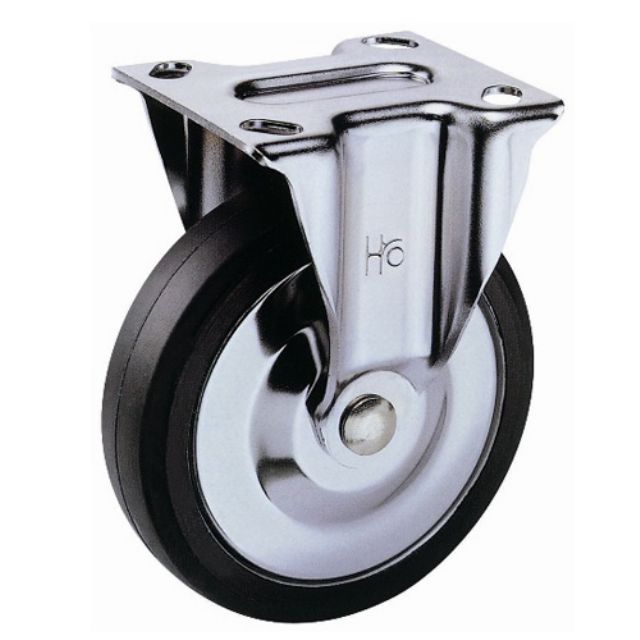 Ho Caster's rubber rigid caster
Ho Caster Industrial Co., Ltd.
No. 106, Teli Rd., Taiping Dist., Taichung City 411, Taiwan
Tel: 886-4-2271-2195
Fax: 886-4-2271-2196
Email: hocaster@mas35.hinet.net
Website: www.hocaster.com.tw