P-One Machinery Co., Ltd. is promoting the Z021-5000 multiple-pitch screw machining center, which is designed for making screws used in plastic-injection machines.

This machine, a computer numerically controlled (CNC) 3-axis lathing-milling combo, is noted for its capability of shaping screws with variations in the width between thread crests and the depth of thread trench.

Rigid tailstock design provides this machine excellent heavy-duty support, thereby boosting processing precision of this machine and enabling this machine to cut extra hard workpieces.

The Z021-5000 is well suited for machining various screws, spline shafts, and a variety of screws for plastic injection machines. Twin-screw systems can be completed on this machine in a single process to assure precision. This machine comes with a programmable logic controller (PLC) mounted with a touch screen to provide user-friendly operation.

Its multifunctional, convenient workpiece loading and unloading design enables the Z021-5000 to finish various thread machining with single clamping process, hence ensuring processing accuracy while cutting machining time.

This machine is able to cut workpieces of HR60-grade steel alloy, a very hard metal. The maximum size of the workpieces the machine can handle is five meter in length and 105 mm in diameter.

Maximum travel distance of this machine's spindle, turning at maximum speed of 800 revolutions per minute, is 2,000mm-2,500mm along X axis, 400mm along Y axis and 350mm along Z axis.

P-One was founded in 1992 as a dedicated machine-tool manufacturer pursuing innovation and quality, providing vertical machining centers (with box guideway and linear guideway), horizontal machining centers, mobile-column machining centers and double-column machining centers.

To meet quality assurance and stringent machining performance, all machines at the company must pass ball-bar circularity test, laser inspections, and cutting test before going to market.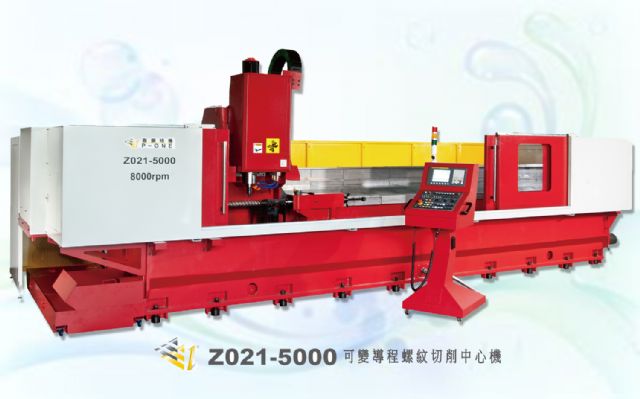 P-One's Z021-5000 multi-pitch screw machining center.
P-One Machinery Co., Ltd.
No. 37, Longshan 3rd St., Daya Dist., Taichung City, Taiwan 428;
Tel: 886-4-2565-4729, 886-4-2565-0418;
Fax: 886-4-2560-4348;
E-mail: pone.mt@msa.hinet.net;
Website: www.p-one.com.tw, www.cens.com/pone