New technologies expected to further drive Taiwan's touch panel and display industry
This year's International Touch Panel & Optical Film Expo (Touch Taiwan) 2015, billed as the world's largest touch-panel and optical film exhibition that was held August 26-28 in Taipei, capital of Taiwan, saw the domestic exhibitor Industrial Technology Research Institute (ITRI), a government-backed industrial-technology R&D hub on the island, unveil a total of 23 innovative display and touch-panel technologies that ranged from materials and equipment to manufacturing processes, modules and applications.

Co-organized by the Taiwan Display Union Association (TDUA), Taiwan TFT LCD Association (TTLA), Taiwan Flat Panel Display Materials and Devices Association (TDMDA), Taiwan Electronic Equipment Industry Association (TEEIA) and Chan Chao Int'l Co., Ltd., Touch Taiwan combines the strength of various trade associations and the efforts of the entire display panel industry in Taiwan to have become the most influential global touch panel and optical film exhibition. The exhibition brings together prominent manufacturers from Taiwan, China, Hong Kong, Macau, Europe and the US, all leading regions in the global touch panel and display industry.

Focusing on the theme "Innovating a Better Future," ITRI's innovative exhibits at the show included on-cell touch active matrix organic light-emit diode (AMOLED), out-cell touch AMOLED, Z-fold AMOLED, rollable AMOLED, etc. ITRI's advanced display technologies help the Taiwan industry remain at the forefront of new trends in mobile device technology to create application opportunities for next-generation displays.

In addition to its innovative products and technologies showcased, Dr. Chen Jang-lin, ITRI's vice president and general director of the Display Technology Center (DTC), was singled out for the "Outstanding Contribution Award" of the 2015 Gold Panel Awards. For 15 years since the "Outstanding Contribution Award" was introduced, all the winners have been top corporate executives from the industry, with the only exception, Dr. Chen, from a domestic research institute.

Under the leadership of Dr. Chen and support from the Department of Industrial Technology (DoIT) under the Ministry of Economic Affairs (MOEA), ITRI's DTC has been continually developing and innovating advanced technologies that have garnered worldwide attention, and won the R&D 100 Awards and Wall Street Journal Technology Innovation Awards for its FlexUPTM, i2R, and foldable AMOLED technologies. Various startups have been founded with ITRI's technological transfer to the private sector, which continue to commercialize products based on such technologies.

Dr. Chen stated that the thriving growth of mobile handheld devices in recent years has driven the vigorous development of light, thin, shatter-resistant, and foldable applications. The increasing popularity of wearable devices has made flexible display technology one of the most critical, with attention especially focused on flexible AMOLED; while ITRI's development of manufacturing technology for flexible AMOLED panels precisely meets the needs of the market, he added.

On-cell Touch AMOLED
Among ITRI's eye-catching exhibits at Touch Taiwan 2015, the FlexUPTM technology is used in the production of foldable OLED and thin film transistor (TFT) back panels, as well as flexible upper cover plates featuring gas barrier and touch functions.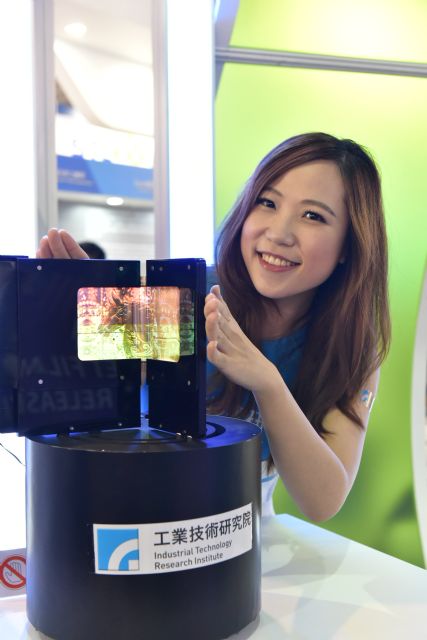 A 7-inch foldable AMOLED with Full HD (FHD) resolution.
Integrating the unique upper and lower plate technology with the packaging materials of Japan's LINTEC, ITRI has eliminated the interference between the touch screen and AMOLED driver to successfully develop sub-0.1mm thick, on-cell touch AMOLED back panels. Such achievement, the institute stressed, will foster the development of foldable tablets and other next-generation handheld devices.
In early August, ITRI signed an agreement to transfer its foldable AMOLED technology to Taiwanese flat panel maker, Chunghwa Picture Tubes Ltd. (CPT), which is scheduled to gradually introduce increasingly mature technologies of this type to its 4.5- generation production line, to provide customers with a more diversified range of flat-panel products. 
Opportunities in Wearable Devices
ITRI collaborated with Germany's Heraeus to develop a flexible AMOLED based on its own FlexUPTM technology and Heraeus' transparent PEDOT materials, which features a flexible touch panel and a bend-resistant bonding process, to have resulted in a flexible, lightweight, and thin out-cell touch AMOLED with potential applications in wearable devices, thereby enhancing user experience.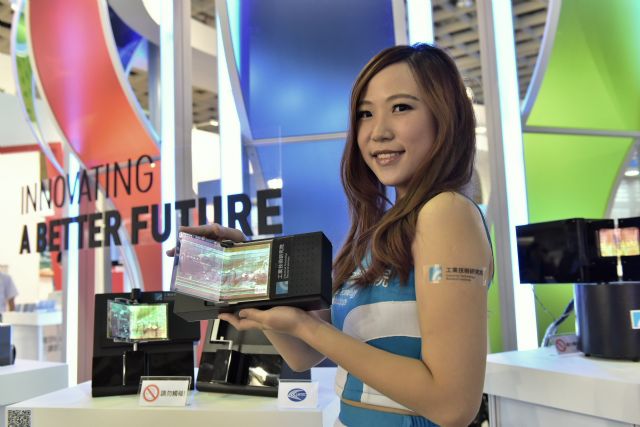 A foldable AMOLED panel produced with ITRI-developed on-cell touch AMOLED technology.
Another exhibit by the ITRI for wearable devices was the Z-fold AMOLED display. With a resolution of full HD (310 ppi), the Z-fold can be folded above and below a single plane at a bending radius of 5 mm. This will pave the way for novel applications such as foldable tablets and mobile phones, the inventor said.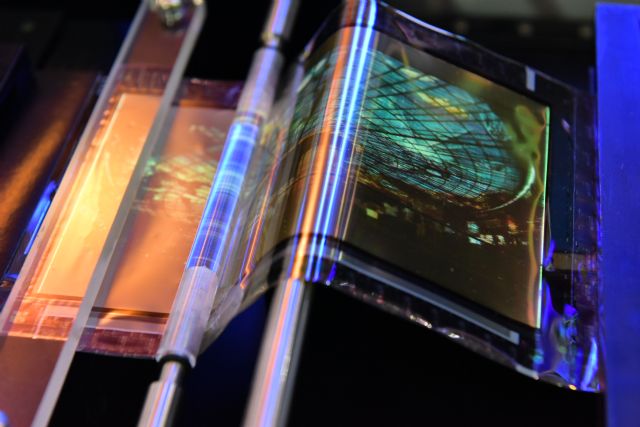 ITRI-developed triple-foldable AMOLED technology.
The ITRI has also developed a lightweight and thin rollable AMOLED based on its FlexUPTM technology. The unique design of substrate and materials has made it possible for this rollable AMOLED to have a bending radius of 5 mm and thickness of about 0.06 mm. The rollable AMOLED may have future applications in rollable notebooks and rollable screens.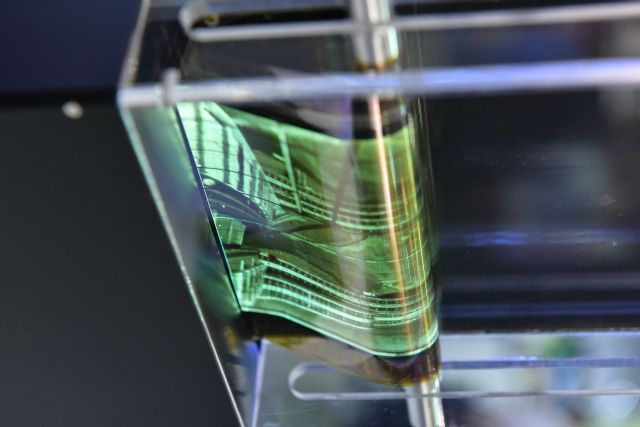 A foldable AMOLD developed by ITRI at Touch Taiwan 2015.