AU Optronics Corp., a major thin film transistor-liquid crystal display (TFT-LCD) panel maker in Taiwan, and 3M, a supplier of wide ranging products for homes, industry and businesses including Post-it notes and Scotch tape based in the U.S., recently announced a new technological alliance that offers TV manufacturers around the world an all-in-one solution to incorporate the best components for visual quality into products.

The two companies' integrated manufacturing allows TV brands to quickly bring vivid, true-to-life screens from the concept stage to store shelves. AUO's ALCD (Advanced LCD) technology pairs 3M's Quantum Dot Enhancement Film, made with quantum dots produced by California-based Nanosys Inc., with AUO's backlight components, thus allowing an exceptionally wide color gamut and high dynamic range for 4K, or UHD (Ultra High Definition), TV panels up to 85 inches.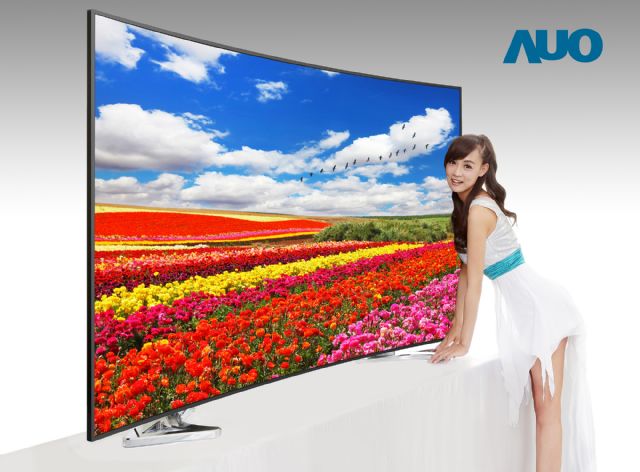 AUO's ALCD TV displays with 3M Quantum Dot Enhancement Film exceed NTSC's color saturation standard. (photo from AUO)
AUO points out that its ALCD technology puts TV brands in position to create devices capable of reaching Rec. 2020, the International Telecommunications Union's new global broadcasting standard for color-enhanced, 4K UHD displays.
First published by the International Telecommunication Union (ITU) in 2012 and previously only achievable by a small number of laser-based display technologies, AUO says, the Rec. 2020 calls for increased bit depth and a wider gamut of colors beyond the previous broadcasting standard. Exceeding the National Television System Committee (NTSC) color-gamut performance, the ALCD renders much more detailed and lifelike images with quantum dot wide color gamut solution.
"Consumers want the most efficient devices, coupled with great visual quality. Our work with innovators like AUO means combining great technologies and smart supply chains, from ideas to final delivery," said Erik Jostes, Business Director for 3M Display Materials and Systems Division. "The exciting thing is that the LCD industry is on the verge of a color revolution. Quantum dot materials enable displays to produce colors richer than any other technology, providing life-like images of a quality never seen before."
Michael Tsai, senior vice president and general manager of AUO's video solutions business group, says that AUO has been consistently working to develop new, high-end display technologies to offer consumers incredible image quality that greatly enhances their viewing experience. And that AUO is excited to have attained breakthroughs in color saturation by partnering with 3M and Nanosys on quantum dot wide color gamut technology.
The AUO-3M solution is applicable to all TV brands and can easily be integrated with their current manufacturing processes. The technology will be available in more LCD sizes with AUO's ALCD entering mass production by the end of this year, AUO says.
"AUO is a world leader in display panel and system manufacturing, and we believe that enabling them to supply large volumes of quantum dot display products is a game-changer for the industry," said Jason Hartlove, CEO of Nanosys. "Top consumer electronics brands now have a trusted, high quality path – from materials to optical films to display panels – to bring exceptional, high quality, high color gamut quantum dot display products to market, one which we believe will drive continued growth of this technology."