Liouy Hsing Co., Ltd., headquartered in Taichung, central Taiwan, makes a full range of CNC lathes and high-speed lathes.

Among the company's latest CNC lathes include the CNC-500 for heavy-duty purpose, the CNC-10T for budget buyers, and the CNC-20.

The CNC-500 delivers superior machining stability thanks to the square slideways on its saddle. This machine is outfitted with powerful European-built cooling system, which enhances heat dissipation to extend the machine's durability. A patented chip wiper is built in to clean the interior of this machine. Its spindle bore with diameter of 116 mm enables this machine to do heavy-duty cutting. Other notable features include a 12-position turret as standard, Fanuc OTC controller, automatic lubricating system to deliver lubricant to all slideways and ball screws, and hydraulic tailstock to enable secure clamping force.

The CNC-10T uses an 8-position turret, which features bi-directional, random tool selection for quick cutter change. Despite using a different turret, this machine and the CNC-500 share many components, including the patented chip wiper, square slideway, powerful European-built cooling system, hydraulic tailstock and automatic lubricating system.

The CNC-20 uses an 8-position turret, with a 12-position unit being optional, coupled with a spindle bore of 75mm diameter. Other features in this machine are similar to those in CNC-500 and CNC-20.

Known for a strong emphasis on research and development, product quality, service and innovation, the company has been able to introduce innovative products in tune with customers' tailored requirements. Consistently delivering outstanding quality has enabled Liouy Hsing to be fully recognized by customers on Taiwan and overseas.

The company has built solid technical strength, upheld by precision manufacturing equipment, stringent quality inspection, scientific management, and well trained R&D specialists.

Liouy Hsing believes the key to success in the industry is staying innovative, a motto that drives the company to relentlessly invest in converting new ideas into tangible designs.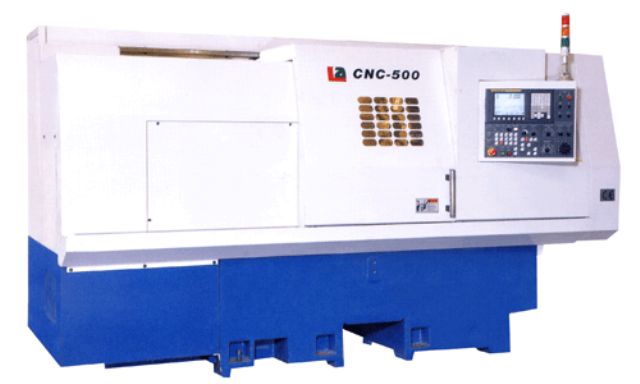 Liouy Hsing's CNC-500 lathe.
Liouy Hsing Co., Ltd.
No. 60, Lane 80, Fujhih Rd., Shalu Dist., Taichung City, Taiwan 433;
Tel: 886-4-26367046;
Fax: 886-4-2636-7265;
E-mail: liouy.hsing@msa.hinet.net;
Website: www.la-machine.com.tw