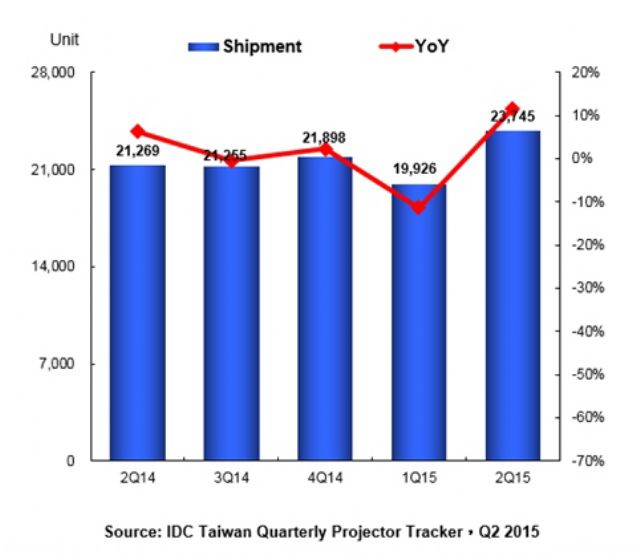 Projector Shipments in Taiwan for Q2, 2014-Q2, 2015. (Source: IDC Taiwan Quarterly Projector Tracker, Q1, 2015)
A total of 23,745 projectors were sold in Taiwan in the second quarter of 2015 (19,926 units sold in Q1, 2015), up 11.6 percent year-on-year (YoY) and 19.2 percent quarter-on-quarter (QoQ), according to statistics released by IDC Taiwan, the local subsidiary of the global provider of market intelligence.
Ray Lin, associate market analyst, PC & Peripherals Group of IDC Taiwan, attributes the sales increase to reaping fruits by major project vendors' efforts put into developing sales in the business segment. Shipments in the home segment, however, he adds, showed a downward trend in the second quarter, a traditional low season.
The 3,000-3,999-lumen models remained the market mainstream during the second quarter, taking a 47 percent share of the total (54 percent share in Q1, 2015), while the market share of 4,000-4,999-lumen models saw growth, with the 5,000-5,999-lumen model category seeing a YoY volume increase of 79 precedent.
Regarding the breakdown related to resolution, extended graphics array (XGA: 1024 x 768 pixels) models' market share dropped about 1.6 percentage point relative to a year earlier, due mainly to mainstream specs having moved upmarket.
Epson, NEC, BenQ, Optoma and Vivitk were the top-five brands in Taiwan's projector market in the second quarter (The ranking in Q1, 2015 was Epson, Optoma, NEC, BenQ, Vivitek), commanding a combined share of 70.4 percent (compared to 80.2 percent in the previous quarter), with the long-term leader Epson winning a 21.0 percent share (down from 33.7 percent in the previous quarter).
IDC Taiwan forecasts Taiwan's projector market to likely see growth momentum in the third quarter, thanks mainly to the joint procurement by educational institutes in cities and counties island-wide.
In conjunction with the increasing demand for educational models, which often are associated with lower profit margins, the business and home segments are becoming the focus for projector vendors' strategic deployments. IDC Taiwan said that vendors are investing more resources in marketing to try to pique higher purchase willingness to lead to shipment growth.
On the other hand, IDC Taiwan said, the falling prices of 1080P projector models has been stimulating purchase willingness, and are expected to create another wave of demand in the market.