The Delta-robot-integrated packaging machine affixes labels with human dexterity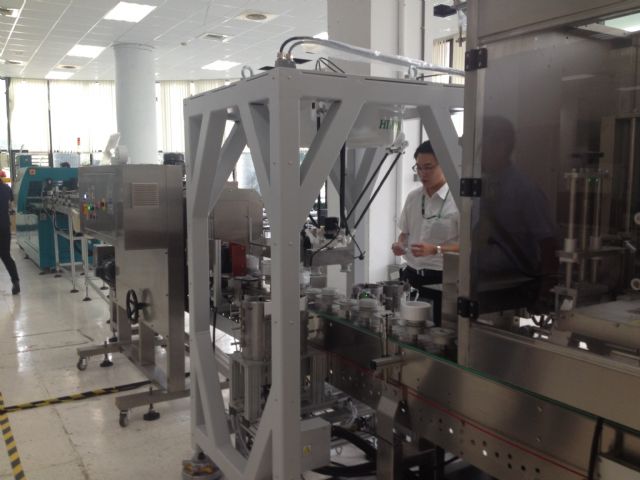 Benison showcases its tape packaging line integrated with Hiwin's Delta robot at its annual technology exchange conference held in mid-August in Taichung.
Producing packaging machines has been a sizable part of Taiwan's machinery industry, with strong global presence over the past few decades mostly thanks to insiders' steady investment in R&D to enhance added-value for customers by delivering quality machines and services. However, the sector, as is the case in other industries, has been weathering tough going recently, including growing rivalry from Chinese competitors in the low-to-middle segment of the global market and manpower shortage among others, resulting in flat growth.
According to the latest statistics compiled by the Taiwan Association of Machinery Industry, Taiwan's exports of machinery for packaging application (including paper making machines) totaled only US$366.59 million for the first five months of 2015, accounting for a 4.2 percent share of the industry's total and inching down 0.8 percent from the same period of 2014.
With the abovementioned impacts likely to continue affecting Taiwanese builders of packaging machines, along with geopolitical trouble spots in Russia, the Mid-East, economic laggards in southern EU, the recently reported slowing Indian economy, and the globally-significant downtrend in the Chinese economy, which is said by the International Monetary Fund to have trouble maintaining its GDP growth at the 7 percent level in 2015, while most of the nations that rely on oil export for revenue are beset by plunging international oil prices to face even the prospect of budgetary deficit and anemic economic development, the sector's exports are likely to remain slack for the rest of 2015, and even in the years ahead.
Bucking the downtrend, Benison & Co., Ltd., one of Taiwan's most respected suppliers in the shrink packaging field, has blazed a new trail to secure sustainable development, by drawing on its industry-leading know-how and technology to continuously expand its lineup and provide customers with all-around, value-added packaging solutions, which has helped to boost its competitiveness in the global market.
The maker's efforts have returned positive result to help Benison establish apparently high profile over emerging rivals and close competitors from industrially advanced nations, which were reflected in the firm's new machines and eco-friendly packaging materials on display at its annual technology exchange conference held mid-August, 2015 in Taichung, central Taiwan, including robot-integtrated automatic packaging lines developed jointly with Hiwin Technologies Corp., Taiwan's best-known company specializing in high-precision linear motion components for machine tools, as well as advanced robotic arms.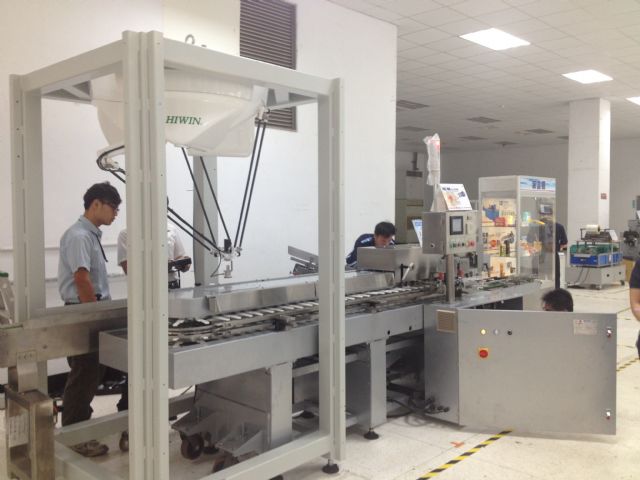 The VSC-100 vertical carton-filling machine utilizes Hiwin's Delta robot.
Delta Robotic Packaging Lines
Among the most striking machine model demonstrated at the venue was Benison's shrink packaging line incorporated with a Delta robot (also known as spider robot), perhaps Taiwan's first homegrown production line of this kind with such robotic design.
The line is built with a conveyor system connecting a heat tunnel (ES-200), automatic sleeving machine (LV-150), label inserting workstation and automatic side-seal wrapping machine (JS-400+USA005P).
While the packaging line unequivocally shows Benison's exceptional capability in developing and making high-performance packaging machines, as well as system integration technology, the most practical, efficiency-enhancing feature of the line among others is the Delta robot from Hiwin, which is set up over the label inserting workstation to pick and place a label on a semi-finished pack that wraps several tape rolls in shrinkable material quickly, dexterously, which effectively eliminates manpower in such repetitive work to greatly enhance efficiency and accuracy.
According to B.S. Wang, deputy manager of Hiwin's Project Department, the applied spider robot is a 4-axis model dubbed RD403 with a DOF (degree of freedom) rating of 4, 3-kilogram load capacity rating, maximum working range of 1,300mm diameter and 500mm height, and a very short cycle time of only a 0.3 second, not to mention highly accurate positioning repeatability. Wang has been in charge of the cooperation project between his firm and Benison for integration of robotic arms into packaging machines, who was invited by Benison to the technology exchange conference to present Hiwin's current robotic arm lineup,
Another machine showcased at the venue with an integrated RD403 robot was the VSC-100 vertical carton-filling machine, noted for compact size and low power and compressed air consumption. The robot is set up at the rear of the equipment to fill boxes, and can be even beefed up with visual detection and color recognition systems to meet diverse packaging requirements. With the robot, the easy-to-install, high-stability VSC-100 handles a wide variety of packaging with less manpower input and at maximum packaging speed of 80 boxes per minute, which boosts profitability for end-users.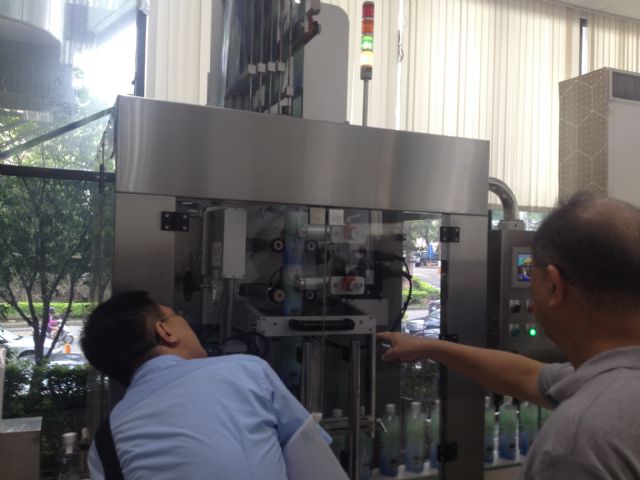 Visitors look at Benison's high-speed label sleeaving machine at the venue.
Savvy Helmsmanship 
The man who deserves credit for leading Benison to continuously go upmarket and survive increasingly fierce competition in the line is its president Benker Liao, an industry veteran with decades of experience in shrink packaging machines and materials.
The president sees multiple benefits for the firm to hold such technology exchange conference, which has been staged thrice a year only in Taiwan for many years.
Justifying holding such conference, Liao explained in a brief interview with CENS at the venue by saying, "A technology exchange conference enables Benison to present packaging technologies that we and our partners develop in tune with market trends. Such activity enables Benison to provide customers closer look at what we have developed to retain our lead in the line, as well as give participants a clear picture of our business, which has the added advantage of likely attracting more young workers to the traditional manufacturing industry."
As to the main theme of this year's conference, Liao pointed to industrial automation, stating, "In recent years manpower shortage has become an increasingly exigent problem that may impede sustainable development of traditional manufacturing industries. To address such issue, Benison is showcasing entire packaging solutions, from various packaging machines and peripherals to turnkey and automation solutions, to help packaging companies overcome the problem."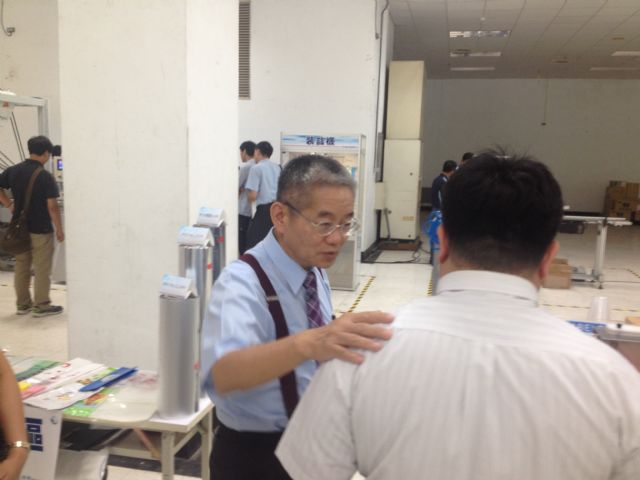 Benker Liao, Benison president, busy greeting visitors and introducing machines at the venue.
Liao was particularly proud of his company's cooperation with Hiwin on integrating robots into packaging machines, mentioning that his firm has been working with Hiwin on the project since 2014. Through the Benison-Hiwin partnership, the president aims to not just enhance value of Benison's machines and satisfy customers with integrated solutions, but set an example of cross-industry partnership for its Taiwanese peers who have been developing overseas markets independently without realizing the advantage of tapping readily-available technological resources in Taiwan.
In fact, Benison has teamed up with not just Hiwin to have developed the abovementioned packaging equipment, but also Japan's Omori Machinery, IT firms and other Taiwanese partners to have promoted various peripherals, including UV-integrated high-resolution printers and a visual inspection system integrated into a super-high-speed sleeving machine for quality control, all of which were demonstrated at the venue.
"In the face of the increasingly challenging global markets, as well as increasing rivalry from Chinese competitors," Liao said, "Going it alone is no longer a feasible strategy for Taiwanese packaging machine builders to survive in the competitive landscape; instead, we must resort to cross-industry partnerships to further grow our strengths and complement weakness, so as to develop sustainably."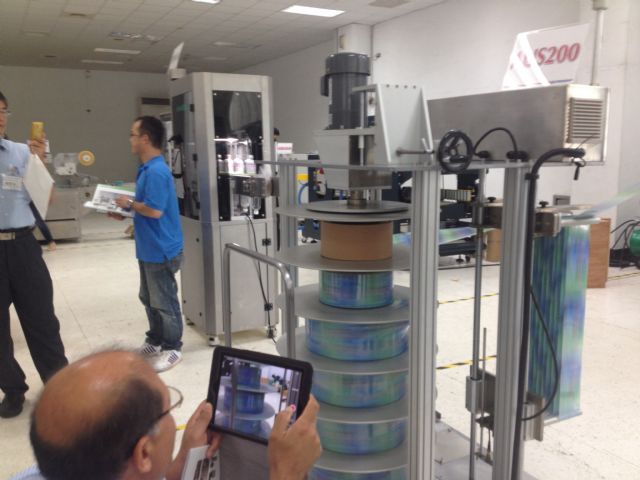 A foreign buyer records operation of Benison's sleeving machine.
Introduction of Benison and Hiwin
Established in 1962 in Taoyuan County, northern Taiwan, Benison & Co., Ltd. is a specialized maker of shrinkable packaging materials and related machinery. The company initially produced spray hoses, shrinking tubes and wiggery, and then began venturing into shrinkable packaging materials and machines in 1975.
Following decades of development in the field, the company now employs more than 200 workers in plants in Taiwan, and some 100 workers in the Philippines, China and Thailand, as one of the largest suppliers in the line. It offers a broad range of items as packaging materials, such as polyolefin, OPP, PE, PVC, heat shrinkable labels and cap seals and insulating tubes, as well as packaging machines, like sealing machines, application machines and customized packaging lines.
The CE and RoHS-compliant Benison has survived many bouts of global economic impact since its establishment, mostly thanks to its commitment to continuous improvement of products. Among its many achievements includes being the winner of the 5th Rising Star Award bestowed by Taiwan's Ministry of Economic Affairs (MOEA) to honor top-notch small and medium-sized enterprises for export competitiveness and innovation, while Benison has exported products worldwide to enjoy solid reputation as a top-tier supplier among buyers.
Hiwin was founded in 1989 and is widely recognized as the world's biggest manufacturer of linear motion products, including ball screws, linear bearings, linear guideways, linear actuators, intelligent linear guideways, motor drivers, linear motor systems, etc. 
The firm has passed ISO9001, ISO14001, and OHSAS18001 certification to show  world-class operations, and obtained numerous patents worldwide to underline its achievement in R&D and innovation. To achieve top quality, the maker has installed in its advanced plants equipment to maintain constant temperature, stable humidity, and zero vibration.
This world-level supplier, headquartered in Taichung, central Taiwan, also has overseas subsidiaries in Germany, the United States, Japan, Czech Republic, Switzerland, France, Israel, Singapore, South Korea, Italy and China, and operates R&D laboratories in Japan, Germany, Israel and Taiwan. 
Various advanced, eco-friendly shrinkable packaging materials from Benison exhibited at the conference.